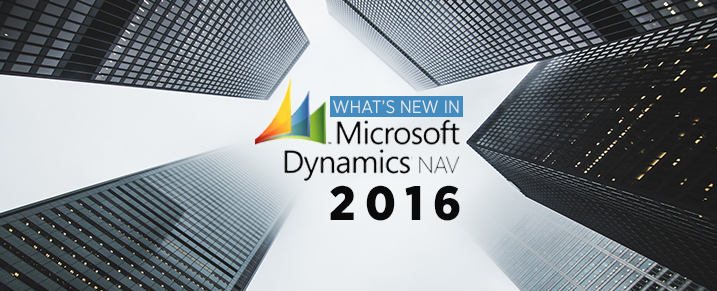 Microsoft Dynamics NAV, as we all know it is an entire package of Enterprise Resource Planning System mainly used by Mid-sized organization which is quick to implement, simple to design, and easy to utilize. With its latest feature Microsoft Dynamics NAV adds value to your business covering operations which includes simplify business with a single solution, improves productivity and making intelligent decisions.
Let us take a look on what's new for Application users in Microsoft Dynamics NAV 2016
Workflow – The main function of work flow is to associate business-process assignments performed by various users. It follows a sequence which comprise of System task, like automatic posting followed by user tasks. Requesting and Accepting confirmation to make new records are typical workflow processes.
Electronics document – As a different option for sending emails with attached document, you can send and get business reports electronically. Electronic document implies a standard-consistent record speaking to a business report, for example, an invoice from a merchant that can be received and changed over to a purchase Invoice in Microsoft Dynamics NAV. The exchange of electronic records between two exchanging accomplices is performed by a document exchange administration. Microsoft Dynamics NAV supports sending and receiving electronic invoices and credit memos in the PEPPOL format. To provide backing to another electronic document, you should make another new data exchange definition utilizing the Data Exchange Framework and afterward add to an administration setup page.
Incoming Documents – Some business exchanges are not recorded in Microsoft Dynamics NAV from the beginning. Rather, an outside business record comes into your organization as an email attachment that you convert to a file. These are kind of purchases, where such documents serve as payment receipts for purchase or expenses.
Document Sending Profiles – You can set up every client with a strategy for sending deals document, so that you don't need to choose a sending alternative each time when you select the Post and Send option.
Posting Preview – On each record that can be posted, you can pick the Preview Posting option to audit the diverse sorts of sections that will be made when you post the document.
Deferrals – Profit for merchandise delivered over different accounting periods are not perceived in the accounting period in which the business record is posted and payment is accepted. To circulate the revenue on the accounting periods that are involved, you can set up a deferral layout for the resource or G/L account that the profit will be posted for. When you post the related sales record, the incomes are delayed to the accounting periods that are involved, as per a deferral calendar that is administered by settings in the deferral format and the posting date.
Microsoft Dynamics CRM Integration – The new

Microsoft Dynamics CRM integration

gives an ideal and consistent involvement in sales cycle for clients who are using Microsoft Dynamics CRM for client engagement and Microsoft Dynamics NAV for order processing and financials.
Hiding/Showing Columns on Microsoft Dynamics NAV Web client and Microsoft Dynamics NAV Tablet client – With Microsoft Dynamics NAV it is conceivable to cover up and indicate segments on the Microsoft Dynamics NAV Web customer and Microsoft Dynamics NAV Tablet customer, similarly as on the Microsoft Dynamics NAV Windows customer. Segments are included based the same order, as they are indicated on the page. Use Hide Column to conceal the present segment, and utilize Choose Columns to choose which segments to show.
Improvements on Lookups in the Microsoft Dynamics NAV Web client – Microsoft Dynamics NAV Web customer offers an inline lookup experience on fields and also the capability to do cross section search as you write in the lookup and selecting data in the lookup.

You may also like: