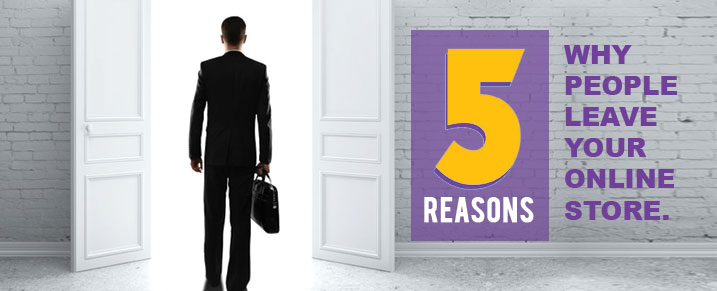 You have invested your time, money and energy to create a flashy eCommerce store properly decked up with the fashionable product. You have even marketed your site well. You get proper traffics, but they are a just visitor in your site and not the customer. Now if you are unable to convert your visitors into customers you are at a loss.
Here are 5 reasons why shoppers leave your online store without making any purchase:
Are your visitors forced to register?
Many visitors click the advertising link if they like the product, this is how they land up in your web store. Now before they could view the product, you ask them to register. This process turns off the visitor and they leave. The advertisement does not clearly display the product, even the visitor is not sure whether they will buy or not. They click in order to get a full view. This is the reason they leave your online store, as they do not want to register before viewing the collection or maybe they don't have much time in hand.
Do you provide full product information?
The product you are displaying is undoubtedly fancy and eye-catching yet you lose your customers. Have you displayed angular images of the product? Have you mentioned the material? Have you displayed the size chart? Does the product have any other color? It is definitely not possible for your customers to guess. If you have just one full image for display is it possible to have a proper look? Assuming the fact the customer buys it, what size will he/she select? In so much of confusion, a customer prefers to leave.
Is the shipping and delivery rates high?
In a recent study, it is seen that 61% of the shoppers leave the web store where shipping charges are applied. For a merchant extra shipping charge does not matter but for a customer it's like a double pay. Even if the customer agrees to pay he/she will check the other site with lower shipping and delivery rate. If you are charging for delivery a customer expects it the next day, be least assured that we live in an impatient world where any kind of payment is answerable.
Do you update your customers?
Nurturing the customer relationship is the most important task. You will make the profit if you can turn the visitor into your loyal customer. How will your customer know about the discount voucher, news, stock updates etc. unless they receive any updates? You will have to update him/her about the order under process or shipped or will be delivered by a certain date or else your customer will be confused. If these services are provided by you, your customers will never leave your eStore. In fact, they will come back whenever they are shopping.
Do you have payment options?
Many consumers are not comfortable with the online mode of payment. They believe that they are taking a risk by sharing their bank details and that too it may be forged later. Let us accept the fact that many online payment modes are not secured and can be easily hacked. Being a merchant, you should provide them options like PayPal or maybe cash on delivery. So that your customer do not leave because they don't trust the online pay methods.
It's understandable that catering all requirements of different consumers is not possible. There may be thousands of reason for your customer to leave the web store. A product which you are offering, may be offered by other online merchants with a discount or maybe the other merchant charges the shipping expense but still the calculation is cheaper in his store you will definitely lose the customer. This is a competitive world where we are striving our fortune, make sure of the pricing, shipping and delivery charges, registration process etc. are not complicated where you give a reason to your customer to leaves your eStore.