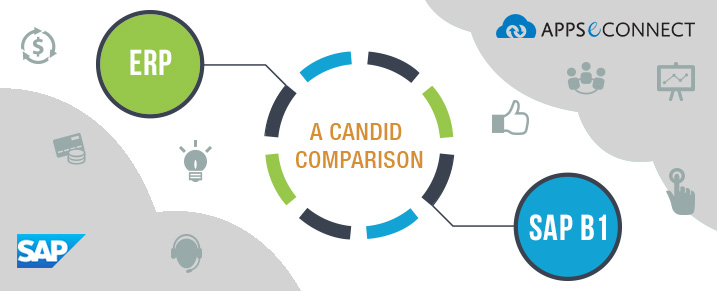 SAP B1 and embedded ERP both have its own positive and negative aspects. SAP B1 by SAP AG offers you full-fledged ERP Solution that gives you all the benefit that you require running your back office.  While an Embedded ERP is generally an extension offered by e-commerce solution partners that assist you in managing inventory, purchase and logistic within the e-commerce. Hence, Embedded ERP gives just an essence of a full-scale ERP, providing you with a real-time stock update.
It depends upon the online merchant's to identify the purpose of ERP, like do they have required too many features or bare minimum features can run their online store? As it is mentioned above it is just an essence, which will manage features like:
In inventory, it will regulate multiple warehouse, inventory tracking and stock updating
As for purchasing it will manage suppliers, replenishment of the orders along with order purchasing
It will manage the mass shipment order like pickups, packaging and shipping too.
Your business have other back-end operations too like human resources, finance, manufacturing cycle, sales forecasting, reporting, after sales services etc., which is not possible for you to run in this ERP Plug-in as a fact an embedded ERP will only process partial features of your business, So SAP B1 can easily perform all these operations without any hassle.
SAP B1 is solely an ERP solution through which you can easily manage your e-commerce back office operations for efficient working. If you receive heavy volume business in your e-commerce you can consider a Connector which can seamlessly connect your e-commerce with ERP. This approach offers you more defined in systematic process like:
Help you to streamline the operations.
Provides better customer support and management.
Processes take place in real-time from a different department.
Reduce time consumption, paperwork and error-free data loading.
SAP B1 is well enriched in customer relationship management, accounts, resources management, supply chain management features, and many  more, unlike embedded ERP assisting you only in inventory, purchase and logistics.
Candid Points To Be Noted:
You are compromising on features by using embedded ERP.
SAP B1 will cater in all operational works taking place in your enterprise.
Embedded ERP is cheaper in comparison to SAP B1.
It is always advised to buy the best of breed solution and connect them for better services, buy a popular ERP like SAP B1 or NAV by Microsoft and well-known e-commerce like Magento, Prestashop etc. If you buy the solutions separately you can get both the advantages and can run your online store efficiently, it will not only enhance the utility but also support hence there is no space for compromising in order to cater your needs efficiently.  In case if your business is running high in volume then just implement a connector for seamless operations.