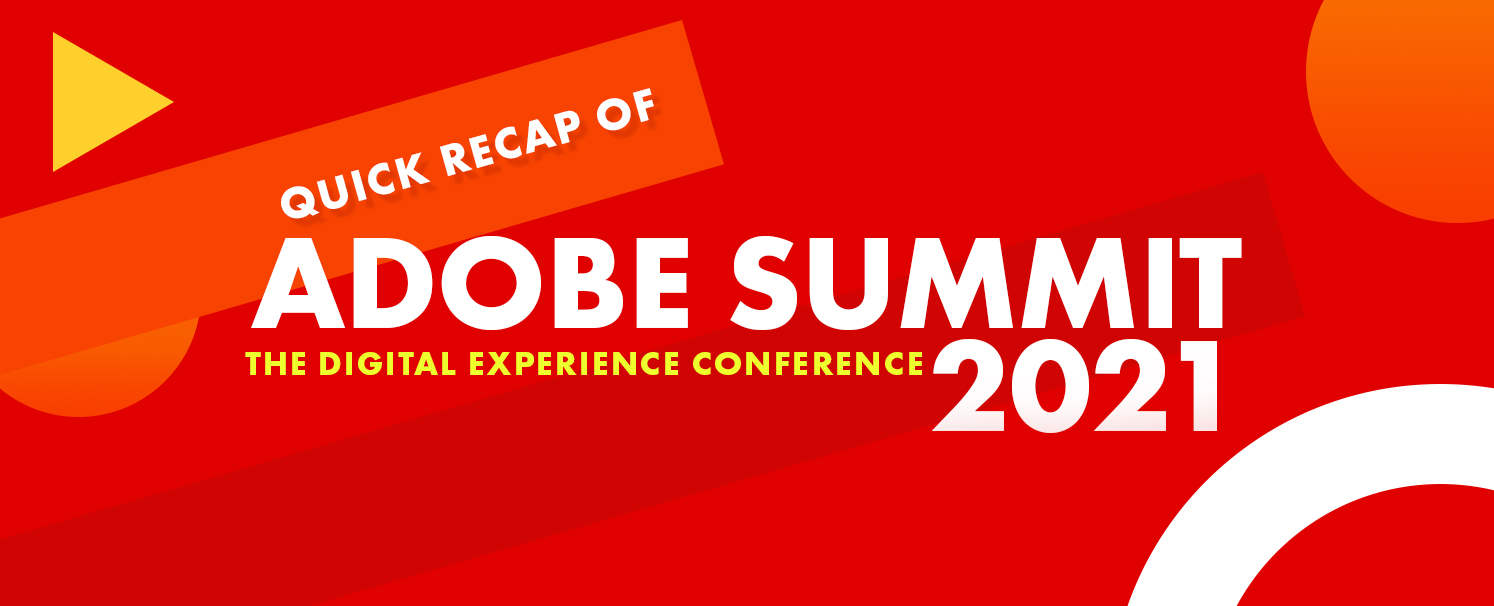 Adobe is one of the most recognizable names when it comes to the world leaders in digital transformation and experience. For the second time in a row, Adobe organized its annual and the world's largest free digital experience event, the Adobe Summit 2021. This was the 2nd time that the event was held virtually to cope up with the global pandemic situations, from April 27th-29th and the theme for the year was Adobe Summit 2021: Digital Experience. The Adobe Summit 2021 brought in an enormous chance of global opportunities for marketers, developers, customers, entrepreneurs, and users. With more than 400 sessions and hundreds of motivating speakers, Adobe Summit 2021 stressed on creating personalized experiences for the customers, since it would soon become the key growth of businesses due to increased engagement and higher conversion rates. The summit was joined by industry experts and eminent leaders who contributed to the workshops, presentations, training sessions, etc. giving resourceful insights and tips on varied concepts and matters based on their expertise and professional career.
All the sessions of Adobe Summit 2021 are available on the Adobe official site, Watch Summit on demand from a welcome note to sessions, and keynote speakers. f you couldn't be a part of the conference, we suggest you check out the on-demand content available at https://business.adobe.com/
#AdobeSummit may be over but the best content, insights, and experiences are available on demand. Watch now. https://t.co/5HyMBBmqBS pic.twitter.com/I6DvkTd0K7

— Adobe Summit (@AdobeSummit) May 5, 2021
Adobe Summit 2021 – Keynote and Highlights
Adobe Summit 2021 day one was loaded with content and the Adobe executives and other global business leaders shared how exceptional, personalized customer experiences are the key to business growth today and in the future. The opening keynote was presented by Simon Tate, President of Adobe Asia Pacific. He talked about his experience at Adobe, the importance of Digital Experience at Adobe and hence how Customer Experience Management sets a company apart. He quoted Forrester saying that organizations from markets including Australia, India & Singapore delivered better customer experience management in 2020 than in 2019 despite the challenging year.
The keynote was then passed to Shantanu Narayen, CEO of Adobe. Shantanu in his address highlighted Adobe's mission, strategy and shared key takeaways from Summit 2021. Narayen also talked about how important the power of partnerships is and how they were able to deliver better – brands like Pfizer were able to deliver a data-driven experience for patients and healthcare providers on critical information. Also, Adobe got into an association with FedEx to supercharge their website with new content and help them personalize their customer journey's in the digital economy. Major highlights from his keynotes include:
Adobe Creative Cloud – Unleashing Creativity, giving everyone, anywhere the tools to tell their story.
Adobe Document Cloud – Enhancing Document Productivity, re-innovating how people view, share, and engage with documents.
Adobe Experience Cloud – Empowering Digital Businesses across the globe, giving them everything they need to design and deliver great customer experiences.
CEO Shantanu Narayen shares what it takes for brands to succeed in our digital-first reality. https://t.co/5tnbuNsc2X #AdobeSummit pic.twitter.com/Q6kSeIowsH

— Experience Cloud (@AdobeExpCloud) April 27, 2021

The 11 Specialized Tracks
The Adobe Summit 2021 witnessed nearly 400+ workshops and training sessions including 11 specialized tracks for analysts, content creators, marketers, and developers. Here's what these tracks were all about:
The Adobe Commerce Roadmap for 2021
The current pandemic has fastened the digital adoption across most businesses as consumers are still averse to venturing out to physical stores, prompting businesses to adopt alternative ways to take orders and fulfill them in this virtual world. The most significant change has been for the B2B sector which now prefers remote interaction compared with the earlier in-person communication. Experts report that the eCommerce industry has evolved by almost half a decade due to Covid 19.
The recent Adobe Summit 2021 was conducted completely online and most of the sessions touched upon how the pandemic has brought changes for the businesses. For people well-versed in the Magento Universe, you are already aware that Magento Commerce has been officially rebranded as Adobe Commerce, while the Magento Community will be monitored by the Magento Association.  In this blog, we will outline the session with Christian Hedge, Director of Product Management, Adobe Commerce where he uncovers the evolution roadmap for Adobe Commerce for 2021.
Covid has changed business forever. With competition heating up focus is largely on experience-driven eCommerce. Sizable acceleration of eCommerce adoption calls for constant innovations in these times.@AdobeSummit @AdobeCommerce #AdobeSummit #CustomerExperience @ChrisHedge4 pic.twitter.com/QKlyfoWBIb

— Mudit Shukla (@mudits87) April 27, 2021
Below are two eye-catching statistics shared by Chris which speak volumes about how the digital landscape has altered in the space of a year.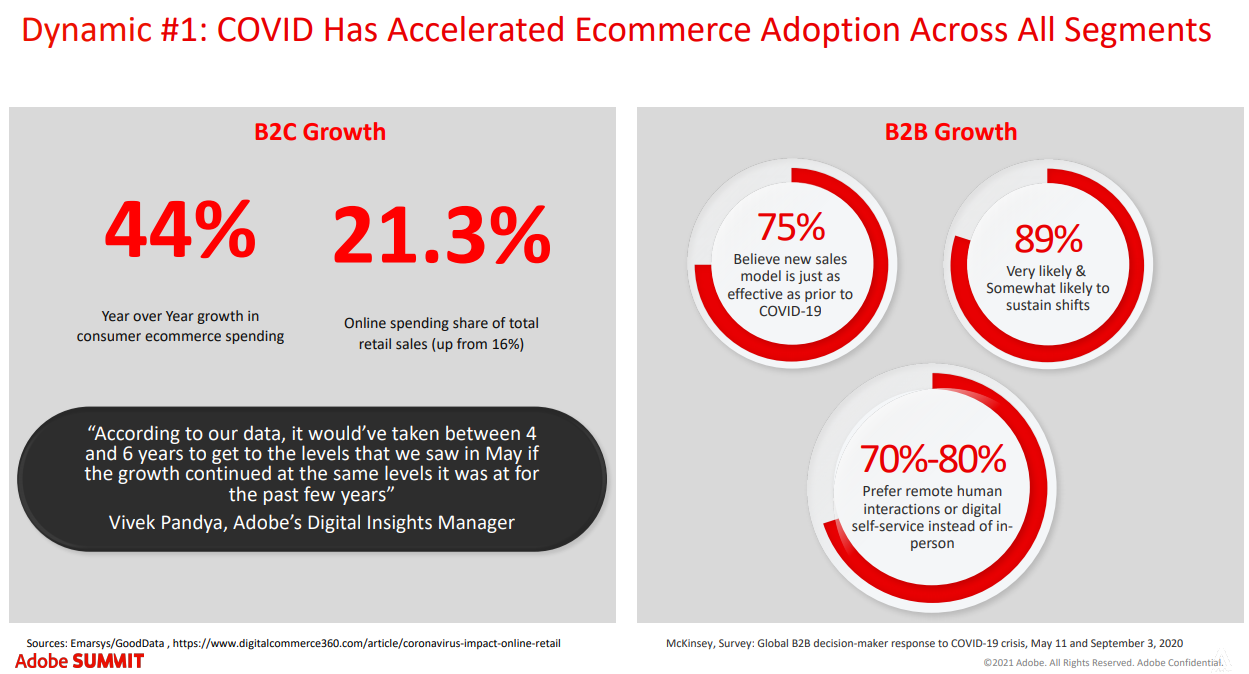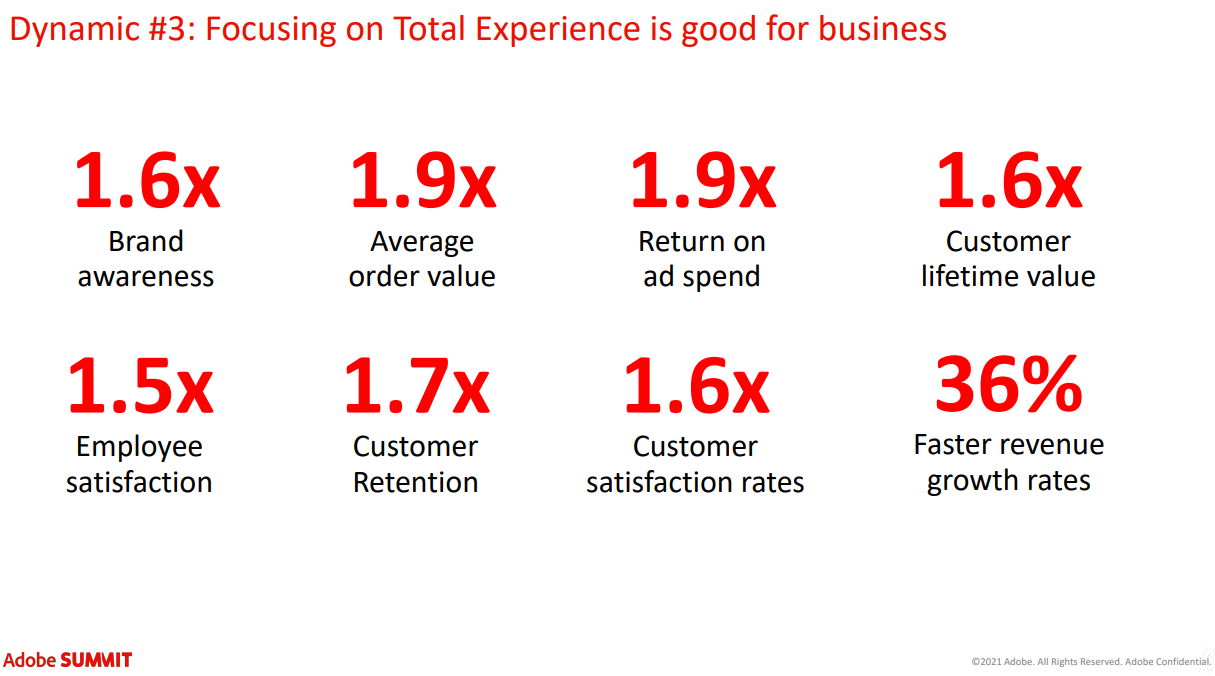 As per surveys by the Adobe Digital Insights team, 70% of Adobe Commerce customers are looking for Hybrid Commerce – one multichannel eCommerce platform which can cater to both B2B with B2C, as well as other sales channels. Adobe has keenly listened to its customers and it is visible in the improvements already rolled out in 2020 and those planned for 2021. Adobe Commerce is combining the power of intelligent commerce through Adobe Sensei for helping merchants make data-driven decisions, as well as enhancing Adobe Cloud as a frictionless platform and infrastructure at lower TCO.

Here are some highlights from 2021 :
Page Builder reusable Content Templates and compatibility in editing PWA pages.
Expanded coverage on GraphQL APIs and PWA UI Components.
Seller-assisted shopping to allow merchants to help their customers or troubleshoot issues.
Improved Order approval workflows for B2B with purchasing limits by roles and easy configuration.
Added customer-specific shipping method, requisition list creation.
To cater to the BOPUS scenario, the introduction of In-Store Pickup functionality.
Dynamic product recommendations through Adobe Sensei, and additional dashboards.
Magento cloud on Azure, security enhancements.
An enhanced version of Magento Security Scan Tool and Site Health Tools.
Below is the Adobe Commerce roadmap for 2021, as described by Chris.
Mobile commerce is getting bigger and according to Adobe's Digital Economy Index, smartphones delivered 40% of digital revenue in the past holiday season and online spending is expected to grow 50% by September of 2022. Hence while designing their digital strategy, merchants need to consider that the desktop will not be the sole center of the consumer's shopping experience.
Headless Commerce:
Adobe Commerce is fully embracing Headless and is offering hybrid Headless Architecture. There will be further upgrades to the Venia PWA reference theme with expanded support for multi-site, multi-store internationalization, extended offline browsing and push notifications. There will be continuous innovations on the PWA Studio Developer Environment making it faster to optimize the storefront experiences.
For merchants who also utilize Adobe Experience Manager, there will be seamless integration with the AEM commerce integration framework, which will be further developed, over time, to become a unified shared UI framework based on the Magento PWA frame.
The GraphQL APIs that power the Venia theme will work for integrating third-party UIs as well. The PWA UI framework is built in a headless fashion, coupled with the Commerce backend admin only via backend APIs. The GraphQL API coverage will be broadened also.
A standalone GraphQL server will be introduced instead of storefront microservices for optimizing the frontend experience. This is expected to provide significant improvements over current GraphQL. These changes will be transparent to UI developers hence if you are working with PWA UI, minimal effort will be required for building a PWA website.
B2B and Multi-Channel Commerce
Complete GraphQL API coverage for all B2B specific Commerce functionalities will be rolled out in 2021, in fact, 50% has been rolled out in Q1 already.
Q1 has also seen extended purchase approval capabilities to support online payments like credit cards, PayPal & 3rd party payment methods.
Partnered with Document Cloud to provide Adobe Sign integration in Magento marketplace, this will ease the quoting and approval processes.
Adobe has begun to partner with 3rd party EAI platforms like MuleSoft and Software AG for integration with major ERP and CRM platforms.
Improvements in B2B Pricebooks, Orders with a large number of line items associated, the number of effective product SKUs Commerce supports out of the box for both B2B and B2C.
Intelligent Commerce powered by Adobe Sensei
To develop a hyper-personalized customer experience, merchants can leverage Visual AI for Product Recommendations to help shoppers look for similar products without spending hours.
Introducing Live Search – a new SaaS site search service to analyze data to deliver hyper-relevant search results. Merchants can implement their own marketing and promotion logic into search result rankings while dynamically evaluating shopper behavior or sales velocity. For Magento Business Intelligence users, introducing a data connector with Adobe Analytics to allow merchants to leverage MBI's powerful data visualization tools with data collected from Adobe Analytics.

Magento Cloud
According to Gartner, 2X businesses are using cloud-based applications, and that is the norm for eCommerce platforms as well to lower TCO and GTM timelines. 80-85% of new merchants are choosing to deploy on Magento Cloud. New security, reliability and performance improvements will continue to be released on a quarterly basis.
Integration with Amazon S3 for scalable and reliable object storage was released in Q1. In the future, will add support for Amazon MQ, ElasticSearch, ElasticCache and Aurora. Adobe plans to deploy customers on next-generation cloud infrastructure, which will be built on top of Adobe's enterprise-grade hosting solution. This will offer efficient performance scaling with expanded cloud management services and simplified upgrades.
Magento Payments
Introducing later in 2021, Magento Payments – a global payment solution that will offer local payment methods required by merchants. This will eliminate multiple payment vendors, signup for multiple merchant accounts, or managing multiple reconciliation reporting. Merchants can directly onboard with Adobe and access all reporting, analytics and dispute management functionalities for end-to-end transaction lifecycle.
Finally, here is the Commerce Release Schedule to help you plan your upgrades: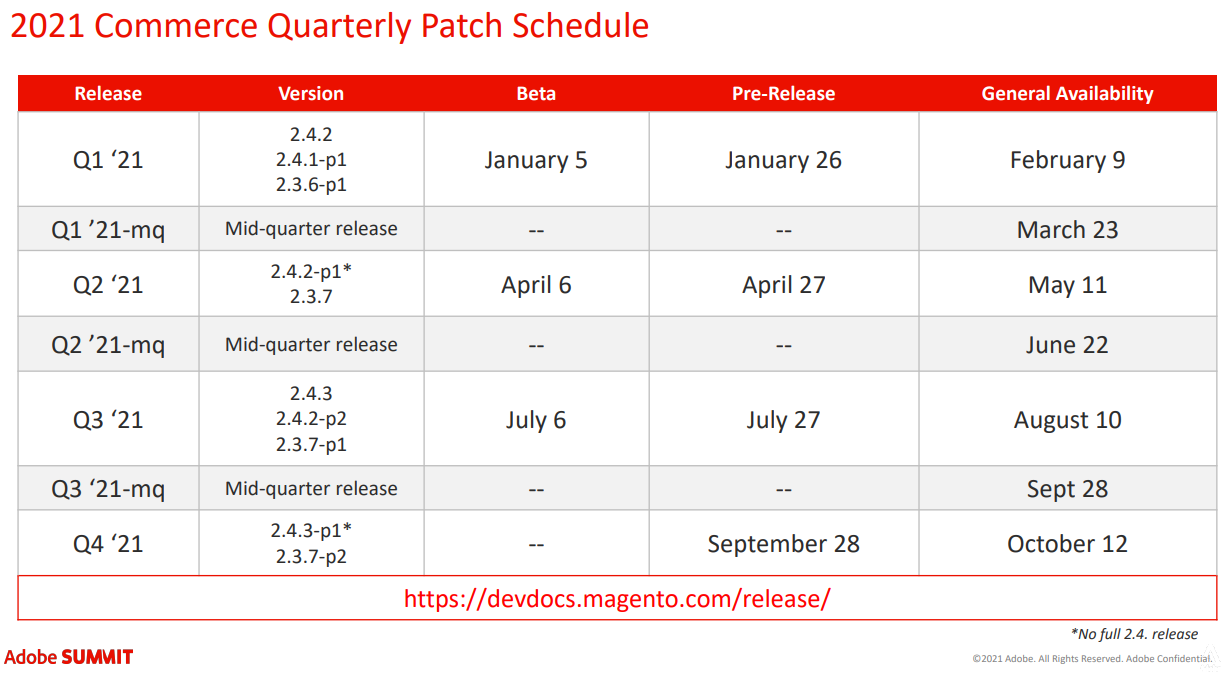 Get started with your B2B eCommerce store and gain a competitive edge in the market! Also, connect all your business applications under one single platform to automate the business process!