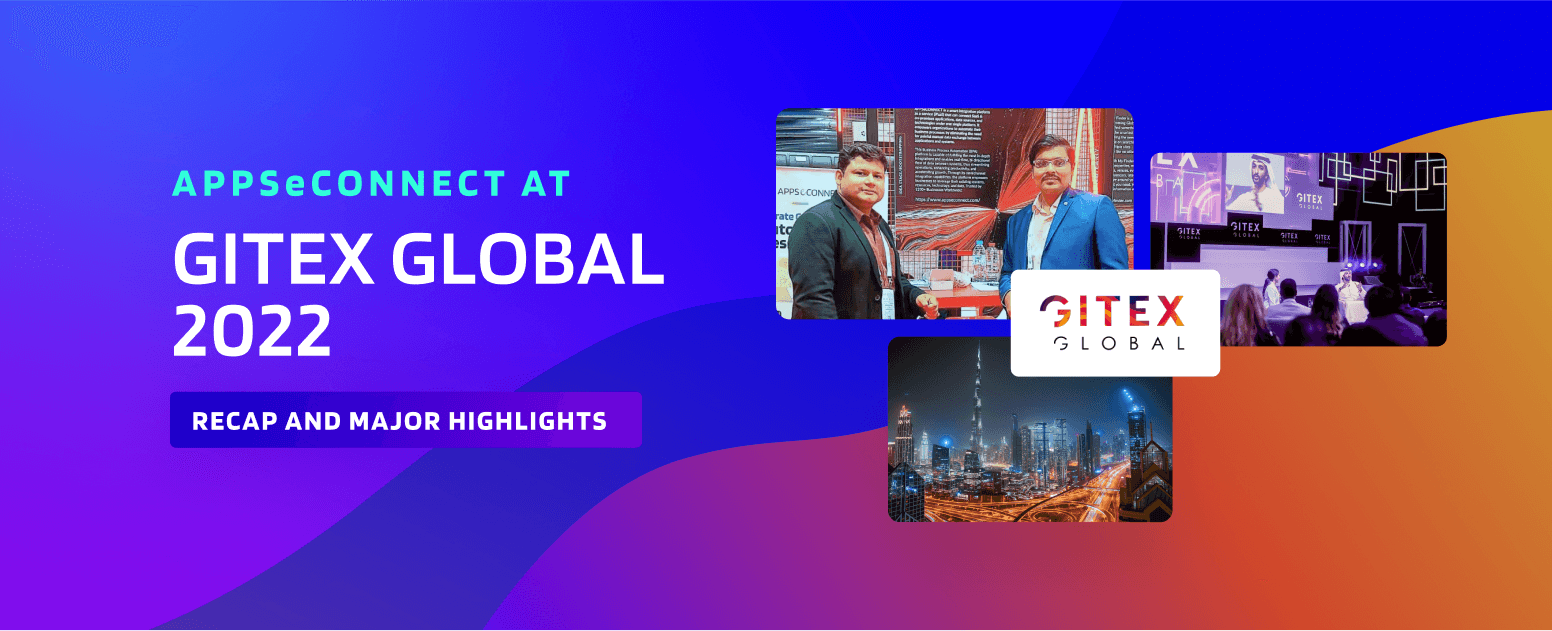 We are excited to announce that APPSeCONNECT recently exhibited in the GITEX GLOBAL 2022, Dubai, and had an excellent experience connecting with businesses from around the world! GITEX GLOBAL 2022, the world's largest and most influential tech and startup event, is back again, featuring every major technology player, across various industry verticals, covering sectors including smart cities, cybersecurity, data economy, mobility, healthcare, and telecoms. They have put together this year's most extensive and coveted selection of enterprise solutions, through their 5 day-long event held IRL in Dubai. This year GITEX GLOBAL 2022 hosted over 5000 exhibitors and 800 startups participating from 170 countries.
The event took place from October 10th to 14th in Dubai, at the Dubai World Trade Centre and was the one-stop destination for millions of global businesses to connect. Team APPSeCONNECT was elated to attend the event and experience the buzz of the event in-person and exhibit their intelligent integration platform, APPSeCONNECT at the most anticipated tech event.
What a wonderful morning at @GITEX_GLOBAL! ☀️

We are here at the Dubai World Trade Center exhibiting our intelligent #Automation platform, APPSeCONNECT.
Let's catch up! ✨

You can find us in Za'abeel Hall 7, Stand no. P-B228.#gitex2022 #GITEXGLOBAL #northstardubai #dubai pic.twitter.com/neyh5XaZhL

— APPSeCONNECT (@appseconnect) October 10, 2022
GITEX Technology Week 2022 is in its 42nd year bringing together over 100,000 visitors from all over the world. It is safe to say that GITEX GLOBAL gets better each year, and we are super excited to share our experience with you. The zeal encompassing the event was unmatchable. The 2022 edition of GITEX GLOBAL has been larger than life, the buzz and excitement was not only confined to the halls but also took over the city. The streets were bustling with people, and it was awesome witnessing so much enthusiasm around technology.
APPSeCONNECT at GITEX GLOBAL 2022, Dubai – Highlights
We were thrilled to attend the event, meet in person with the most influential players in the global startup ecosystem, and exhibit our intelligent integration platform APPSeCONNECT. The thing we absolutely loved was the array of innovative software at the event.
Team APPSeCONNECT was represented by Mr. Atul Gupta, CEO and Co-Founder at APPSeCONNECT, Mr. Subhajit Goswami, VP of Global Business Development at APPSeCONNECT and a business development enthusiast, along with Mr. Soubhik Sen, Channel Relationship Manager, APPSeCONNECT, who is passionate about helping businesses to make connections that help them accelerate their growth. At the event, they highlighted the robust features of the APPSeCONNECT iPaaS platform, and the milestones achieved and discussed what lies for the future of Business Process Automation.

The five-day-long event covered discussions on core topics to learn from, such as the metaverse, AI, Web3, Blockchain, cloud computing, financial technology as well as Big Data. Educational sessions and interesting topics were explored, like the future of blockchain and discussions on how Comtech Gold has redefined the tokenization infrastructure for real-world assets by the digitization of gold powered by the XDC blockchain were elaborated. Also, insights on how Blockchain is Evolving Sports were shared by Toli Makris, the CEO of EX Sports.
Sean Garnier, along with Toli Makris, the CEO of EX Sports, sat down at the TDeFi Pavilion in Gitex Global 2022, to discuss How Blockchain is Evolving Sports and to share the latest happenings in the Urbanball web3 project.
Full interview on Instagram and YouTube pic.twitter.com/v6x6lEqz8s

— EX Sports (@ExSportsToken) October 17, 2022
The biggest buzz was created by XPENG X2 which organized its first public display after completing the specific operations risk assessment and achieving a special flying permit from DCAA. The public flight took place at Skydive Dubai and marked a historic moment for the ecosystem as it marked a significant milestone in the exploration of future mobility.
XPENG X2 completed its maiden public flight at Skydive Dubai 🇦🇪

Read the full press release here 👉🏻 https://t.co/fFrnSbmbrC#XPENG #GITEXGLOBAL pic.twitter.com/HAfzwF197C

— XPENG (@XPengMotors) October 11, 2022
GITEX Global 2022 saw impactful talks from the best minds of the global ecosystem and gave the attendees a great opportunity to learn from global leaders and gain inspiring actionable insights, get innovative ideas, and walk alongside tech giants, creative start-ups, and revolutionary innovators.
APPSeCONNECT was truly privileged to be a part of the GITEX Community and let the world know about the offerings of its solution and the importance of an Integration Platform as a Service (iPaaS). We had over 85 successful meetings with referral and reseller partners. It was great meeting Premjit Singh, from Cork Information Technology, Vineet Bishnoi, Jiten Chablani, from Seer Dynamics, Microsoft partner from UAE, Neel Sharma, President, Spice Technology, one of our users, Ramez Tacrity, from Digitech Trading, Punit Bhatia, from ACCRO computer system design, Faizan Ayyub, CEO, Nestosh, Balesh Lakshminarayanan, CEO, Absyz Inc., Vinay Punjabi from AMY TECH DMCC to name a few.

It was great meeting our existing partners and also potential partners during the exhibition, and networking with many business leaders. To state a unique feature of GITEX GLOBAL it must be highlighted that innovation, technology, and grandeur aside, it is one of the few tech events where users and potential customers come, in person to network, and explore the products. The consistency of the exhibitors and attendees over the years brings into the spotlight the energy and potential of the MENA region at large and its willingness to adopt new technologies.
It was lovely catching up with James Boyton, VP of Global Alliances, @WorksoftInc at @GITEX_GLOBAL 2022! 🔥#GITEXGLOBAL #gitex2022 pic.twitter.com/StD6aiTRTJ

— APPSeCONNECT (@appseconnect) October 12, 2022
It always feels great catching up with APPSeCONNECT users, Ramez from DigiTech Trading at @GITEX_GLOBAL ! 🤝#GITEXGLOBAL #gitex2022 #Dubai pic.twitter.com/Wbg9hxiSi5

— APPSeCONNECT (@appseconnect) October 12, 2022
Really appreciate how #GITEXGLOBAL brings the community together. It was a pleasure connecting with Mr. Suhail Mohamed Iqbal, Arabian Research Bureau at @GITEX_GLOBAL! 😄 pic.twitter.com/TEhOmtQWOq

— APPSeCONNECT (@appseconnect) October 12, 2022
Being one of the fastest growing iPaaS platforms, APPSeCONNECT through the GITEX Technology week got the brilliant opportunity to reach out to customers/partners across the MENA region and showcase a platform that was built with authenticity and caters to the growing need for data integration and Business Process Automation for enterprises across the globe.
GITEX Global 2022 has not only provided us with the opportunity to exhibit our product but also connected like-minded businesses together to hack growth and put the diversity of talent to our best use. It is indeed one of the epicenters of tech events in the world with its ever-growing community driven by connections and relationship building.
We are already excited for GITEX GLOBAL 2023, to be held from 16th to 20th October, and can't wait to meet you all again.
Till then, stay safe, stay connected.
If you have multiple business applications running in your business and want to seamlessly connect your entire software stack under a single, intelligent, and secure platform to automate your business processes, implement APPSeCONNECT's robust integration connectors and achieve exponential growth in your business.