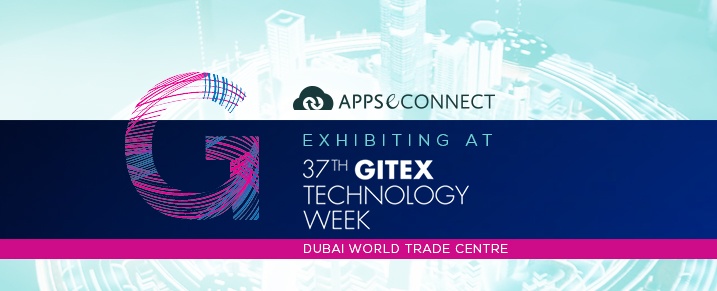 GITEX, which stands for Gulf Information and Technology Exhibition, is an annual computer and electronics trade show, exhibition and conference which is taking place again this year. For 37 years, visionaries and tech pioneers have been descending to Dubai to witness this event which has inspired generations. From defining the latest trends to presenting high caliber speakers & showcasing product innovations from across the world, GITEX Technology Week is bringing together the most innovative, exciting & ambitious tech start-ups this year to showcase their world-changing ideas. The event is taking place on 8th to 12th October 2017 at World Trade Centre, Dubai, UAE
APPSeCONNECT will be exhibiting in GITEX 2017 and a stall will be placed at Sheikh Rashid Hall SR-12 where you can explore our smart business integration solution & meet our integration experts. You will get to know how APPSeCONNECT can benefit your business and boost your company's productivity & profitability.
The Sectors to be covered in GITEX 2017:
AR and VR
Global Smart Cities Technology
3D Printing
IoT – Internet of Things
Smart Manufacturing
Cloud
Network Infrastructure and Security
Data Centres
Customer Technologies
Future Tech
There are many more areas where GITEX will have an influence on and many more sectors to which top business companies would contribute. Let's have a look at the event in details:
Day 1: Sunday, 8th October
Focus Areas: Keynotes & Case Studies
The top speakers for the day would include –
Mike Sutcliff, Group CEO, Accenture Digital
Piercarlo Gera, Global Managing Director, FS Distribution and Marketing Services
The top points of discussion will be –
Applied AI Case Study
Accenture Keynote: Case Study
Cyber Security Keynote: DarkMatter
Huawei Innovation Summit
Day 2: Monday, 9th October
Focus Areas: Marketing, Healthcare & Intelligent Cities
The top speakers for the day would include –
Ian Khan, TEDx Speaker, Author and Technology Futurist
John Nosta, Google Health Advisory Board Member, President of Nostalab
Olivier Oullier, Neuroscientist and Strategist
Nader Henein, Regional Director Security
The top points of discussion will be –
Combating the digital Lifestyle
Improvement in Healthcare Delivery
The Startup Show – Healthcare Innovation Session
Interactive discussion groups on Smart Cities

Day 3: Tuesday, 10th October
Focus Areas: Retail, Finance & Women in Technology
The top speakers for the day would include –
Philip Bane, Managing Director, Smart Cities Council
Matthew Spoke, CEO and Co-founder of Smart Cities
Eleni Kitra, Head of Financial Services, Facebook
Emre Karter, Head of TTS, Citigroup
Julen Mohanty, Vice-president at JP Morgan Chase
Khaled Kteily, Lead at World Economic Forum
The top points of discussion will be –
Dubai Blockchain Strategy
Highlighting Dubai Data and demonstrating Dubai Pulse
Financial services in a mobile first world
Thoughts on Future Financial Ecosystem
FEMTECH – Highlighting 3 Female Lead Startups
Day 4: Wednesday, 11th October
Focus Areas: Smart Manufacturing (NEW), Connected Automated Transport (NEW) & Public Sector (NEW)
The top speakers for the day would include –
Bahaa Hamadi, Director of Communications, DAMAC Properties
Hussein Dajani, General Manager – Digital Marketing, Nissan Motor Cars
Priya Patel – Business Development Lead, Instagram
Tin Hang Lui, Founder and CEO, OSVehicle
The top points of discussion will be –
Harnessing key marketing trends to accelerate digital presence
Rise of Conversational AI
Going viral with middle-east Instagram story
Future of Human Mobility
Harnessing the power of innovation in transportation

Day 5: Thursday, 12th October
Focus Area: Education
The top speakers for the day would include –
Luis Perez Breva, Director of Innovations Team Programme, MIT
Steve Bumbury, Head of Digital Learning and Innovation, JESS Dubai
Shahid Azim, Associate Dean, Barts and London Medical School
The top points of discussion will be –
Reasons to adopt VR
Education Innovation Session
Power of AR and VR
Bringing benefits of wearable tech to children
If you want a full list of speakers and points of discussion, click here
APPSeCONNECT is a Smart Integration Solution that connects all eCommerce stores, CRM, POS, Marketplace accounts and back office ERP under one single platform and help them talk to each other. We make your business more efficient and help you grow faster. We are continuing our efforts to improve e-business. We have realized the global customer need for disruptive growth supported by undisruptive replacement of technology and platforms.


You may also like:
APPSeCONNECT at Hong Kong ICT Expo 2017 – Premiere Event Showcasing Global ICT Solutions
APPSeCONNECT exhibited as a Silver Sponsor at Meet Magento Croatia 2017
APPSeCONNECT at SAP SMB Innovation Summit 2017, Berlin – A spectacular show