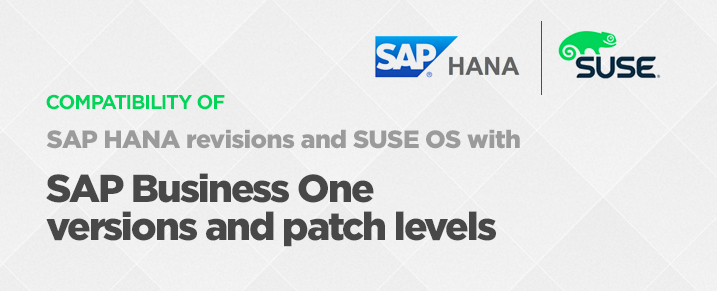 Using HANA with your SAP Business One revolutionizes the performance of the ERP and its reporting tools, specifically if your Database size is quite huge. Slowly but surely HANA has become native database of almost 20% of SAP Business One Users now a days and surely the number will increase with current months.
Using SAP Business One with HANA as the RDBMS, needs you to be updated on HANA version, its compatibility with SAP Business One version and Patch Level as well as SUSE OS versions, because this is rapidly changing. I assume this blog will help you to understand the compatibility of HANA revisions and SUSE OS with SAP Business One version and Patch Level.
SAP Business One 9.2 has been released few months back, SLES 12 has been introduced and end of maintenance for SAP Business One 9.0 has been also announced, so at this stage to many SAP B1 users it's a bit confusing related to the compatibility aspects of HANA, OS and ERP version between One another.
Let's Understand This:
SAP Business One 9.0
Patch Levels – PL 15, PL 16, PL 17
HANA Revision – 74.05 (PL 15), 85.03 (PL 16 and 17)
OS – SUSE Linux SLES 11 SP3
SAP Business One 9.1
Patch Levels – PL 5, PL 6, PL 7, PL 8
HANA Revision – 74.05 (PL 5), 85.03 (PL 6, 7 and 8)
OS – SUSE Linux SLES 11 SP3
SAP Business One 9.1
Patch Levels – PL 9
HANA Revision – 97.0
OS – SUSE Linux SLES 11 SP3
SAP Business One 9.1
Patch Levels – PL 10, PL 11, PL 12
HANA Revision – 102.05
OS – SUSE Linux SLES 11 SP3 but upgrade to some libraries will be needed, SUSE Linux SLES 11 SP4 (for PL 11 and PL 12)
SAP Business One 9.1
Patch Levels – PL 13
HANA Revision – 112.03
OS – SUSE Linux SLES 11 SP3 but upgrade to some libraries will be needed, SUSE Linux SLES 11 SP4
SAP Business One 9.2
Patch Levels – 9.2 EAC, PL 02
HANA Revision – 102.05
OS – SUSE Linux SLES 11 SP3 but upgrade to some libraries will be needed, SUSE Linux SLES 11 SP4 (for PL 02)
SAP Business One 9.2
Patch Levels – PL 03, PL 04
OS – SUSE Linux SLES 11 SP3 but upgrade to some libraries will be needed, SUSE Linux SLES 11 SP4