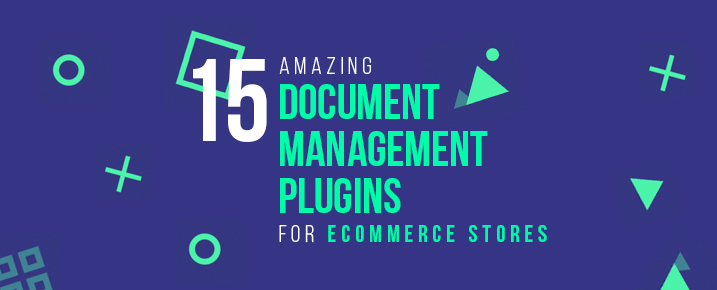 Document management can become a daunting task for ecommerce store owners.  Choosing the right plugin for uploading and managing documents and files ensures that shoppers have a smooth experience on your web store while also ensuring better management by administrators.
There are a number of plugins for different ecommerce platforms with specific functions and capabilities. We took some time to list some of the best document management plugins for leading ecommerce platforms.
File Manager is a robust plugin for WordPress that allows you to manage all file and folder operations like uploading, deleting, copying, moving, renaming, archiving and extracting files.
Features
Drag and drop file upload support
User-friendly client interface
Don't need to use FTP
Image and file edit support
Directory size calculation
Preview and play audio/ video
Multiple file/ folder selection
File browsing history
This WordPress plugin helps you to maintain documents, records, files, videos and images.
Features
Secure documents under login for each user
Advanced email editor to customize all emails
Multilingual support
Zip files in archive
Admin can add files to users
Client document manager with unlimited folder nesting
Customers can upload documents online to their personal page
WooCommerce integration
Batch manage files
Complete control over who accesses specific files
Magento File Downloads plugin allows you to upload and download various file formats.
Features
Wide range of file upload options and multi-file upload options
Manage file for different categories of visitors
Easy file management with support for popular formats
Various page positions for file downloads
User-friendly video pop-ups
Enhance product, category and CMS pages with media files
Keep all uploaded files well-organized
Track file download statistics for each customer 
MagDoc plugin allows Magento store owners to manage documents with the help of embedded Scribd app.
Features
Upload and manage documents using Scribd API
Unlimited document upload
Tag uploaded documents on Scribd
Convert leading file formats like PDF, Word doc, or PowerPoint into web document
Web documents are easily searchable on search engines, shareable on social media platforms and read across multiple devices
Scribd reader enhances online document reading experience for users
Private or public setting for uploaded files
Assign uploaded files to products
5. PrestaShop File Upload Module
This PrestaShop plugin allows customers to upload files and enhance user experience.
Features
Customers are enabled to upload files from product, cart or order detail page
Upload file for specific products or categories
Multiple file uploads at once
Drag and drop files
Allow merchants to upload files on product page to help customers
Specify file format and limit on the size of the upload file
Enable or disable file upload
Update or delete a file with a single click
Upload product tutorials, guides etc

6. M4 PDF Extensions Module
Customize PDF files easily with this PrestaShop plugin
Features
Quickly create, modify and redesign templates using online template editor
Create special PDFs for customers like Membership Cards
Manage multiple templates
High-quality PDF output
Create customized look for PDF invoices, mailing labels, product catalogs etc
Allow visitors to create PDF catalog page on product details page
Create a PDF in an inactive language
Use CSS style to change look of documents
Seamless integration with your store
Robust file management plugin for OpenCart 2.x
Features
Create folders and subfolders
Search file within a folder
Multiple files can be uploaded together
Drag and drop option to move files
Use URL link to upload remote files
Rename, cut, copy, paste files and folders
Crop, zoom, rotate and flip images
Download files and folders in zip format
Safety check before renaming, moving or deleting files
Use your preferred file transfer tool to upload and insert files in your database with this OpenCart plugin.
Features
File transfer tools like filezilla, fireftp etc can be used to upload files
There is no restriction on file type or size
Upload multiple files at a time
New files are added to database automatically
Entries are automatically removed in database when file is removed
Delete download in admin will also delete file from the server
This Shopify plugin allows customers to upload files when adding products to their cart.
Features
Unlimited upload fields can be added to your products
Uploaded files appear with the order in your Shopify dashboard
Large file size up to 2GB can be uploaded
Customers can preview, rotate and crop images using built-in editor before uploading
Full control on aspect ratio of images
All file types are accepted
Apply restriction on what file type to accept
Apply restriction on max or min image dimensions
High-resolution images can easily be uploaded

ShopShare is a plugin to connect your Shopify store with cloud storage apps.
Features
Share word documents, PDFs, spreadsheets with ease
Easily share product brochures, audio/ video and other media files with customers
Seamless integration with cloud storage services like Dropbox, Google Drive etc
No restriction on file size and file type as long as it fits cloud storage app
Quickly distribute marketing collateral among your sales force
Instantly share photos, newsletters etc with your customers
Download File Manager for Zen Cart stores lets you add downloadable files without using FTP.
Features
Allows admin to upload downloadable files to the download directory
Access all files centrally from admin area
Upload multiple files in one go
Drag and drop support
Upload progress bar
Sortable list of existing files on server
This Zen Cart plugin allows a file attribute to be required, similar to text attributes.
Features
Allows admin to handle errors resulting from insufficiently large values of post_max_size and upload_max_file size
Handle errors caused by failed upload attempts preventing products from being added to the cart
Get alerts and advice about maximum file upload size in admin section to set post_max_size and upload_max_filesize

13. Drupella File Manager
It is a web-based file manager for Drupal stores that allows you to upload multiple files.
Features
Drag and drop user interface powered by AJAX
Edit files from within the file manager and file_managed table auto-updates the database
Out-of-the-box WYSIWYG support
Integrates nicely with modules like CKEditor and FileField Sources
Configure permissions to access public and private file systems
Attach file manager to a user's account page
14. Filedepot
Feature-rich plugin for secure document management
Features
Ease to use functions for searching, downloading, editing, and adding documents
User-friendly interface
Functions like a desktop app
Store files outside public directory prohibiting direct URL access
Use SSL for added layer of security for documents
Bulk upload documents with MS Windows client from Nextide
Allow users to download files directly for editing mode
It is a plugin for Virtuemart and Joomla store owners to allow customers to upload images in product detail pages.
Features
Allow customers to upload or delete multiple files with ease
Thumbnails are automatically generated for image files
Allow customers to add comments in standard Virtuemart comment form
Allow admin to download files from each order
Configure various file attributes like maximum file size, type of file and number of files to be uploaded
Plugin is compatible with latest Virtuemart versions and Joomla 3.x
Tame your documents with power-packed plugins
Every ecommerce store owner needs a productive document management plugin to organize their documents. A plugin should be secure enough to facilitate file upload, file download and file sharing. Admin access should be enabled to control file access. Batch file uploads and multiple file formats should be supported to ensure seamless customer experience.
Drag and drop support is a basic feature to move files and should be there. During upload, settings should take into account file format, file size and file upload limit to keep file structure organized. In special cases where high resolution images and heavy files need to be uploaded, you can modify the settings of your plugins accordingly.
Now, you can easily integrate your Business Applications viz. ERP, CRM, Ecommerce Stores, Marketplaces, Shipping and POS Systems under one single platform and automate the Business Process!

You may also like:
How BlockChain will affect Ecommerce Industry in the Upcoming Years
7 Proven Ways to Improve Customer Experience for your Ecommerce Business
19 Quick Tips For Your Ecommerce Data Migration