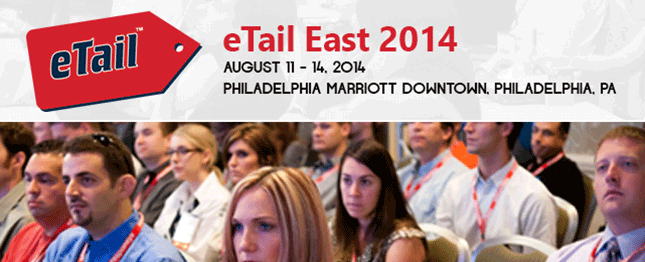 Before everything, let's know what eTail is all about!
eTail proves to be a hub bringing 1000+ senior-level eCommerce, marketing professionals and retailer experts from industries not limiting to Apparel, Accessories, Sporting Goods, Beauty, Consumer Electronics, Books, Music, Luxury, Travel, Office Products, Department Stores and more but also finding solutions to the top challenges they face.
Forget about the boring presentation and Q&A sessions where you ask a few questions and get replies. eTail East 2014 at Philadelphia Marriott Downtown, Philadelphia, PA will take you on a tour where you will experience focused interactivity and peer to peer networking.
Let us know whats exciting about etail East 2014..
The Offical eTail Mobile App: You will get the the latest update of schedule, live polling, direct messaging with the attendees and message questions directly to speakers at any time during the conference!
Interactive Sessions: You will experience hands-on full audience participation workshops every day of the conference. Get live feedback and receive free user testing on your website with brand new eye-tracking technology. Measure your social media presence on Instagram and Pinterest.
Round table sessions: Participate in the joint session where you can put forth your pain points and facilitator would be there to ensure all your questions are answered.
Loads of fun: Attend the new "Swag Refreshment Break" where you will be directed to grab freebies in the Solution Zone! Also enjoy cocktail networking breaks throughout the conference. You'll also have a chance to win CASH prizes by participating in X-Box tournaments during the breaks!
This is just a part of what you will experience at etail!
Here we go with the keynotes:
Scott Lux– VP Online, Diesel
Dave Atchison– SVP Marketing, Zulily
Charles Hunsinger– CIO, Harry and David
Josh Lieberman– VP Digital Marketing, Barneys New York
Now if you want to know why you should attend it..take a glance below:
Peer to Peer Networking: Wouldn't it be exciting if you get to meet with your peers? It will include Speed Networking sessions to group round table discussions. Interested to integrate UGC into your website successfully – just ask the VP of Direct to Consumer at Giggle, a leading children's specialty retailer. There are more stored for you.
Revamped Solution Zone: You will get to know more about leading technologies, enjoying free work stations, charging your devices at charger stations, participating in cash back prize games and tasty cocktails as you walk past the hall during every networking session break! The Solution Zone will be available from August 12th – 13th.
It was just a snapshot. You can view the full latest Agenda.
Retailers are getting an exciting offer to receive 25% off with discount code "ETE14RDIVE". Register today online or by calling 646.200.7530.
You can get the eTail Mobile App depending upon your smartphone:
for Apple users- Click here
for Android users- Click here
Hurry now!