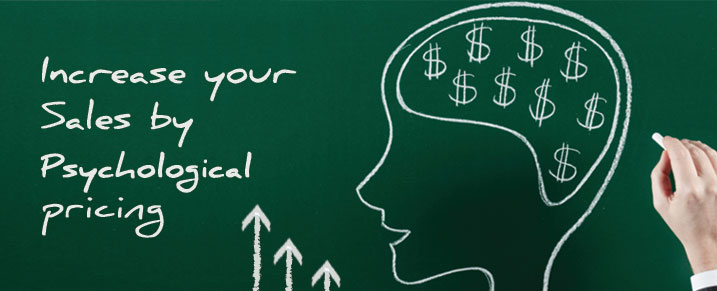 Psychological pricing is meant by pricing a product strategically that encourages your customers to buy your products. This is a scheme of converting customer's impulsive buying nature into sales. The customer often falls prey of psychological pricing in this manner.
It is very important for online merchants to understand a shopper's psychology. Different shoppers have different psychology, few of them knows what to buy, few are confused with the product comparison, many just laze around unless anything catches their sight, may be a consumer looking for a particular product landed up buying some other product etc. Every shopper checks the price before buying the product, the price is something that either stops you from buying it or creates the notion.
If you set a high price for a mediocre product, your customer will not pay heed to it. Now you have to price the product in such a way that it looks least one digit down as a sum, for example if you think of pricing a particular item 1$, consider psychological pricing like 0.99$. Your consumer will be under the impression that he/she bought the product within one dollar whereas you know you barely reduced the price. Now that's what psychological pricing is, the price of product differs by 0.1 or 0.2 cents will not bring any havoc difference in pricing but at the same time your customer will get a satisfaction. For you the pricing is same without any significance, unlike your customers. This strategy will not only increase your sales but also give your customer satisfaction.
Psychological pricing is often called the gold ticket to sell more, in order to boost your sales make sure the product pricing drives your customers to feel they are paying less. This strategy will not only increase your sales but also build a brand name for the products. It is the human psychology that we take the price by the first digit and tend to ignore the second digit. So anything your consumers buying with 99$ is psychologically less than 100$ though there is no significant change in the pricing, but the 1$ makes a difference from a double-digit expense to a triple digit expense.
Start applying the strategy to boost your sales volume!