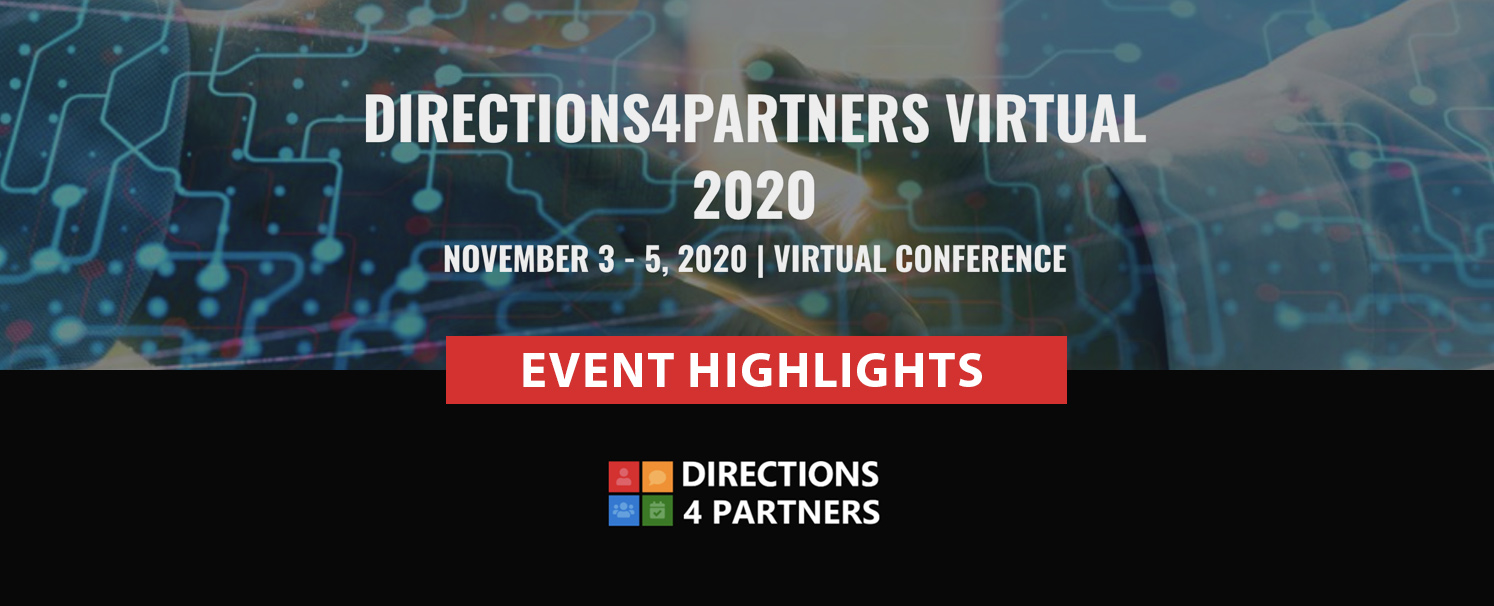 What is Microsoft Directions4Partners?
Microsoft Directions4Partners is an independent Microsoft Dynamics 365 partner community that focuses on the SMB market from ERP and CRM channels. It's a partner organized community to allow Microsoft Dynamics 365 Partners to connect and directly learn from the team members at Microsoft.
The community consists of more than 4000 and growing numbers of developers, implementers, technical experts, sales, marketing and executive/owner representatives that are part of the Microsoft Dynamics channel.
Conferences are conducted by the Directions4Partners community which provides attendees with the opportunity to learn directly from Microsoft regarding everything about Microsoft Dynamics, from the newest version releases, to more hands-on technical knowledge concerning the integration of CRM and ERP withing Dynamics 365 Business Central.
Microsoft Directions4Partners 2020
Microsoft Directions4Partners 2020 was held digitally in light of the COVID outbreak and was presented by expert speakers giving in-depth content and providing an opportunity for attendees to connect and interact with Microsoft and other partners from anywhere in the world. The event was designed to be an online interactive experience and not a static series of webinars, thus give participants Interactions, Session Rooms both live and recorded, an Exhibition area, Structured network spaces and so on.
How Was The Experience Like?
The event was designed to be a very in-depth experience. The virtual event was delivered with over 160 sessions, each 30 minutes long with an additional 15 minutes live Q&A session, presented by experts from various fields. The videos were all pre-recorded giving the presenter the opportunity to interact with viewers and answer their live chat questions while the session was still going on.
Make sure to join us at the Microsoft Expo at #Directions4Partners. Go to Exhibition, Hall 1 and click on Microsoft. Go to the right side and click on VideoChat. We're here all three days from 11-16. Ask us anything! #MSDyn365BC pic.twitter.com/n5W6GdiDAw

— Microsoft Dynamics 365 Business Central (@MSDYN365BC) November 3, 2020
The keynotes of the presentation were of a high-quality live stream from a state-of-the-art studio as well as town hall sessions. The presentation also had regional focused halls and theme focused Video-conference tables for discussions with a smaller group.
Because of the nature of the event being streamed live along with a live Q&A session, the sessions were streamed in a scheduled manner, as given and made available on the website, and most of the content will be available to the participants some weeks later.
APPSeCONNECT was glad to be a part of the virtual event and it was a great experience even when the sessions were hosted live. The event provided a seamless experience for all the attendees and we were happy to connect with fellow enthusiasts and tech experts after such a long time.



Some of the most notable speakers of the event included Mike Norton, GM of Microsoft Dynamics 365 Business Central, Waldo (Eric Wauters) Tobias Fenster, Vjeko Babic, Steven Renders, AJ (Arend Jan Kaufmann), etc.
A big thank you to the team of @DirectionsEMEA – you did a marvelous job in bringing us together in times to stay apart! Awesome job! And thank you community for the continued passion for #msdyn365bc!#Directions4PartnersVirtual2020 #Directions4Partners

Next year in person! pic.twitter.com/fUj9tCD1q4

— waldo (@waldo1001) November 5, 2020
What Happened at The Event?
The content for the stream was focused primarily on two main branches – one designed for Developers, Consultants and Digital Solution Architects, and the other one oriented towards Business Decision Makers, Executives, Sales and Marketing Professionals.
The track focusing on Developers, Consultants and Solution Architects was technical-focused and covered topics of Microsoft Dynamics Business Central like:
Development
Development Tools
Functional enhancements
ISV-Solutions
Tips and Tricks
And what's new around Microsoft Business Central like:
Power Apps
Business Intelligence
Azure Management
Other tools and API's
Just delivered a 'CDS (which is not CDS anymore) integration scenarios for #MSDyn365BC' session with Andrey Baludin at #directions4partners – this time Virtual.

Great online experience. Many thanks to organizers for outstanding efforts and event performance! Enjoyed!#MVPBuzz pic.twitter.com/2NkaxMK6LT

— Alexander Ermakov (@Alex_Ermakov) November 5, 2020
A big thank you to everyone who attended our ISV session this morning.

Reach out to us if you have any questions about our session.#Directions4partners #directions4partnersvirtual2020 #NETRONIC #visualschedulingsoftware pic.twitter.com/DTKe9YYHa9

— NETRONIC Software (@NetronicSoft) November 5, 2020
The track focusing on Executives, Business Decisions Makers and Marketers covered topics like:
BC sales strategies
Licensing
Cross selling
How to create their own IP
Working with social media
Company marketing
Strategic company planning
New company requirements
Company comparison figures

Whom Was The Event for And What did They Learn?
The Microsoft Directions4Partners Virtual 2020 event covered all topics associated with Microsoft Dynamics 365 business and was aimed to provide a very comprehensive knowledge of all things Microsoft Dynamics does and provide participants the opportunity to make networks at all levels, even at the Executive, Technical, Development, Marketing, Sales and Operations levels.
This event has been a huge success for:
Microsoft Dynamics partners who focused on making most of the opportunities by speeding up the transition of their business to a cloud model.
Microsoft partners who focused on implementing Microsoft Dynamics 365 Business Central into their list of offerings for their customers.
All Microsoft partners who are interested in the new Customer Engagement App by Microsoft Dynamics 365 for Sales and Marketing.
Partners who enrolled for the Cloud Solution Provider (CSP) program
ISVs who are interested in learning the new development tools the process for AppSource apps and extensions creation.
ISVs and Service providers who provide solutions for Microsoft Dynamics partners and are planning to build or expand their network
All Microsoft Partners companies who are looking forward to new opportunities by means of collaborations and building knowledge with a common business vision.
My 3 sessions at #Directions4PartnersVirtual2020 are done. Thanks for attending. I hope you enjoyed this new virtual experience. See you live next year… ? Directions 4 Partners #msdyn365bc #msftadvocate #directions4partners #DirectionsEMEA #Directions2020 pic.twitter.com/4zqOTh9XX0

— Stefano Demiliani (@demiliani) November 5, 2020



Now coming to the matter of the things that participants learned – the content was vast and varied and yet ensured to provide a competitive advantage in the SMB marketplace. The sessions provided the latest knowledge and updates including an update on the Roadmap for Microsoft Dynamics 365 Business Central and its upcoming new features, a modern client and best practices for developers including Visual Studio Code and AL and the upgrade of the existing Dynamics NAV customers to Dynamics 365 Business Central.
The program also helped increase the focus on the Power Platform and AI. The Power Platform will offer new opportunities for Partners to help customers with their digital transformation and help with Integrating Business Central data and data collected outside of the Business Central with AI to help customers.
Here's a link to the virtual conference – Microsoft Directions4Partners 2020
THE FINAL TAKE.
In conclusion, this event was a huge hit for anyone who is a Microsoft Dynamics 365 partner and is looking forward to expanding and implement more features of Business Central into their workflow. The virtual event was also crucial for developers and other technical experts who work with Business Central and aim to increase their network as well.
But if you want to make more out of Microsoft Dynamics NAV and Microsoft 365 Business Central, you need a strong and robust integration platform that allows it to communicate with all other business applications. APPSeCONNECT by InSync is a next-generation, robust business software integration platform that seamlessly connects all your business applications and streamlines operations to facilitate the free flow of data across all of them.
Now, you can easily connect all your business applications under one single platform to automate the business process!