OpenAI Integration for SAP and Shopify to Quickly Generate Product Information
Thursday, July 27, 2023
8:00 PM IST | 9:30 AM CST | 7:30 AM PST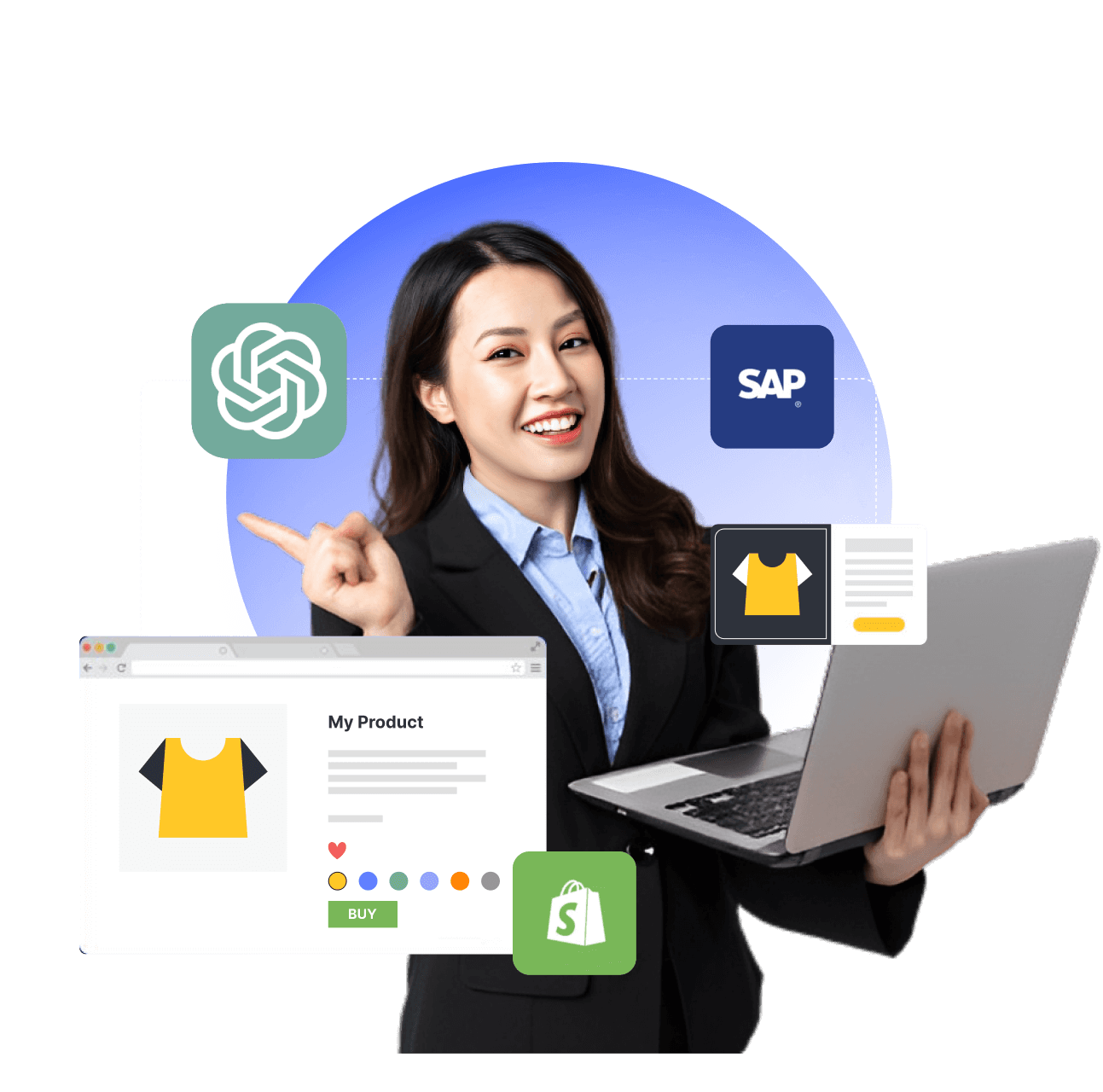 OpenAI Integration for SAP And Shopify to Quickly Generate Product Information
In today's rapidly evolving business landscape, integrating key software systems is essential for driving growth and maximizing operational efficiency. The integration of ERP and eCommerce has emerged as a crucial requirement for businesses looking to expand their online presence and streamline their processes.
Oftentimes, we find that master data within ERP systems like SAP is not enough to create complete and impactful eCommerce listing pages, such as on Shopify. However, comprehensive product information performs a crucial role in the buying decision of retail as well as B2B customers.
One of the key challenges businesses faces when integrating these two platforms is the laborious task of transferring product data from SAP to Shopify. This process becomes especially cumbersome when dealing with essential fields such as product images, descriptions, and attributes. The manual input required for each product can consume a considerable amount of time and effort from valuable resources.
To address this challenge, the OpenAI integration through APPSeCONNECT offers an innovative solution that leverages artificial intelligence for SAP S/4 HANA and Shopify.
This automation takes the Material Master Record in SAP and transforms it into an impressive, content-rich Shopify storefront listing, enabling businesses to expedite their time-to-market and enhance the user experience.
Key Discussion Points:
Integrating ERP and eCommerce for business growth
Challenges faced while transferring product data manually
Features and capabilities of OpenAI Integration by APPSeCONNECT.
How AI can revolutionize the product data transfer process.
Automating the generation of product images, descriptions, and attributes.
Showcasing a content-rich Shopify storefront achieved through this integration.
Practical tips and best practices for optimizing OpenAI integration
Q&A session to address queries and concerns.


Objective
The primary objective of this webinar is to showcase the immense value and time-saving capabilities that the OpenAI integration through APPSeCONNECT brings to the SAP and Shopify ecosystem by leveraging artificial intelligence.
APPSeCONNECT will use this data in accordance with our
Privacy policy
to curate a better experience for you, drawing from the best practices we have picked up from eCommerce experts in the industry.