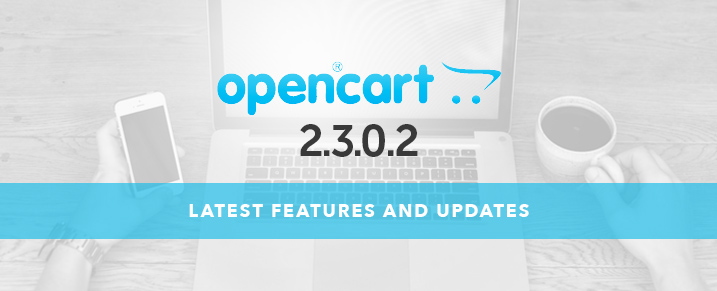 Opencart is one of the most popular choice of eCommerce Platform now a day. As per statistics from Builtwith eCommerce Trends it has the second largest market share in eCommerce Platform Market Globally, just after Woocommerce. If we consider the fact that Woocommerce is not really full-fledged eCommerce Platform, rather it's merely an extension for WordPress based websites, then Opencart is leading in the road. In US Opencart stands at 9th Position, in UK it's in 3rd Position and in Australia it's in 6th Position respectively, making it an important platform to consider when you think of building a new eCommerce website.
Recently in this month August 2016, Opencart announces the launch of its latest version Opencart 2.3.0.2. Let's have a quick sneak peek what we will get additional in this version.
The basic advantages of Opencart remains same here like:
Open Source
Free Documentation
Easily we can install designed templates
Automatic Resizing of Images (a big concern for merchants when having products more than 20,000)
Availability of integration with many Shipment Systems
Unlimited Categories and Products
Multi-Currency, Multi Lingual and Multi Store feature
What Opencart 2.3.0.2 is all about?
Opencart 2.3.0.2 released in last week of July. Prior releasing this full version it was available as beta and got important suggestions and updates from Opencart Developer Community who helped to make this release happen.
Opencart 2.3.0.2 came up with new list of:
New Updates
Upgrade to existing features
Important Bug Fixes
Addition of 5 New Payment Gateways as default package within the eCommerce Platform, and these are:
Klarna
Card Connect
Divido
Pilibaba
Telecash
If you have any extension developed on earlier Opencart version, make sure you test your module with Opencart 2.3.0.2 and update your extension details in Opencart Extension Store.
Server Requirements for Hosting Opencart 2.3.0.2
You can select Hosting Package from A2 Hosting, they can take care of Hosting as well as providing a basic installed Opencart within that hosted space
If you wish to host it elsewhere, below are the requirements:
Web Server – Apache
PHP 5.3 or higher
Curl- Enabled
Database – MySQLi