Why iPaaS?
SaaS and PaaS coupled with mobile, big data and IoT have exploded big time in recent years and that has increased integration work and complexities consequently. In today's age, organizations are using multiple applications and platforms to automate their business flow. Although, many organizations cater towards business process integrations to strengthen their processes, point to point integration between applications is still extremely difficult to execute.
iPaaS is, however, playing a key role in this integrational strategy. iPaaS helps enterprises to simplify the point to point integration difficulties because the design and administration functions are centralized in iPaaS.
Custom Integration vs Pre-Packed Integration :
As many organizations are opting for Integration Services, there lies the advantage of pre-packed integration and the need for opting it.
So what is Pre-Packed Integration?
We take a quick example…
Suppose an organization uses Magento to manage and deploy their e-commerce stores and in the backend, they use SAP B1. Now if the company decides to automate the data flow process between these two applications, they would rather choose a solution which is already pre-packed with Endpoints for these two Applications to be integrated such that the data can flow seamlessly. The organization would simply provide the credentials of their applications and define which endpoints would they want to integrate and the solution that would integrate the data between the two apps.
This is extremely beneficial and efficient as compared to custom based integration.
Pain Points in Custom Process Integration in Business :
For a process integration software that is not pre-packed with point-to-point integration, one has to go through the entire schema or data structure of these different application data and one might need to transform it in order to load into another application.
These applications would maintain different business cycles. So, to understand different scenarios one will have to study these applications' data flow keenly.
One would require a lot of effort, time and experience to come to a solution.
Even if these solutions suffice for one business scenario, they may fail for another scenario and wouldn't be versatile and reusable.
So, organizations which are considering these pain points for custom integration might very well go for the Pre-Packed Integration. APPSeCONNECT, an efficient business integration platform uses pre-packed business process modeling tools to move ahead and excel in the sector of integration.

Following are the key advantages of a pre-packed business process integration software:
As the solution is pre-packed with endpoints being integrated with each other, there is no need to worry about the transformation of data from one application to another.
No transformation needs to be done from scratch.
There will be Pre-Built Mappings available.
As it has been tried and tested, efficiency is high.
Very less time is required to set up the integration process.
Pre-packed integration would generate higher customer satisfaction.
Even inexperienced players in the market can easily integrate their data.
Extensibility is a huge factor as organizations can choose to integrate more and more endpoints of applications.
Data flow is bi-directional and occurs in Real Time.
Centralized Monitoring and Administration is available.
The Advantage of Excellent Features via Add-Ons :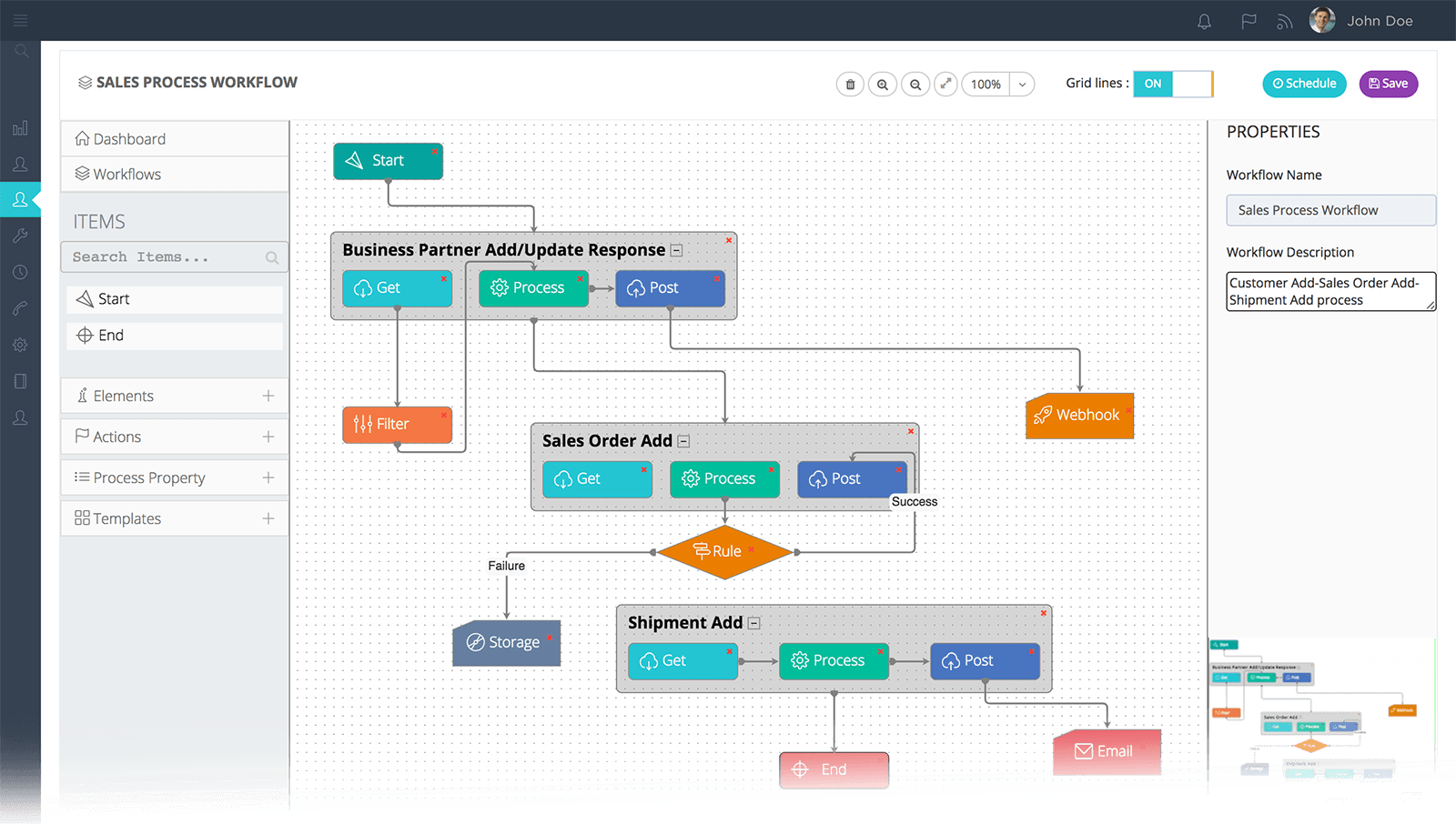 These pre-packed business integration process models often offer many intelligent and useful features such as Rule Engine for data flow analysis, Workflow for process diagrams which help an organization to visually realize the data flow and orchestrate the business scenarios and cases, protocol-based adapters for direct connectivity with applications, etc. APPSeCONNECT, being a one-of-a-kind integration platform, has a number of these features which help businesses in varied ways. APPSeCONNECT Technologies uses the best-in-the-class automation techniques and offers add-on based features which the businesses might incorporate as per their requirements. Although other platforms are available too, APPSeCONNECT features stands at par and above them by a fair margin. By this article, one can clearly understand how beneficial a pre-packed integration software might be for any organization willing to scale higher in their business and get more and more efficient return by the use of business automation and application integration.
Now, you can easily integrate your business applications viz. ERP, CRM, Ecommerce, Marketplaces, Shipping and POS Systems under one single platform and automate your business process!


You may also like:
20 App Integration Trends to Watch Closely in 2018
Event Driven Integrations using Webhooks – Explained!
Ecommerce – ERP Integration : 5 Challenges to Overcome