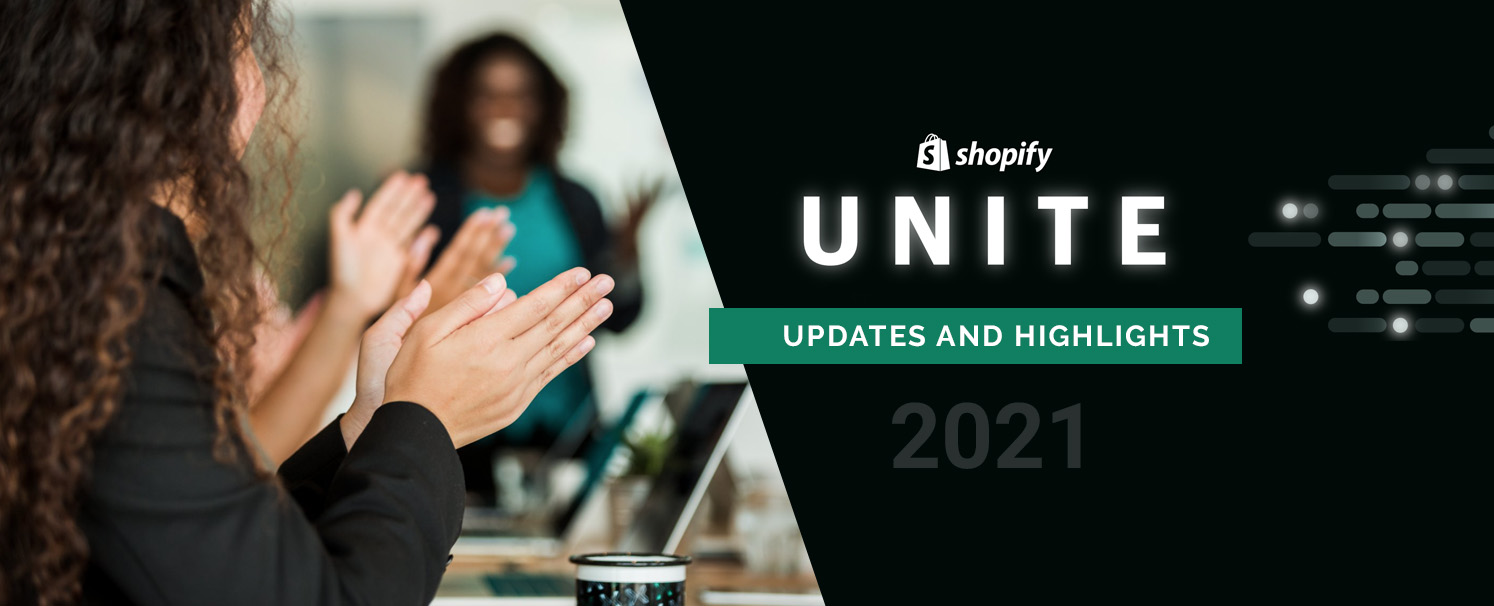 Shopify is one of those leading eCommerce platforms that help brands build best-in-class customer experiences and offers a development team that caters to fulfill the goals. Shopify Unite is the annual global partner and developer conference that brings together Shopify enthusiasts and hands-on professionals to announce new product updates and enhancements. At the Shopify Unite 2021, the eCommerce giants introduced their biggest set of infrastructure innovations and investments in the history of Shopify. After seeing the gains in the pandemic-driven eCommerce shift, Shopify opened up amazing new opportunities for SMEs which has created a world full of possibilities for them. Shopify now offers brands the freedom of unlimited customizations and helps in truly offering the best customer experience to their users.
Shopify Unite was aimed at building a better merchant experience and has introduced more developer capabilities that eliminate the problems of technical constraints. Developers now will have more control and power over building the kind of eCommerce platform they want – and the possibilities are unending!
"The internet is the world's largest city, and Shopify is building its commerce infrastructure," said Tobi Lütke, CEO of Shopify. "Especially over the past year, we saw independent businesses succeed by showing up creatively and uniquely in this city. The future of commerce on the internet relies on creative expression at every touchpoint."
With more tools and features for businesses coming later this year, Unite 2021 made many major announcements.
Here are the major highlights of Shopify Unite 2021 and the Shopify Plus Product Updates
Online Store 2.0
One of the biggest updates of Shopify Unite 2021 was the introduction of Online Store 2.0 – a revised amalgamation of the new features and improvements that expand a user's ability to customize and optimize their online store. With the new Online Store 2.0, business owners are backed by more flexible options and can control the appearance and brand image of their store, giving them access to more data that helps them provide an unparalleled experience to their customers.
More Personalization
With the Online Store 2.0, users also get huge levels of customization without the need of editing code. With features like sections and blocks, drag-and-drop, etc. businesses can now personalize each page of their web store by rearranging at removing content according to their requirements. Advanced customizations like Shopify GitHub integration and the Theme Check allow brands to go beyond their borders and helps developers build, test and deploy themes with just a few clicks. To know more click here.
Immense Flexibility
Shopify now offers more flexibility to users in terms of how content and data are stored in the webstore. Brands can now display and edit product and products details according to their choice easily.
Simpler integration
Shopify Unite launched app blocks for developers which help them easily customize the store to their needs. This completely changes the scenario for business owners since now it is easier to integrate various apps and extensions to their store and theme without even touching a line of code. This is done by an app block Liquid file that helps developers add and manage integrations directly from the theme editor.

Though this feature is coming later this year, we can expect it to change the game for Shopify merchants. If you are a Shopify merchant and are looking for a seamless Shopify Plus integration with other business apps, click here.
Better Conversions
Checkout is the essence of a true online shopping experience. This is the part where conversions happen organizations benefit from the returns. To ensure that Shopify checkout remains the best in the world and can support the huge volumes of sales, Unite 2021 brought forward some great enhancements to the checkout process in Shopify Plus via the checkout.liquid code.
Shopify has introduced a set if checkout extensions, APIs and UI components directly from their library which facilitate the easy building of these checkout apps. These apps are fast to install, perform better and are upgrade-safe, which means merchants will get all the platform benefits with the release. These custom checkout extensions will work seamlessly with Shop Pay and other accelerated payments methods that help merchants increase conversions and offer faster and easier checkout processes. With the checkout extensions, users will have access to:
Extension APIs
New Extension Points\
Component Library
New APIs
More Shipping and Payment Options
With the new features, users will also gain various shipping options, including the local pickup experience with the help of Shopify Scripts. This is a feature for the Shopify Plus platform and allows brands to custom-tailor shipping options during checkout.
Another addition that Shopify has introduced is its new Payments Platform that will replace the legacy integration and help developers create unique payment gateways as Shopify apps. The Shopify Payments Platform is compatible with the latest checkout procedure at Shopify and makes it easier to integrate. This platform is bound to unlock the future possibilities and opportunities of growth and success for merchants by allowing easy integration and opening a broader ecosystem that not only offers niche features and functionalities but also brings maximum value to a business by enabling them to sell more and at various places.
? Calling all payment developers ?

With Payments Platform, you will be able to create payment gateways as Shopify apps for niche and localized payments around the globe. pic.twitter.com/iImEbYx57a

— Still Thinking About #ShopifyUnite (@Shopify) June 29, 2021

Increased Order Value
With the Buy Now Pay Later feature, merchants can now offer greater flexibility to their customers checking out with larger cart sizes, boosting conversion by up to 50% and hence increasing the average order value. The Shop Pay Installments let a shopper buy products and pay for them later in 4 interest-free installments with zero additional costs. This encourages more and more shoppers to choose the service and help both themselves and the merchants benefit from it.
Higher Scalability
Another interesting feature was the new Shopify Scripts which offers higher scalability and helps merchants build backend custom logic specific to their intent. With the new Shopify Scripts, users can scale and handle their business operations and traffic from the biggest merchants and flash sellers in the world. The aim of these scripts is to simplify the development process, improve product reliability and enable a faster process that helps brands deliver unique experiences to their customers. Also, the Scripts can now be deployed and installed via apps, which means that it can now be installed on multiple stores, without the need of a single line of coding.
Build Custom Storefront with Storefront API
With the launch of the new Storefront APIs for Shopify, customers can now build personalized themes and UI and take advantage of more commerce capabilities – curbside pickup, international pricing for global shoppers, intuitive subscription plans, etc.
Shopify also introduced Hydrogen, a developer toolkit and a React framework that tackles the complexities of custom storefronts needs and helps developers build unique commerce websites which fits the brand in just a few clicks. This helps in the faster building of the storefront with more focus given to the UI to make the brand stand out. Along with Hydrogen, Shopify users also get Oxygen, the best way to host Hydrogen storefronts directly into Shopify – it is fast, it serves globally and is optimized for every kind of commerce. Sign up for updates on Hydrogen here.
JS + React + commerce = fun.

Coming later this year, our new Shopify Hydrogen framework – complete with React (server) components built for commerce.

Best part? Host directly on Shopify with Oxygen, no dev ops required. pic.twitter.com/cFqINdUzdR

— Tobi Lutke (@tobi) June 29, 2021
The Local Pickup Experience
At Shopify Unite 2021, merchants were also introduced to the new local pickup experience which now designates pickup-only locations to help merchants. This helps in preventing costly and time-consuming errors – customers can now easily pick up their orders from a pre-designated pickup-only location and do not need to ship orders out of that location.
Selling Wholesale with Handshake
Shopify Unite encouraged merchants and business owners to sell wholesale with Handshake, a wholesale marketplace built by Shopify to cater to a bigger and newer audience. Here, all products come from brands powered by Shopify – hence we know the quality it holds. Unlike other marketplaces, Handshake does not involve any additional fees or commissions to start ordering. Also, if you are an existing wholesaler, Handshake offers even more flexibility in moving orders.


Deliver delightful customer experiences by improving your order processing efficiency with an Integrated B2B eCommerce Platform built for Wholesale Distributors.
Shopify Unite was one of the most innovation-filled events that wholesale merchants might have come across. The announcements in the event were to establish the investments in performance and the tools for developers that result in better commerce options and helps brands reach globally. Shopify was determined to build powerful, relevant and unique commence experiences for everyone, and now with Shopify Unit, they have made it available to everyone.
Shopify, the eCommerce giant, promises to support every stage of development of businesses and brands as they grow in their technical maturity, business complexity and resources, and help them fabricate the best-in-class shopper experiences that promise them desired returns and makes their brand known globally.
Explore the technical highlights in more detail here: Shopify Unite 2021 Announcements
---
INSYNC Commerce is a B2B eCommerce platform that is designed for manufacturers, distributors and wholesalers to cater to their needs of better digital adoption, quicker digital launch and rapid growth. The platform offers end-to-end built-in integration with other business applications such as ERP, CRM, POS, etc. to provide a seamless eCommerce experience.
Get started with your B2B eCommerce store and gain a competitive edge in the market! Also, connect all your business applications under one single platform to automate the business process!