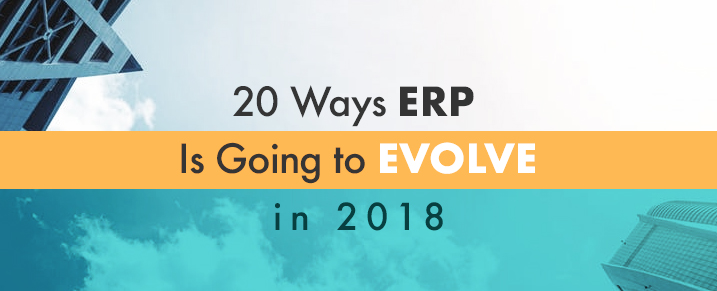 ERP has evolved from a simple business process management system to a complex multi-module tool. Cloud technology was a major disruptor and many businesses are incorporating cloud to optimize their operation. Apart from that, the ERP ecosystem is changing in different ways with technological advancements, innovative solutions and fruitful integrations. The following blog talks about various ERP business trends such as Magento ERP integration, to watch out for in 2018.
1. AI-Enabled ERP Solution
AI-enabled ERP solution provides an interactive interface to customers and employees. It can learn, speak, read, respond and predict future outcomes with ease. AI solutions constantly learn to optimize operational models and bring in operational efficiency, reduce cost and minimize human errors. It is capable of handling routine tasks performed by employees leaving them with more productive tasks.
For instance, Unilever hires entry-level employees using brain games and artificial intelligence. They record interviews that are analyzed by AI and the company has reported a dramatic increase in diversity and cost efficiency.  This clearly shows how HR module in ERP can be optimized. In other words, ERP business trends indicate that AI will rule the roost.
2. Focus on Open-Source ERP solution
Proprietary software has always been expensive to maintain owing to its licensing fees.  On top of that, it limits customization and flexibility of the software in the changing IT environment.  On the other hand, open-source solutions are easy to develop – many developers are coming together to push for open-source solutions. Open-source ERP solution can easily be customized and integrated with other apps within the organization.
For instance, the emergence of an open-source framework like Hadoop has made it easier for businesses to gain insights into big data. ERP business Trends highlights the importance of open source ERP solutions.
3. In-Memory Computing Approach
The kind of attention big data is getting is necessary for businesses to upgrade the underlying infrastructure to process big data. In-memory computing allows you to store data on Random Access Memory (RAM) as opposed to hard disk.  Storing large amounts of data on RAM is easy and it helps you to process and analyze big data faster. ERP solutions with in-memory computing will give you a competitive edge and is definitely the future of ERP.
For instance, SAP HANA is a powerful in-memory data platform for performing real-time analytics and deploying real-time applications.
4. IoT-Driven Business Model
IoT technology is largely credited for capturing big data including real-time performance information. The information can then be passed on to AI-enabled ERP solution for gaining insights. The future of ERP is also vested in technologies such as IoT. With growing number of industrial IoT devices generating big data, the onus is on business owners to develop IoT-driven business models like automation of data processing.
For instance, SAP Leonardo is playing a crucial role in the development of IoT-focused business models to drive value and market differentiation.
5. ERP as a Data Collection Tool
With the growth in real-time applications and cloud deployment, it is fundamental for any ERP system to be able to collect comprehensive data. Data collected by ERP includes operational data which is part of ERP modules as well as data from integrated applications.  Data collected by an ERP can be processed efficiently only by reforming existing business models and incorporating data-intensive IT strategy. In fact, it wouldn't be a tall claim to make if one said that the future of ERP depends on how one collects data.

6. Goodbye to Long-Term Relationship with Cloud Vendor
With the evolution of cloud ERP, there has been a spike in cloud-based application vendors. More and more businesses are looking for cloud applications that can be easily built and customized. PaaS has made it a lot easier for businesses to develop ERP solutions. Thanks to the evolution of cloud ERP, you don't have to tie yourself down to one cloud vendor.
ERP predictions 2018 suggest switching vendor will become easy with smooth export/import of data from one solution to another. Cloud ERP may not yet be at par with legacy ERP system, however, zilch liability and low implementation costs have enabled businesses to move on to a better solution as and when required. However, the evolution of cloud ERP will continue on a perpetual rate.
7. Cloud for Quick Implementation
Businesses look for solutions that are quick to implement and cloud ERP solutions promise just that – cloud provides a flexible and scalable development environment and can be rapidly deployed.  In contrast to a legacy system where extensive training and planning is required for a successful implementation, cloud ERP is quick to implement. Consequently, the momentum towards cloud adoption will witness an increase.
8. Industry-Specific ERP Models
Businesses don't want to waste time in building an extensive ERP package that might become obsolete in a couple of years. Industry-specific cloud ERP solutions require minimum customization and help you save more time. Moreover, you can abandon the solution in a few years' time. ERP predictions 2018 suggest there is going to be a shift from the generic ERP towards the industry-specific solutions, especially among SMEs.
For instance, batch process manufacturing requires an ERP solution with superior domain expertise integrated into the application.
9. ERP Ecommerce Integration
Integration between Ecommerce platforms (viz. Magento, PrestaShop, Shopify, etc.) and ERP solutions (SAP B1, MS Dynamics NAV, etc.) will become a priority.  Even marketplaces like Amazon and eBay will be a part of this integration. Integration allows you to synchronize ecommerce data with your backend data including inventory, order, customer, shipping, product information, and invoice.
Integration allows you to operate efficiently, avoid manual data entry errors, and save time.  Add multiple stores to ERP, generate ERP reports based on store transactions, and manage price (i.e. any change in price in ERP will be reflected in the store).
Integration between Magento and cloud-based NetSuite without additional middleware is an apt illustration of Magento ERP integration. Magento ERP integration has helped thousands of businesses manage their transactions better.
10. More Cost Optimized Apps for SMBs
Cloud computing has popularized the trend of the pay-per-use model which is highly suitable for SMBs.  Easy accessibility of the cloud ERP has given a cost advantage to business models. For SMBs to deliver well-budgeted and manageable services, it is important that ERP applications are available at a competitive price.  Cost-optimization of core offerings in ERP application is going to be among the leading ERP trends in 2018.

11. Mobile Integration will Become a Norm
ERP predictions 2018 indicate mobile ERP will no longer be seen as a choice but a norm. With remote workforce on the rise, mobile ERP integration can't be ignored. Cloud ERP apps should be easily accessible across multiple mobile devices like smartphones and tablets, across multiple operating systems including iOS, Android and Windows.
SMBs will have to take their BYOD policy seriously to ensure that critical data accessed on mobile devices is protected against data leakage and device theft. Employee responsibility and accountability are other factors to be taken into consideration.
12. ERP CRM Integration
ERP CRM integration is mandatory to synchronize data in real-time.  It exponentially improves customer service and streamlines business operations. Business productivity is enhanced because employees don't have to transfer data back and forth from one system to another.
It helps in an easy collaboration among different departments. Mobile sales workforce can instantly access complete information through a unified database and respond to customer queries faster. Check out these Benefits of an Integrated ERP & CRM System for SMBs!
13. Legacy System Vendors Coming up With Cloud Support
Legacy system vendors who are still showing reluctance to launch cloud ERP will have to bear the consequences. Cloud is the need of the hour and they must provide cloud-based ERP support to stay relevant.  With a combination of legacy and cloud applications, they can even provide competitive hybrid services to their existing customers and expand their customer base in the future.
14. Rise in ERP Usage among Millennials
Millennials are tech-savvy individuals who refuse to work on inefficient systems.  ERP trends 2018 reveal that ERP, in particular, will receive a special attention by millennials who want systems that are efficient, value-generating and time-saving
Cloud ERP gives them leverage to enter the market quickly and deliver innovative products to their customers. Millennials have grown up with digital technology and would not shy away from experimenting with anything new in the ERP sphere.
15. ERP for Predictive Analytics
Predictive analytics involves multiple data sources, data mining techniques and statistical models to predict future business outcomes. ERP systems will incorporate predictive analytics to evolve business strategy and optimize business operations.
With big data becoming the center of the business universe, 2018 will find companies investing in predictive analytics to analyze large data sets to gain deeper insights. And for that companies will have to adopt advanced ERP business suites like SAP S/4HANA.

16. Intelligent ERP systems
ERP systems have been around for a long time and over time they have evolved to meet the most complex challenges of the business environment. An intelligent ERP system offers something more than a usual ERP system with a combination of cloud technology, machine learning, and predictive analytics.
These enhancements together make the ERP system smart in many ways improving product development, forecasting, delivering superior user experience and optimizing business processes. Intelligent ERP systems are designed to meet all your requirements and help you gain a competitive edge.
17. Focus on Data Security
Data security in ERP systems can no more be left on the backburner. ERP systems are getting more complex each day. Multiple integrations with various third-party applications are not making things any easier. Businesses need to adopt stringent data governance and IT compliance policy to handle risks posed by data hacking.
ERP trends 2018 suggest businesses will pay more attention to data security standards while choosing their cloud ERP service provider.  Employees will need to be educated on how to handle data, especially on their personal devices. Securing databases and infrastructure and authorization control will be among the leading practices to ensure ERP data security.
18. Focus on Business Intelligence Software
By integrating ERP with business intelligence software, businesses will get real-time data access that allows for quick decision making. Moving beyond the barriers of traditional reporting, BI allows owners to make smart decisions in a dynamic environment. Ad hoc reporting becomes faster and simpler with BI integration.  Users can enter data from multiple external sources like spreadsheets and integrate with ERP database to attain better visibility.
19. Business Process Integration
Customer requirements force businesses to constantly refine their ERP operations.  Multiple point-to-point ERP integrations make the whole system complex. Response rate increases and system efficiency starts decreasing. ERP trends 2018 reveal a proclivity toward adopting business process integration.Professional business process integration services encourage automation and are likely to witness high demand.
20. New Cloud Business Model
SaaS model in cloud ERP has been the focal point for many small businesses given its simplicity and cost-effectiveness.  However, businesses with traditional ERP systems are licensing their software and hosting them in public or private cloud. This self-service need-based model will gain popularity with the arrival of 2018.
Look out for ERP Predictions for 2018
ERP is a dynamic tool operating under complex business settings. Changing customer requirements and competition entail businesses to evolve. Trends like AI-IoT-driven solutions, big data analytics, ERP/CRM integration and ERP/Ecommerce integration are gaining traction. Monitor the trends closely and be prepared to act before your rivals do.
Now, you can easily integrate your ERP System with the Ecommerce store, Marketplace, CRM, Shipping and POS Systems to automate the Business Process!

You may also like:
Ecommerce – ERP Integration : 5 Challenges to Overcome
7 Benefits of an Integrated ERP & CRM System for SMBs
7 Types of Data to Sync Between your ERP and Ecommerce