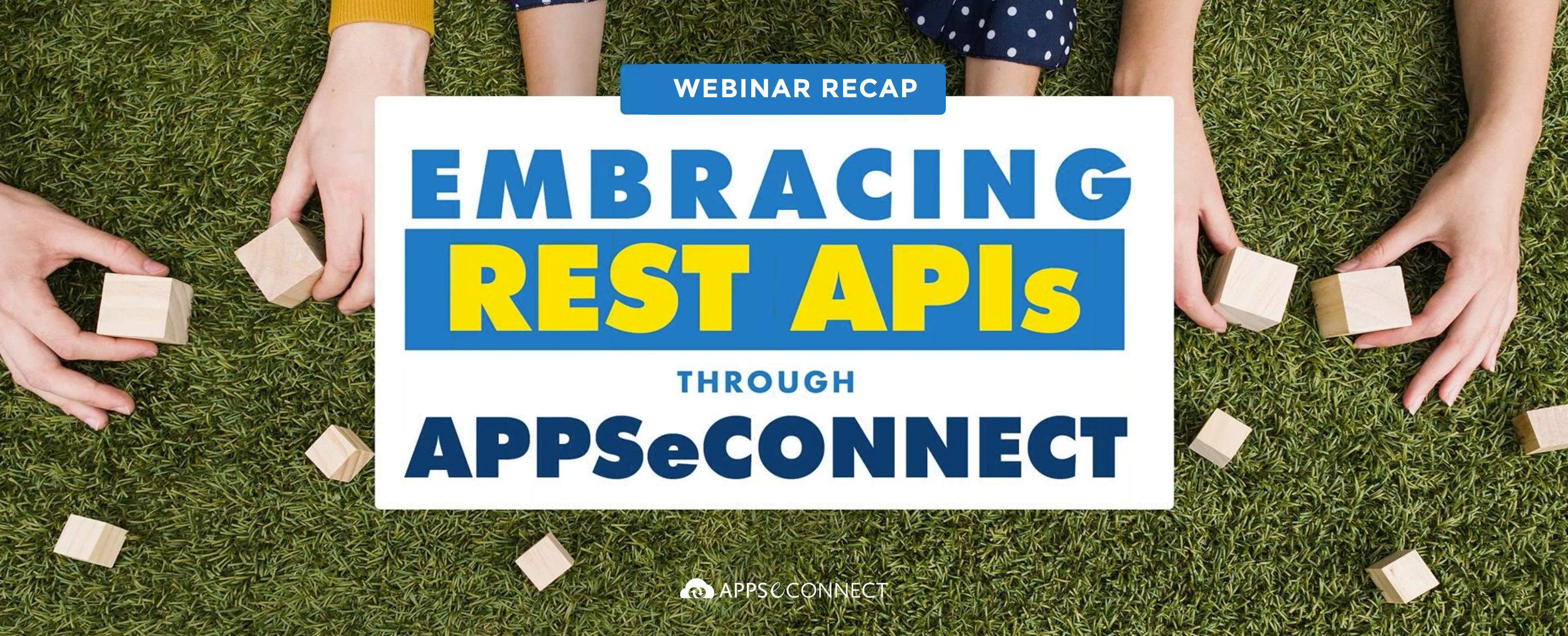 REST API is not new to the world. Standard API connectivity relies heavily on the REST protocol as it is widely accepted and easily adapted. To help and educate people on this matter, APPSeCONNECT recently organized a webinar titled "Embracing REST APIs through APPSeCONNECT'. The webinar covered the steps on how easily we can embrace REST APIs with APPSeCONNECT without writing a single line of code.
The webinar was held on 30th December 2019 and the main areas which were covered are :
1. What is REST and why it is important?
2. Authentication mechanisms.
3. Adding Schemas and Actions
4. Connecting the dots through Workflows.
5. Defining Integration Strategies.
6. Provisioning and Maintenance.
7. Conclusion

The webinar was presented by Mr. Abhishek Sur, VP Product at InSync Tech-Fin Solutions. He was joined by Mr. Koushik Dey, Software Developer at InSync.
We would like to thank all the attendees who joined this amazing webinar. We hope it was useful. In case you have missed the webinar, you can check this Webinar Recap which we have recorded:
To know more and follow the webinar in detail, watch the video above. Here is the Webinar SlideShare for you:

APPSeCONNECT is a smart and robust business application integration platform that seamlessly connects all your business applications with each other to streamline operations and facilitate the free-flow of data across the platforms. By moving into the region of iPaaS, APPSeCONNECT proves to be a best-in-the-class platform that easily connects systems and automates the business process.
Now, you can easily connect all your business applications under one single platform to automate the business process!

You may also like:
Webinar: Evaluating Cloud Integration Platform and Challenges of iPaaS
3 Key Technical Considerations For Successful Data Integration
Working with DateTime in APPSeCONNECT