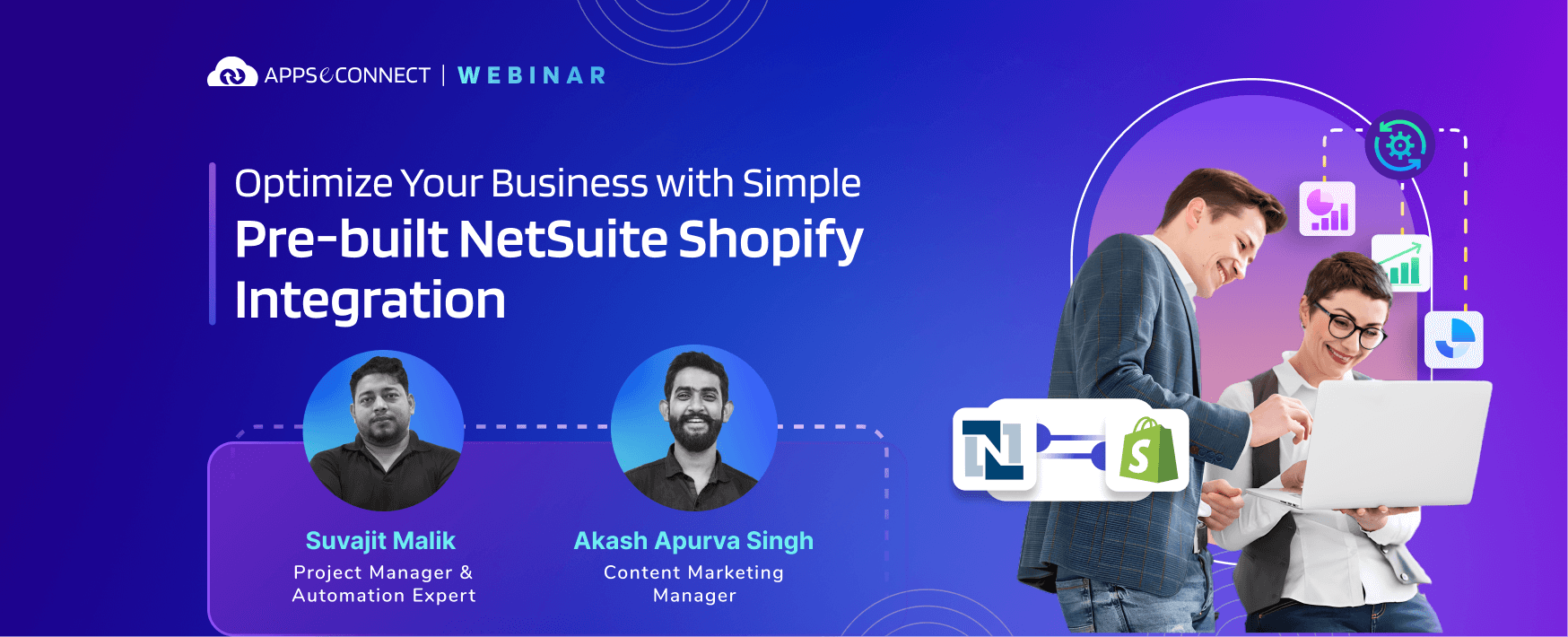 In today's ever-more competitive eCommerce market, businesses need to streamline their operations and optimize productivity to stay ahead of the competition. Businesses are constantly seeking innovative solutions to streamline operations, maximize efficiency, and propel growth with seamless connectivity and data synchronization between the eCommerce store and back-end systems being paramount to success. With the myriad of eCommerce and ERP applications available within the market both Shopify and NetSuite stand out as leading applications for their respective industry and a pre-built NetSuite Shopify integration becomes an indispensable solution for the success of eCommerce businesses.
To explore the webinar in detail, check out the recorded session below:

The Need for NetSuite Shopify Integration
Enabling ERP and eCommerce data sync through NetSuite Shopify integration can bring numerous benefits to the business by freeing up resources that can be focused on more high-value operations within the business. When managing the vast volumes of orders processed by an online store, seamlessly connecting the two industry-leading platforms, the NetSuite Shopify integration empowers businesses to effortlessly synchronize their sales channels, inventory management, and financial data. Here are some of the major benefits of NetSuite Shopify integration that make it a must-have need for enterprises using the two applications:
Seamless Data Synchronization: NetSuite Shopify integration enables real-time, bidirectional data synchronization between Shopify and NetSuite platforms. This seamless flow of information ensures that critical data such as product details, inventory levels, orders, customer information, and pricing remains consistent across both systems. This eliminates manual data entry, reduces errors, and ensures accurate and up-to-date information for better decision-making.
Enhanced Inventory Management: With the NetSuite Shopify integration in place, organizations gain a centralized source of all their inventory data including stock levels, sales, and returns that are automatically updated in both systems, preventing overselling and stockouts. As a result, inventory management becomes more efficient, leading to improved customer satisfaction and increased sales.
Streamlined Order Fulfillment: The NetSuite Shopify integration enables a streamlined order fulfillment process. The moment a customer places an order on Shopify, all the data related to that order is instantly reflected in NetSuite, where the fulfillment process can be initiated. This quick and automated workflow reduces order processing time, minimizes delays, and enhances customer experience.
Effortless Business Scalability: The end goal of any business is to grow. As eCommerce businesses grow, managing operations becomes increasingly more complex with the growing volume of operations and data. The NetSuite Shopify Integration provides a scalable solution that can handle the growing demands of an expanding business, ensuring seamless operations as the company evolves.
Data-Driven Business Decision Making: Access to real-time and accurate data empowers businesses to make well-informed decisions promptly. Whether it is adjusting pricing strategies, identifying popular products, or analyzing sales trends, the NetSuite Shopify integration provides valuable insights that support strategic planning and business growth.
The above-mentioned benefits make the NetSuite Shopify Integration an indispensable tool for eCommerce businesses seeking to streamline their operations, enhance efficiency, and provide exceptional customer experiences. By integrating the functionalities of two robust platforms, businesses can navigate the competitive eCommerce landscape with confidence and pave the way for faster scalable growth.
Optimize Your Business with Simple, Pre-Built – NetSuite Shopify Integration
While a NetSuite Shopify integration is necessary for enterprises to manage their business operations efficiently, developing the integration from scratch can be time-consuming and resource-intensive. However, with a ready-to-use pre-built integration, enterprises can circumvent the challenges associated with custom integration and improve their time to market. Thus, with insights into the requirements for NetSuite Shopify integration and the expertise in pre-built integration, APPSeCONNECT recently hosted a webinar, titled, "Optimize Your Business with Simple, Pre-Built – NetSuite Shopify Integration."
The major topics discussed throughout the webinar included the following:
Operational challenges for eCommerce businesses
Introduction to pre-built Integration connector
Automating crucial processes between your eCommerce and ERP systems
Live demo of NetSuite Shopify Integration
Learnings and best practices for the integration
The webinar was hosted on 28th July 2023 and presented by Akash Apurva Singh, Product Market at APPSeCONNECT, and Suvajit Malik, Automation Expert from APPSeCONNECT. The detailed webinar delivered by the two professionals provided great insights into the potential benefits and strategies for leveraging pre-built NetSuite Shopify integrations for streamlining the process of connecting NetSuite with Shopify.
Optimize Your Business with Simple, Pre-Built NetSuite Shopify Integration – Q&A:
Q1. I understand Shopify works great. What are the other platforms that you see being used by mid-sized businesses?
A. The best eCommerce platform for a mid-market business depends on specific requirements, budget, scalability needs, and technical expertise. In this scenario Adobe Commerce, BigCommerce, WooCommerce, and Salesforce Commerce Cloud are highly recommended apart from Shopify; again, it depends on the needs.
Q2. When the online business grows, what are the operational challenges? How do you keep customers happy?
A. It depends on how your empathy connects with what our customers want. Sometimes, a 'no questions asked' return policy can be implemented to provide customers with a hassle-free return experience. Even "No Return" can be a good move sometimes. In such cases, businesses can provide unsatisfied customers with a credit note in their account for their next purchase. It will not only retain the customer; it will restore Brand Affection as well.
Q3. Can you use Shopify to sell to businesses or is it only for end consumers?
"Shopify Plus" is well equipped to handle B2B eCommerce needs. This is the enterprise-level version of Shopify that offers advanced features and scalability, making it suitable for larger businesses, including those operating in the B2B space.
Team APPSeCONNECT would like to express our gratitude to all those who participated in the webinar, making it a resounding success. For those who missed the live session, you can view the recorded version below:

You can also check out the online seminar in detail through the slideshow below:
APPSeCONNECT is a cutting-edge, low-code platform for Business Process Automation (BPA) and integration that provides comprehensive end-to-end solutions to enterprises. With its strong pre-designed integration packages, companies can quickly and easily implement all required integrations right from the start, enabling them to speed up their business growth through faster time to market and effortless scalability.
Embark on a path towards a connected future of success and growth with the power of automation by APPSeCONNECT.
Looking to get started with automation for the Shopify webstore with your NetSuite implementations? Seamlessly connect your Shopify with NetSuite under a single, intelligent, and secure Business Process Automation platform through APPSeCONNECT's NetSuite Shopify Integration and achieve exponential business growth.