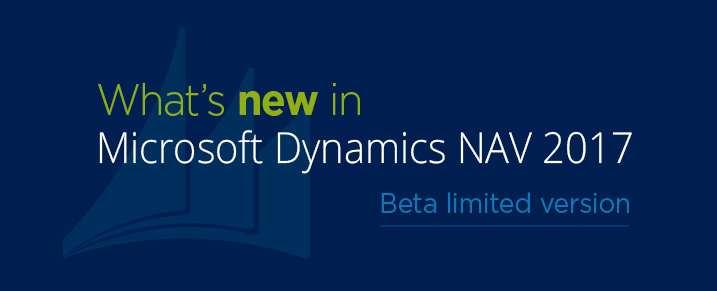 Microsoft has just published a document on partner source about "What's New in Microsoft Dynamics NAV 2017 Beta" and it has some of the very limited features of Dynamics NAV 2017. In this beta version, there is increased efficiency in the incoming documents and even the inventory items can be categorized and segregated. You can even track the packages. We feel that there will be much more features available on the actual Microsoft Dynamics NAV 2017 version which is yet to be released.
As per the released document, the new features available in Microsoft Dynamics NAV 2017 Beta are as follows:
Increased efficiency in Incoming documents.
Inventory Items can now be categorized easily thereby improving the performance.
Posted Credit Memos can now be canceled.
Track Packages easily.
Account Categories are available in the Chart of Account.
The Web Services are now available for multitenant deployments.
Functional Areas are now improved-
Easy Payment Reconciliation.
Job module Improved.
Asset Module is fixed.
US financial reports are made more efficient.
Improved Office 365 integration with Microsoft Dynamics NAV.
Outlook calendar and Outlook mail introduced to Dynamics NAV.
A much more simplified setup of CRM is now available from inside Dynamics NAV.
Opportunity management is also made simple and easy to use in CRM functionalities.
Time Series Library is now available.
Application area can now be tagged.
Notifications are also made better and smarter. The notifications are now available in User Interface.
Extension Facility is improved and enhanced.
NAV 2017 is already well under development and if everything goes as planned, it will be launched in early October 2016. Let's have a glimpse of our upcoming version with the following roadmap.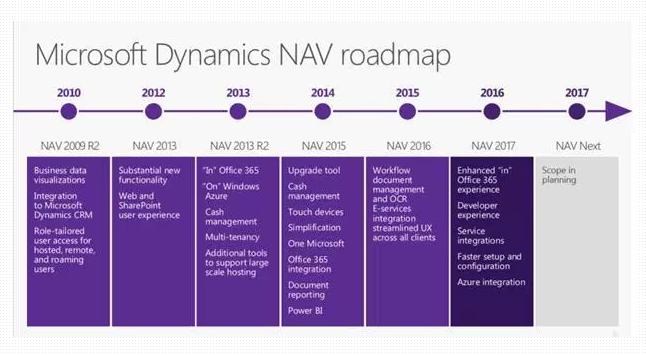 So until we get the latest upgraded Microsoft Dynamics NAV 2017, let us enjoy the beta version. With the release of the Beta version of Dynamics NAV 2017, you will be able to get a glimpse of NAV 2017. Just download and try it out! I am sure you will find it very exciting.For Downloading the Beta Version you need to complete a small Nomination Survey with Microsoft. You can complete the survey and download the Limited Beta Using Below Link :
Download Microsoft Dynamics NAV 2017 Beta


You may also like:
NAV Installation Challenges
What's New in Microsoft Dynamics NAV 2016
Microsoft Dynamics NAV 2016 System Requirements