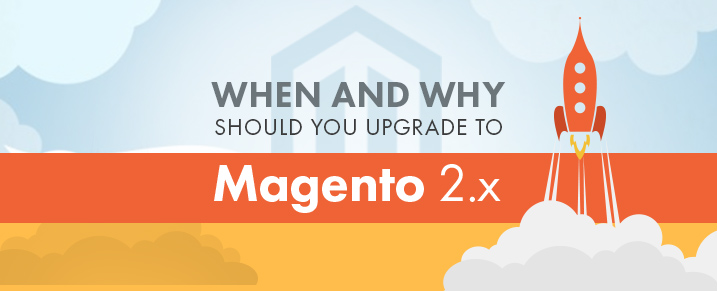 It's been more than a year now since the Magento 2 series got launched. The GA version of Magento 2 launched in November 2015. Magento will most likely quit supporting the 1.x Enterprise Editions in November 2018.
Though many existing users of Magento's 1.x series has upgraded, a majority of the user community is yet to upgrade. People who have invested in getting a new store built in 2015 will not prefer upgrading because upgradation to Magento 2 means a lot of rework from scratch.
Though the data can be migrated through some tools, the design and functional customizations would all require to be done again. Also there had been an outcry about the unavailability of Magento2.x compatible extensions in the market. But over the last one year the developer community has worked hard and now most of the major and popular extensions have a 2.x version.

But then again, the Magento 2.x is the future and sooner or later you have to upgrade. All further developments and enhancements will be focused on the Magento 2.x series.
So the two most important questions right now are:
When should you upgrade to Magento 2.x?

Unavailability of themes and plugins are no more a trouble. Even the most complex and sough after extensions like M2E Pro are out with their Magento 2.x series compatible version. Themeforest now has close to 400 themes compatible with Magento 2.x. A lot of bugs were reported in the last year and all have been fixed.
Small businesses – Less customization:

If you are a very small business operating on Magento with relatively less amount of customizations, migration to Magento 2.x will take a couple of months. So you can consider upgrading as late as Jan 2018.

Mid-sized businesses – Few hundred SKUs and moderate customization:

If you are a mid-sized business with some hundred SKUs and a moderate amount of custom work done on the store, you should start your upgradation by mid-June this year. It will roughly take 3-4 months to migrate, get all the custom work re-done and have a perfectly streamlined store. You should start by mid-June because by mid-October your focus again has to be on the upcoming Holiday season as that's supposed to be the peak season for 90% businesses. The Holiday mood continues till Jan next year. Planning for an upgradation requiring 3-4 months in 2018 will not be wise as November is the anticipated end date for Magento's support but it could be earlier than that.

Big businesses – Thousands of SKUs and huge customization:

If you are a big business with a heavy portal having thousands of SKUs and a good amount of customization, upgradation can take up close to a year's time. In this case you should start off immediately in order to have it ready before this year's holiday season. But the planning has to be done carefully considering all the aspects of a large scale migration. Planning the upgradation next year is not even a choice.

In any of the scenarios a Testing timeline should be considered to ensure the existing user journey setup does not take an impact
Why should you upgrade to Magento 2.x?
Magento 2.x is better than Magento 1.x in every way. Hence, the whole fact sheet for Magento 2.x will be the perfect answer for this question, but then that would be a long list. So I have picked up some of the most important enhancements in this new series.
Performance

Figures like 50% faster load time and 38% faster check out in comparison to 1.x series mean a huge leap ahead. With proper hosting setup it can now deliver nearly instant server response times for catalog browsing. Magento 2.x can manage 10 million catalogue page views an hour compared to only 500,000 page views per hour as supported by the Magento 1.9 or Magento 1.14 platform.

Magento 2.x comes with native support for full page cashing (FPC) and Varnish. For years people have used Varnish as an HTTP accelerator and now Magento can support Varnish by default. Unlike Magento 1.x, Magento now supports PHP 7 which is one of the major reasons for the explosive performance improvements.

Improved Interface

The new admin interface has a fluidic and interactive design which is far more user friendly than that of its previous generation.  Due to the intuitive back end UI merchants can now open up the admin panel from any touch based device. Though the backend is not completely responsive but its far easier to use than the previous version. You can now create custom views for orders and products by drag and drop or selecting/de-selecting columns in seconds. A huge improvement has been made in the product import/export mechanism of Magento.

Easier maintenance and Upgrade

Owing to the new modular code base of Magento 2.x upgradations or development will be a lot faster than before. Different extensions can now co-exist in Magento without conflicting each other, which used to be a major issue with a lot of extensions on the 1.x platform. Even maintenance is a lot simpler now which will save both your time and money.
We will also be seeing a lot of development on the analytic capabilities of Magento which was quite basic in 1.x. Also the initiative of upgrading will help you strip out a lot of obsolete and unused extensions which were redundant.
Are you spending huge amount of time in manually entering data between your systems? Are you worried about errors, mixed transactional data and duplicate entries between your Magento and ERP platforms (like SAP Business One, SAP ECC, Microsoft Dynamics NAV, etc.). Say goodbye to redundancy and boost productivity and efficiency with APPSeCONNECT Integration Platform: A connector which will help you synchronize data between the two platforms and stay in control of your business.

You may also like:
How to implement payment gateway in Magento 2
Key tips to consider when connecting Magento with third party systems
Enable your Magento 2.0 store with B2B features