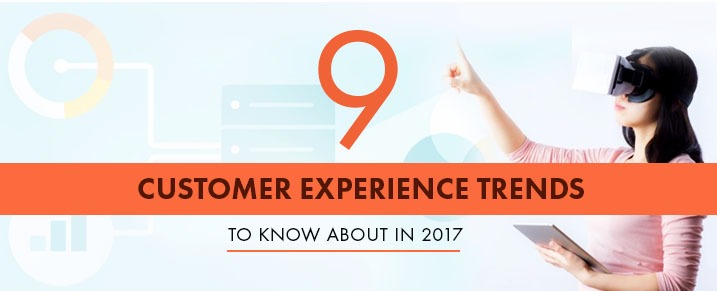 Customers to any business – either online or offline, are most precious part…..isn't it?
If you are in a business with a pool of satisfied customers, you are in the happy phase and brighter side of business ecosystem. But how you actually treat the most integral part of your business? Have you ever thought of this? If 'YES' then you are ahead of your competitors, but if 'NOT' then we are sharing the customer experience trends below.
The tactics & patterns that lets firms reach out & touch their customers is moving at lighting speed, which indeed was just not-so-expected few years back. Now-a-days when your customer is just asking about your product or thinking to be the integral part of your business as partners or influencers, they have a set of innovative queries about the product's usability, profitability, features and many more functions which they want to ask your sales reps and want instant answer. Customers no longer like to wait for the answers – instead they want it in real time or they will just move on to the next readily available company. To retain your customers, you need to be available all the time to cooperate.
Let's share the trends you need to follow:
Customer Service through Social References:

Recent business reputation hugely dependent on the social media feedback by customers who used your products. This trend is growing day-by-day and taking an integral part of your business reputation. Customers stay active over different social media channels like Facebook, twitter, LinkedIn, YouTube and many more. Whether they have good, bad or worse experiences, they share their thoughts over the social channels immediately from their smartphones. This 'word-of-mouth' feedback about your product plays a vital role to establish you as a business owner. If you constantly get good and positive feedback, your half job is simply done and you are starting to get more businesses in coming days because your precious customers are always neighbored with a lot of other customers as their friends, business partners and influences. It's not always that you will get positive feedback, sometime your customers will put negative feedback about your products/services, in that case, instead of biasness or ignoring that all, you need to be aware of what faults are actually having with your offerings or if the negative feedback actually you are receiving are genuine or not. It's it's genuine you think, then you must rectify it, let the good news know to your customers who complained and look for opportunities to turn complaining customers into your biggest fans.

Collect Personal Data for the benefit of the Customers:

Accenture's survey shows that 73% of the total consumers prefer to do business with retailers that use their personal information to make the shopping experience more pertinent. When your customers just started to trust your firm, they will readily share their preferences but it's also the firm's responsibilities to be more transparent about their business policies, and need to practice how to focus on serving a personalized customer experience which simply matter for the betterment of your business.

Customers – the smarter engine than ever!

When you are serving your business to any of your customer, treat them like a smart and intelligent engine. You must be aware of the fact that customers have already researched about your organizations, your products and services with other competitors and when you are just about to deal with them, just keep that fact on your mind and always be in charge with that perspective.

Extra importance of Big Data rather than Small/Micro data:

Interpretation of big data is another important part of your customer experience. You, as a business owner, can determine overall trends with the help of abundant data available in the form of direct feedback from analytics as well as customers. While you are considering small or Micro data, it actually helps you to analyze one's buying pattern and preferences in thorough detailing pattern, ultimately allows you to customize your customer's experiences and create a richer connection.

Focus on Consumers' problem to find quick resolution

Poor technical knowledge, ill trained with rude behavior or incomprehensiveness simply creates a huge fear among your customers calling you for business queries. This is clearly a subject to worry for you as a business owner – to whom you will appoint as customer relationship manager or agent. If your customers don't get the proper or inappropriate response from you, it will simply create a crack on their mind which definitely put a negative feedback about your business. If your customers have to pay additional costs from their wallet to hire a middleman to resolve complaints – then you need to think twice to invest in customer support.

Chatbots are getting more intelligent than ever and providing self-service:

Chatbots saves manual effort a lot by answering the questions asked by the customers with logical guesses from their past or previous actions. It acts as an Artificial Intelligence. The best chatbots are not only able to respond to requests and questions, but also distinguish when the customer is muddled and impeccably hand off the conversation to a live customer support representative.

Ad Blocking – another much discriminating marketing approach:

Consumers of your business use ad blocking software more frequently in now-a-days, making the job of the marketers much easier and making it of more sense to them. Marketers are now compelled to become more relevant than ever they were. It's become a win-win situation because, when what the advertising customers see reflects their personal needs and interests, the retailers or manufacturers or the website bags extra credit point for caring enough. No way the sales ecosystem be far from it.

Ensure that your customer data is secured enough despite the Internet of things (IoT):

While as a business owner you are dealing with your huge set of customer's data, the most important thing is to keep in mind that you are fully aware of the security of that data-set. Customer's most feared part is the violation of the data which they don't want to compromise in anyway. You need to make them ensure that their valuable data is fully secured. As we all know that the using of IoT is ever growing, the phishing of that data becomes more easy. Companies should take this work as their priority basis to improve their security where the processing sharing, storing of information is concerned.

'Value' is the consistent winner over 'Price' for quite a long time:

It's a proven fact that when a customer will query about your business, he/she will delve into the pricing straightway before choosing other constraints. Yet, in many cases it's been observed that value proposition of your customer support/service sometimes wins over the pricing scenario to bring good business for your organization. If you provide just brilliant customer service, your customer just started to believe in your product/service and that will in-fact help you to curb down the price of the product or services you provide. Some stats are predicting that the customer experience – based on customer service – will be the biggest competitive differentiator in the next three to five years.
APPSeCONNECT is a smart integration solution that connects all your Ecommerce stores, CRM, POS, Marketplace accounts and back office ERP under one single platform and helps them talk to each other.

You may also like:
APPSeCONNECT Wins Great User Experience & Rising Star Awards in FinancesOnline.com Review
How to address your customer's fear?
How MacuHealth has Increased Sales with APPSeCONNECT