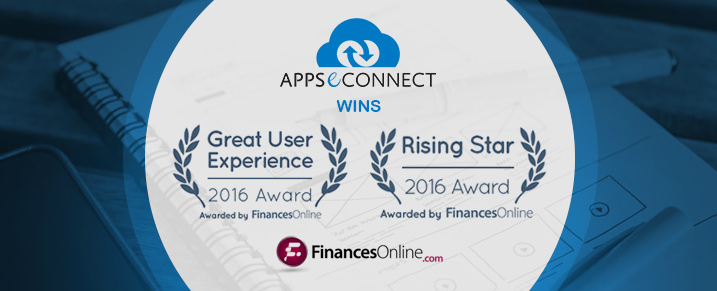 APPSeCONNECT is proud to receive the Great User Experience Award and Rising Star Award for the year 2016. With the overwhelming customer satisfaction, the product is always on the rise. We have always kept ourselves in line with technology and time for becoming the best integration platform for businesses across the globe.

We are happy to inform that FinancesOnline not only gave us these two awards but also listed us under the top 50 products in their Business Process Management Software category. In the FinancesOnline review we were rated User Satisfaction of 99% and overall score of 8 out of 10.
The Great User Experience Award is usually given to products contributing tremendously to the quality of user experience. The product is evaluated based on how easy it is in terms of usability and how well-designed its interface and features are to facilitate the work process.
The Rising Star award is given to the new product in the market which not only are getting good traction with the customers but are viewed as really efficient despite its young age. The experts of the FinancesOnline were really impressed with our product and user satisfaction level. As a matter of fact, our product was also included on their list of the leading BPM solutions.
We hope to continue providing the best solutions to businesses and make them more efficient and we are extremely happy to receive two of the prestigious awards from one of the most popular business review directories – FinancesOnline.
This news is of utmost pride and satisfaction and we promise to commit ourselves even more to serve our customers better and provide them with even better experiences. We thank all our current and prospective customers to help us reach where we are.
APPSeCONNECT is a smart integration solution to connect your Ecommerce, CRM, POS, Marketplace accounts and back office ERP under one single platform and help them talk to each other.
Streamline your business processes through automation.
Integrate your business applications now.
We Connect, You Grow.

You may also like:

14 Best Practices to Develop the Best Data Integration Platform
How MacuHealth has Increased Sales with APPSeCONNECT
APPSeCONNECT Integration Platform – Technical and Conceptual Details