Christiania Bikes achieves Breakthrough Integration and Automation with modern iPaaS APPSeCONNECT and streamlines organization processes.
Christiania Bikes has been producing bicycle trailers since 1972 and cargo bikes since 1984. The production has modern machines and facilities available and a modern IT infrastructure. They also put emphasis on the production being environmentally friendly, and there is therefore environmentally friendly heat, electricity and a strong focus on waste sorting.
Christiania Bikes is one of the leading manufacturers of environmentally friendly bicycle trailers and cargo bicycles in Bornholm, Denmark. They have been using the WordPress eCommerce plugin, WooCommerce as the front-end for their online store, and Microsoft Dynamics 365 Business Central as their back-end solution. After they got hacked in 2020, they were starting from scratch with WooCommerce and Microsoft Dynamics 365 Business Central and thus needed an intelligent and robust end-to-end integration platform that could automate the integration process of the applications for them.
Automate the integration process between Microsoft Dynamics 365 Business Central with WooCommerce.
Remove the need for manual data synchronization.
Improve the speed and efficiency of the data synchronization process.
Streamline customer and order data synchronization from the eCommerce website to Microsoft Business Central Cloud
The need for a customized integration solution for a growing business.
Seamless data integration between Microsoft Dynamics 365 Business Central with WooCommerce.
Automated data synchronization removed the need for manual data entry.
Streamlined data synchronization between both platforms through end-to-end application integration.
Integration of both applications enabled complete and automated customer and order synchronization.
Uniquely designed business flow to suit the requirements with a strong and reliable integration architecture.
Streamlined business operations and processes to ensure growth.
Reduced manual effort and updates.
Stronger customer relationship.
Completely seamless integration of applications.
Easy and automated management of sales orders.
Speed in operations noticed.
More time on innovating, less on managing.
Improved efficiency and productivity.
Saved a lot of time and resources due to efficient real-time data exchange. 
A perpetual rate of business growth. 
APPSeCONNECT Differentiators
Proactive support during implementation and post-implementation process.
Very open communication.
Proven solution – deemed to provide the best!
Flexible solution.
Comprehensive features and functionalities.
Deeper integration, scalable and customizable.
Fully automated sync in real-time.
A robust and easy-to-use platform with experienced professionals.
Software Scalability, support for eCommerce Growth.
Geographic expansion is facilitated.
A boost in the productivity of employees.
Quick implementation and an affordable solution.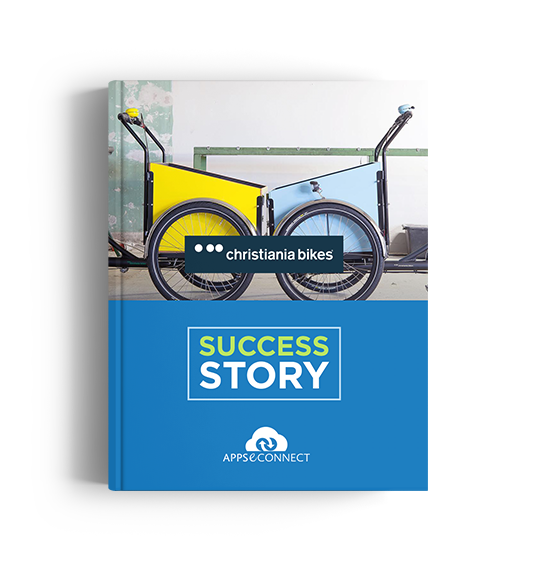 Headquarters:
Rønne, Hovedstaden
Industry:
Automotive
Company Size:
11-50 employees
Products and Services:
Bicycle Trailers and Cargo Bikes
Website:
https://www.christianiabikes.com
Find out how top organizations are automating their businesses with APPSeCONNECT Integration Platform