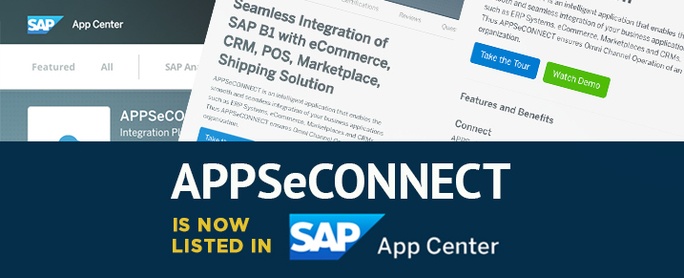 APPSeCONNECT is proud to let the world know that it has been listed in the SAP App Center as one of the most lucrative Business Integration Platform.
SAP App Center is SAP's own cloud-based online marketplace service platform dedicated to all partner solutions and selected SAP solutions that are built on SAP's market-leading platforms. SAP App Center offers the customers a modern user experience to discover innovative solutions for their existing SAP landscape. It allows the partners to showcase their solutions and provide a better working environment for SAP. More than 100 applications are available on the SAP App Center which represents 12 lines of businesses with more than 30 industries involved. Although most of the applications are from SAP itself, there are also applications from established companies as well as startups.


APPSeCONNECT is a smart and intelligent business application integration platform which seamlessly integrates SAP Business One with other ECommerce, CRM, POS and Marketplace solutions. It is an Integration Platform as a Service (iPaaS) and has a remarkable hold in the industry. APPSeCONNECT connects, synchronizes, streamlines and amplifies the business operations by automating the company processes according to the requirements. With SAP, APPSeCONNECT has been a constant contributor.
APPSeCONNECT has qualified through Application Readiness Check process to be listed in Sap App Centre. By being listed in the SAP App Center, APPSeCONNECT is privileged to be part of the growing SAP community across the globe. This proves that APPSeCONNECT has ardently kept up with the SAP integrations over time, contributing to its growing popularity and usage all over the world.

You may also like:
Module Level Rights For SAP Business One User Licenses
SAP Business One 9.3 – New Features and Updates
How to Set up Rebate Agreement in SAP