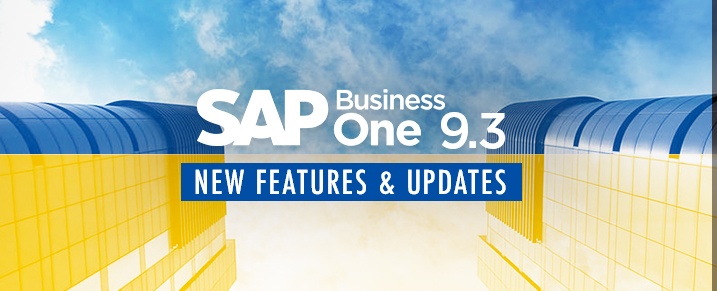 SAP Business One is the leading pioneer and one of the most trusted Enterprise Resource Planning (ERP) system in the world for Small and Medium-sized Enterprises (SMEs). It has been a crucial part of the data integration platform and is amongst the handful of few of the most reliable ERP systems available for nearly 15 years. SAP Business One has surged to heights with its rigorous development and various functionality-based improvements via patch and major releases. SAP released its SAP Business One 9.2 version back in 2016 and is set to release it 9.3 version in 2017. SAP Business One 9.3 will prove to be more helpful to businesses in many more ways. Being the leader of ERP systems, SAP has put in a lot to make it easier for the users to work around. In this blog, we are going to look at the major changes and feature updates that are new to SAP Business One 9.3.
The updates are mentioned module-wise. SAP Business One will not only optimize to boost performance and stability but also to expand the core processes. The important areas covered are –
Addition of simple production routing – SAP Business One's Production Module will include 'Routings'. This will be useful for businesses with Light Production requirements; previously such businesses may have to invest in an add-on. In addition, employees can be assigned to a Cost Centre.
Addition of return merchandise authorization management (RMA) -Previously missing in older versions, the RMA will be added to SAP Business One 9.3. It's a document issued to unhappy clients who want to return a purchased product. The RMA will be directly generated from a menu, an Invoice, a Delivery, or even a Service Call.
Project management updates – There are some updates for Project Management. For example, transactions will be able to be assigned to a project stage (not just to a project) for easier, more accurate project cost analysis. A Project Gant Chart is also slated to be added for better management.
Simplifying and streamlining CRM processes
Authorization Management – Company and User Settings have been simplified and rationalized. Functionality has been added for User Defaults and a User now has the options to change his/her own authorization settings.
Centralised Payment Engine
GL account determination updates
Price list enhancements – Currently, all prices relate back to the Stock Unit in the system. In version 9.3., SAP will introduce Price Unit, so all pricing for items could now be configured per kilo or box, instead of just going back to the Stock Unit.
SAP Business One 9.3 has been listed in the SAP Cloud Appliance Library which is an online repository for all SAP solutions that can be instantly consumed in/through the cloud.
Also, in addition to the overview of SAP Business One 9.3 updates, we have a comprised list of all the changes made on the module-level to improve SAP Business One's functionalities. Check out all the Module Level Rights For SAP Business One User Licenses!
ADMINISTRATION
Authorization Simplification
Import from Excel Updates
Approval Procedure Enhancements
Quick Copy & DTW supports Additional Objects
My Settings Support
Change Log Clean-up Utility
Multi-Branch Supports Data Ownership
Multi-Branch Filtering & Transaction Updates
License Updates
HTML based Online Help
SALES | PURCHASING | SERVICE
Return Merchandise Authorization (RMA)
Gross Price Redesign
Price List Updates
Campaign Management Updates
Blanket Agreement Enhancements
CRM Simplification

PRODUCTION
Simple Production Routing
INVENTORY | DISTRIBUTION
FINANCIAL MANAGEMENT
Internal Cost Accounting Transactions
Centralized Payment Engine
Chart of Accounts Alignment & Usability
G/L Account Determination Matrix Updates
New IFRS 15 Revenue Recognition Standard
Multi-Branch Filtering and Transactions
Scheduled Batch Transactions for Payments
Electronic File Layout Templates
PROJECT MANAGEMENT
Project Management Updates
BUSINESS INTELLIGENCE
Analytics Portal
Pervasive Analytics Designer Update
PLATFORM | EXTENSIBILITY
Web-Based Workflow Management
Company Specific Mailer Configuration
New DI/UI Objects Exposure & Enhancements
Microsoft Visual Studio 2015
X-App Supports Single Sign On
Optimized Login Connection
Electronic File Manager support on Linux
Performance Optimization
Improved Security
LIFECYCLE MANAGEMENT
SAP Business One Components
Embedded Incident Reporting
System Landscape Directory Enhancements
Remote Support Platform 3.2 Updates
Set to release in the latter half of 2017 (probably 3rd quarter), SAP Business One is might as well help its customers in various other ways and will prove itself on the grounds again.
Now, you can easily integrate SAP B1 with eCommerce, Marketplace, CRM, Shipping and POS Systems to improve your business process!


You may also like:
Why you Need DI-Server for Connecting SAP Business One on Microsoft SQL
The Ultimate Cheat Sheet on SAP SD Database Architecture
Module Level Rights For SAP Business One User Licenses