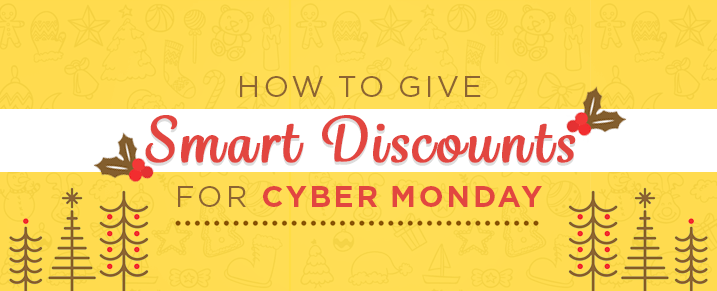 Cyber Monday is a yearly sales event preceded by Black Friday. It is a crucial event for retailers to amass massive revenue by offering the best possible deals.  It is quiet, however, for customers to expect greater discounts on Cyber Monday because they are accustomed to receive it throughout the year. It is true that large discounts are a great way to tap impulsive customers instantly – however, you can't be reckless with discounts to the extent that it starts hurting your top line.
As a result, retailers are adopting smart discount strategies to lure customers besides maintaining the Cyber Monday profits.  Moreover, customers save money waiting anxiously for Cyber Monday deals and are inclined to make a purchase. The way retailers afford to cut down on prices and still make money is not a mystery but a well-thought-out move.  Let us go through the innovative ways the retailers use to issue Cyber Monday discounts.
1. Coupons
Every coupon issued by a retailer is unique in terms of the benefits provided by it. Customers have a fascination for coupons because it gives them the satisfaction of owning a tangible voucher that helps them save money or unlock additional products and deals.
Retailers promote different types of coupons before Cyber Monday through emails, social media and also by entering into a collaboration with third-party coupon promoter sites.  Cyber Monday deals and  a  can be easily redeemed by customers in their shopping cart or at a physical store.
How do coupons help retailers?
Tracking performance becomes easy with coupons – you can find out how many coupons were clicked through and how many were used to buy products.  Issuing coupons and distributing them is fairly simple and you have full control over them. Every coupon has built-in terms and conditions limiting its use within a specific time frame or only for a specific number of times. Moreover, coupons serve as an effective engagement strategy. Here is how you can use Coupons in WooCommerce this Holiday Season.
2. Price Guarantee / Best Bargain
Price-sensitive consumers always live with an anxiety wondering if the price of a particular product will fall down further or not.  Are you offering them the lowest possible price as compared to your competitors? Do you offer free shipping? Some retailers offer good discounts but charge a hefty shipping fee. This is a misleading practice and can sabotage your Cyber Monday discounts. To counter all these concerns, retailers must promote price guarantees.
This gives an assurance to shoppers/customers that their search for best deal ends at your platform. Many price-conscious shoppers have a tendency to check prices of the same product at several different places including physical stores. Price guarantee gives comfort to such shoppers – they trust you with the price and consequently it saves them a good amount of time in comparison. Moreover, many buyers don't buy the product until they are assured of the price guarantee.
3. Step Discounts
Step-discounts refer to the method of issuing increased total discounts for reaching higher thresholds – for example, 10% off on purchases over $200, 15% off on purchases over $500 and 20% off on purchases over $1000. The same method is applied in terms of additional products. For example, "buy three shirts for the price of two", "buy five shirts for the price of three".
Step-discounts poke shoppers to spend a little more at one shop than they actually planned by offering them an incentive. This strategy works well because customers get lured by higher discounts and end up spending more on Cyber Monday instead of deferring. It is a win-win strategy for retailers as well as shoppers. Retailers maintain steady holiday sales profits whereas shoppers rejoice in availing exclusive discounts.
4. Pricey Products Discounts
Customers often get caught in a dilemma when it comes to buying pricey products. They tend to delay their purchase solely because the product price pinches their pocket. Retailers, however, can rescue such shoppers by offering them additional discounts the customers never dreamt of. Customers understand the trade-off between availing additional discounts and giving up certain benefits.
For example, if you offer 5% additional discount and ask customers to adhere to no-return no-refund policy, you will most likely witness a jump in sales. Customers are willing to take that risk. Moreover, customers tend to believe that Cyber Monday is the right opportunity to buy and it even saves them from the hassle of browsing other stores.

5. Flash sales
Flash sale is a smart discount and holiday sales profits strategy used for a short time period during Cyber Monday sale. The notice about flash sales is given at a short notice as well, to take price-sensitive consumers by surprise. Flash sales should target specific popular products instead of issuing blanket discount on all items during the next one hour.
Flash sales also serve as an interesting holiday inventory management technique. Discount on specific products during flash sale creates a rush for those products because it is a limited time period offer, doubling up as a holiday inventory management technique. Ultimately, you don't want to give away too much yet see your products flying off the shelf.
6. Predictive Analytics to Deduce discounts
One might wonder how some retailers manage to sell at unbeatable prices. It is their reliance on predictive data analysis to decide what products should be discounted at which price. It directs them to identify and off-load slow moving inventory in this year sales. Customers tend to buy last season's products at heavily discounted rates instead of buying the upgraded product. Again, this is a trade-off between low price and the latest product model – a common example of this is mobile phones. Predictive analysis tools can be easily integrated into both ERP and CRM. In fact, integration of analytics extensions is a very popular request we receive.
Using predictive analytics to issue smart discounts:
Predictive analytics uses past sales record to arrive at appropriate discounts for each product and generate record-breaking sales. Many retailers now employ data analysts who deploy various data models to figure out what customers might buy and at what price.
Data analysts use an amalgam of macroeconomic indicators, past purchase trends, product popularity, and profit margins to chart out discounts. Predictive analytics also takes into consideration the items viewed, customer wish-list, date or event of the purchase, the device used to access the store and many other factors, etc.
As to how predictive analytics can be used to generate sales in a short-term event like Cyber Monday, data analysts study the relationship between different features. Data accuracy is constantly improved with the help of machine learning.  Moreover, big data analytics is helping retailers to drive the dynamic pricing of products all round the year.
7. Cashback
An interesting technique that many stores employ to maximize holiday sales profits is to offer cashback. Each time a customer purchases something, you can provide a cashback, instead of offering upfront discounts. Better still, you can offer a discount plus cashback in order to attract customers further. This is purely psychological in nature, and people tend to purchase when they realize they will be given a certain amount of cashback. In fact, instead of offering 30% discount on a product, you could offer a 20% discount plus a 5% cashback. This serves as a bigger attraction than a 30% discount, though you actually stand to gain.
Seize this Cyber Monday with smart discounts:
Cyber Monday sale is the most awaited sales of the year. Customers yearn for Cyber Monday discounts while you look forward to maximizing sales and gain higher profits. Use all available means and resources to issue different types of discounts suitable for your business. Flash sales, predictive analytics, step-discounts, coupons, price guarantee, and pricey product discounts are some of the best ways you can use to conquer your rivals.
Now, you can easily integrate your ERP, CRM, Ecommerce Store, Marketplace, Shipping and POS Systems under one single platform and automate your business process!


You may also like:
17 Tricks to Clear Inventory during Black Friday
How Social Media Networking can Boost your Ecommerce Sales?
Ecommerce – ERP Integration : 5 Challenges to Overcome