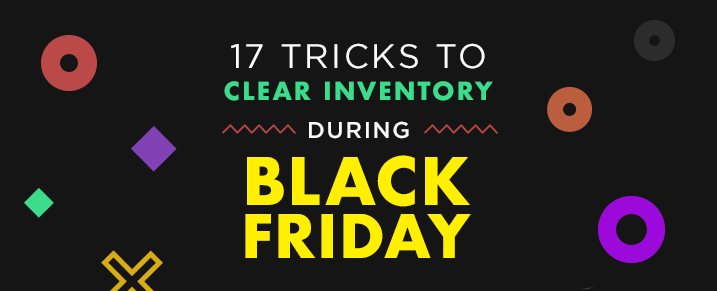 Black Friday 2017 is due on 24th November this year. One of the most popular shopping events, Black Friday has helped thousands of online businesses offer discounts and get rid of their older stocks. It has also helped them to nurture their loyal customers, offer bountiful discounts, and generally spread goodwill among everyone involved. Most importantly, festive discount sales provide an opportunity for you to clear your inventory quickly, and make profits. Whether it is your first Black Friday sales or you want to perform better than last year, here are some really handy tricks.  Use the below-mentioned tricks with confidence to give your sales a booster.
1. Stay Updated on Inventory Levels
Having a robust inventory management solution helps you to keep a tab on SKUs sold and on what stock needs replenishment.  It keeps you updated with all the necessary information about inventory levels during and after Black Friday sales and allows you to replenish the inventory quickly.
2. Optimize your Store
Search engine optimization ensures that your store is visible among search results. Make sure to include relevant keywords, page alt tags, meta-tags, and cleverly designed 404 error pages.   Many customers enter the sales funnel through mobile. Maintain a mobile-friendly website to accommodate mobile customers.  You'll notice that optimizing your store for mobile automatically increases your desktop sales and results in better ROI.
3. Streamline Inventory through Integration
ERP and Ecommerce integration allows you to reduce your inventory cost through up-to-date information on sales and inventory.  All sales-related data will appear in your ERP software based on web transactions on the storefront.
If you sell your products via third-party platforms like Amazon and eBay especially to counter Black Friday rush, integrate these platforms into your ERP system as well.  It enables you to plan your procurement cautiously and minimize inventory cost.
4. Prepare to Receive Heavy Traffic on your Store
Black Friday is accompanied by more than usual traffic on your web store.  Be prepared to hold up spike in traffic. Consider upgrade of broadband plan to increase bandwidth.  Make sure that your website does not crash because it is a big letdown for customers.  Optimize your site performance to ensure that your website runs smoothly.
5. Advertise your Store
Sending out promotional emails is an interesting way to inform your newsletter subscribers about Black Friday deals and top selling products. Be creative in designing ads to beat the competition. Send gift ideas to attract more customers. Set up Google Adwords to boost sales using specific keywords and display your landing pages above organic results on SERP.
6. Streamline Sales Process through Integration
E-commerce and CRM integration offers a lot of benefits. Crucial data points like customer order history, payment history, and product inventory are instantly
in your CRM system. You can use this data to optimize marketing campaign and improve store layout.
Find out where to feature specific products in the store. Figure out what products sell more on your Magento store and what on Amazon, eBay and plan your inventory decisively. Use abandoned cart information to retarget customers and offer complementary products. 

7. Set up Google Shopping Campaign
Google Shopping is powered by AdWords and Google Merchant Center.
Your product feed is located in the Merchant Center. This allows you to sell products to shoppers which are the most important for your business. You only pay when they click on your store or view your local inventory.
Shopping ads appear on various Google products like Google Search, Images, YouTube etc. As a result, Google shopping campaign helps you to promote your online and local inventory, boost traffic to your online as well as the brick-and-mortar store, and find qualified leads.
Google is further rolling out Pay With Google to speed through the checkout process on purchases made through Android devices.  Merchants can collaborate with Google to make the purchase easier for customers and increase their sales.
8. Free Shipping
Free shipping is an exciting way to enhance your sales, though it is true that just by offering free shipping you can't hope to clear your inventory. This initiative works well in tandem with amazing bargains offered on your store. You may even consider reducing your minimum purchase limit to enable free shipping or completely eliminate the minimum purchase limit on Black Friday.
9. Get a New Domain
Getting a new domain isn't at all a bad idea.  With a new Black Friday domain, you can create a focused promotional campaign around Black Fridays every year and make it easier for customers to reach you.  It gives you a chance to stand out amongst the competition and establish clients and attract new visitors.
10. Include Unique Product Identifiers
UPI (Unique Product Identifier) is used to specifically identify a product and go beyond the product id attribute. Google uses UPIs to understand what products you sell and match it with search queries and compare them with similar products offered by other merchants.
Common UPIs include Global Trade Item Numbers (GTINs), Manufacturer Part Numbers (MPNs), and brand names. Optimize your GTINs, title, and descriptions.  For resellers, for example, Google uses GTIN from seller's catalog to display product-related information in the advertisement.
11. Test Store Performance
Test your site performance beforehand to avoid last minute disappointment. Run extended tests for 15-20 days prior to Black Friday.  It helps you to analyze various attributes in your store. Find out what keywords trigger your ads through search term report in Google AdWords. Include those terms in your product titles and product descriptions.
Use Google Analytics to find out how shoppers behave. Analyze data from previous sales events to forecast sales and observe any unique trends. Use APM tools to get an idea of how your store responds to peak hour traffic. Keep a tab on logs to assess various user statistics like time users spend on a page, the rate of arrival etc.
12. Black Friday Countdown
Display Black Friday countdown on your store showing the number of days, hours, minutes and seconds in the run-up to the shopping day.  T countdown is a great way to build excitement around the sales and create a sense of urgency around limited period offer.  As a result, customers tend to check out what's upcoming and plan what to grab.

13. Black Friday Discounts
Customers wait curiously for Black Friday because of the massive discounts the day brings.  If you fail to offer Black Friday discounts, your rivals will make the most of it. Kick start your sales with discount offers across various categories especially on products that are high in demand but unaffordable. Remember, Black Friday sales are a volume game –
play on it and customers will remember you throughout the year.
14. Live Chat Integration
If you haven't thought of this before, now is the time. Live chat integration lets you all go out to help your customers by resolving their queries in real time. Use ProActive chat if you feel customers are unable to make up their mind.  On Black Friday, customers visit to shop and not just window shop.
They'll have plenty of questions related to product and customer service. Live chat integration in your store enables you to answer these questions instantly and precisely. You can even offer instant discounts on chat window or send a link to a specific pair of shoes in specific color the customer is looking for.
15. Surprise your Customers with Flash Sales
Flash sale lasts for a short period of time at greatly reduced prices. Declaring flash sales just a day or few hours before Black Friday adds excitement. Customers gush through the store to grab exciting offers. It is a great way to earn huge revenue in short time. Limited product availability in limited time works wonder for your sales. Emphasize on products that customers could not have imagined obtaining otherwise.
16. Social Media Campaign
Plan your social media campaign diligently and well in advance. Figure out the best time to post and spread awareness about Black Friday sales and offers. Be quick to answer customer queries on all social media platforms managed by you.
Earn the badge "very responsive to messages" on Facebook. Always use a call-to-action button with your posts to direct customers to your store's landing page. Publish paid posts on Facebook, Instagram, Twitter, Pinterest, etc. to expand your reach. Check out How Social Media can Boost your Ecommerce Sales?
17. Start a Referral Program
Referral programs work through incentives. The incentives should be unique and only available via referrals. Reward offered via referral should have a time limit to create a sense of urgency.  Aggressively promote your referral program via social media and your store before Black Friday to ensure that you not only get more sales on the D-day but also a huge customer base for retargeting all around the year.
Trick and Treat for Inventory Clearance
While you want to use all possible tricks to enhance your sales and optimize inventory clearance, Black Friday should actually be a treat for your customers. Offer them deals that are up for grabs and replenish inventory quickly. There is no better time than this to get rid of piled up inventory while bringing joy to customers. Integrating your ERP with your e-commerce website also helps to replenish inventory quickly and keep your business going. After all, there is nothing better than an e-commerce integration to boost inventory clearance and replenish inventory quickly.
Now, you can easily integrate your line of business applications like ERP, CRM, Ecommerce Stores, Marketplaces, Shipping and POS Systems under one single platform and automate your business process!!

You may also like:
22 Tips to Grow Your Ecommerce Business
15 Best Cart Abandonment Plugins to Increase Ecommerce sales
How Social Media Networking can Boost your Ecommerce Sales?