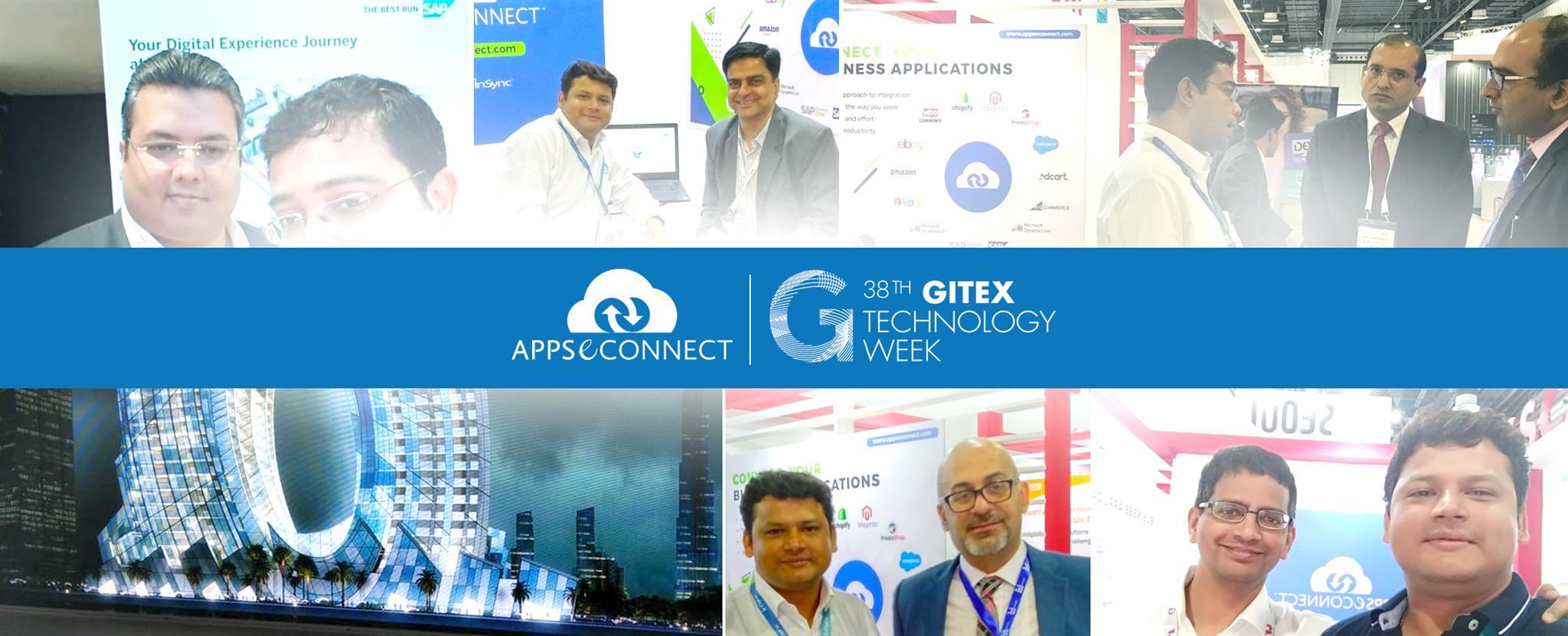 We are glad to announce that APPSeCONNECT has recently exhibited in the GITEX Technology Week 2018, Dubai and had a gala time there!!!
For the past 38 years, GITEX Technology Week has inspired visionaries and tech pioneers to witness the event that has motivated generations! GITEX, which stands for Gulf Information and Technology Exhibition, is an annual computer and electronics trade show held in Dubai. From shaping the most recent trends to presenting high caliber speakers & showcasing the product innovations from across the globe, GITEX Technology Week brings along the foremost innovative and exciting tech start-ups every year to showcase their world-changing ideas.
GITEX Technology Week 2018 took place in the Dubai World Trade Centre and the event lasted from 14th October to 18th October. APPSeCONNECT was glad to exhibit the power of this Integration Platform yet again, show how robust this application is and connect with people in need of a progressive business scenario. Mr. Subhajit Goswami, VP of Global Business Development and Mr. Avik Mukherjee from APPSeCONNECT were present in Hall 1, Stall 16, Stand G1-1 of the Global Solution Providers area to showcase this awesome data and business application integration platform.

APPSeCONNECT was privileged to be a part of the GITEX Community and let the world know about the offerings of our solution and the importance of an Integration Platform as a Service (iPaaS). The event was filled with insights from top business owners, strategists, business enthusiasts, etc. We networked with many business leaders and APPSeCONNECT was fortunate to share this stage with some of the leading business ventures in the market like Oracle, Microsoft, SAP, Sage, Tally, Zoho, etc. It is important to note that being an iPaaS solution, it was a brilliant opportunity for APPSeCONNECT to reach out to the customers/partners of the MENA region and showcase a platform that was built with authenticity and caters to the business needs of companies willing to indulge in data integration and business automation.
With Shankar R from #Zoho. Day 5 at @GITEXTechWeek pic.twitter.com/hJP7OA3sjP

— APPSeCONNECT (@appseconnect) October 18, 2018
Taj Ahmed from AP&T, our NAV partner.#GITEX2018 #gitextechweek pic.twitter.com/KQKzb1RED8

— APPSeCONNECT (@appseconnect) October 17, 2018
With Rony Antony from #Tally.
Day 3 at #GITEXTechWeek #GITEX2018 @compusubha pic.twitter.com/umpn1SjA17

— APPSeCONNECT (@appseconnect) October 16, 2018
With Tonia Sherine from @zoho at #GITEXTechnologyWeek #GITEX2018 pic.twitter.com/dkxJmHfJtZ

— APPSeCONNECT (@appseconnect) October 16, 2018
Happy to meet Muhammad Zwahir from @TYCONZMENA, our partner. #GITEX2018 #GITEXtechnologyweek #gitex pic.twitter.com/Df0rqV1cz7

— APPSeCONNECT (@appseconnect) October 14, 2018
By attending this conference, we have understood the market structure well and there is a prominent presence and requirement of Microsoft Dynamics AX integration with other applications. Also, it has been observed that more and more businesses are trying to integrate and connect more than 2 applications seamlessly to run their business efficiently. This is where APPSeCONNECT promises to ease their pain.
By being present at the exhibition and personally interacting with partners, customers and a lot of visitors from around the globe, APPSeCONNECT made sure that it extended the reach of the intelligent integration platform and help as many businesses as possible on their way to accelerated growth and success. APPSeCONNECT participated in TechTalks again this year and it was a fun event to join – it is an initiative taken to bring together tech and IT based companies and products into a comprehensive discussion. With all these opportunities, APPSeCONNECT has been able to push its limits further and has reached to the people searching for a robust and automated integration platform.
Now, you can easily integrate your line of business applications including ERP, CRM, Ecommerce store, Marketplace, Shipping, Accounting and POS systems under one single platform to automate the business process!

You may also like:
APPSeCONNECT Exhibited at Gitex Technology Week 2017
13 Tips For Writing Amazing Ecommerce Product Descriptions To Drive Sales
Webinar: Tips & Tricks To Boost Your Ecommerce Conversion Rate