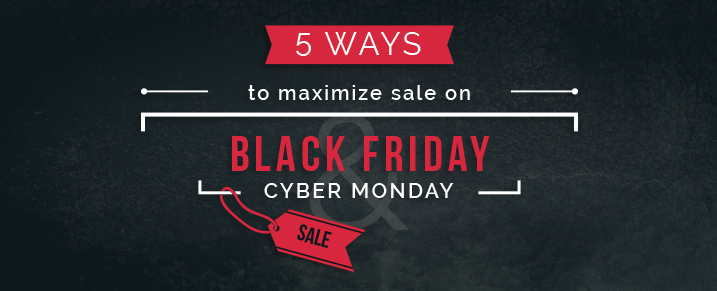 As the greatest shopping weekend of the year is arriving; advertisers, dealers are preparing for the Black Friday/Cyber Monday shopping bonanza. While the marketing strategies of partners and members should be strongly in place by now, there is still time to change your content and advancements to capitalize on the upcoming shopping season, which guarantees to be much greater than a year ago.
The following are partner advertising procedures for the occasion that align with these practices in eCommerce:
Discounts to maximize engagements: Analysis of your customers a year ago will demonstrate to you which items and offers made the best online interest. Equipped with this information you can make email offers around items you know will drive email engagement, direct people to your site and drive deals including non-discounted Sales.
Build eagerness: A short campaign paving the way to and on Black Friday and Cyber Monday will propagate your message. You can think of an email showcasing automation program that conveys a progression of distinctive messages and titles to help build customer eagerness and hope before the occasion.
Be relevant and particular: Customers will be facing a flooded inbox on the days leading to and over Black Friday and Cyber Monday. This is the ideal opportunity to concentrate on email messages you convey are Personal and significant.
Highlight the Subject: While we're on the subject of occupied inboxes, we need to be relevant on subject lines. If you want your message is not left unread, you need to tackle on the subject line.
Quality should override price: Retailers ought to influence their brand name and emphasize the quality of their merchandise over the cost to engage customers.
With little modification, you'll have the capacity to procure significantly more from your promoting endeavors this season.
To make your online business more efficient and streamlining your business operations, you should integrate your Ecommerce with back office ERP. A robust integration solution can connect all your Ecommerce stores, CRM, POS, Marketplace accounts and back office ERP under one single platform and help them talk to each other.
Watch this video to see how and request for a 30-Day Free Trial to check if it works for you.

You may also like
Importance of gift wrapping in the holiday season
The Biggest eCommerce Holiday Shopping Days
Important Shopping Online Dates of 2015 for Ecommerce Merchants
5 cool tips to boost your sales in this holiday season