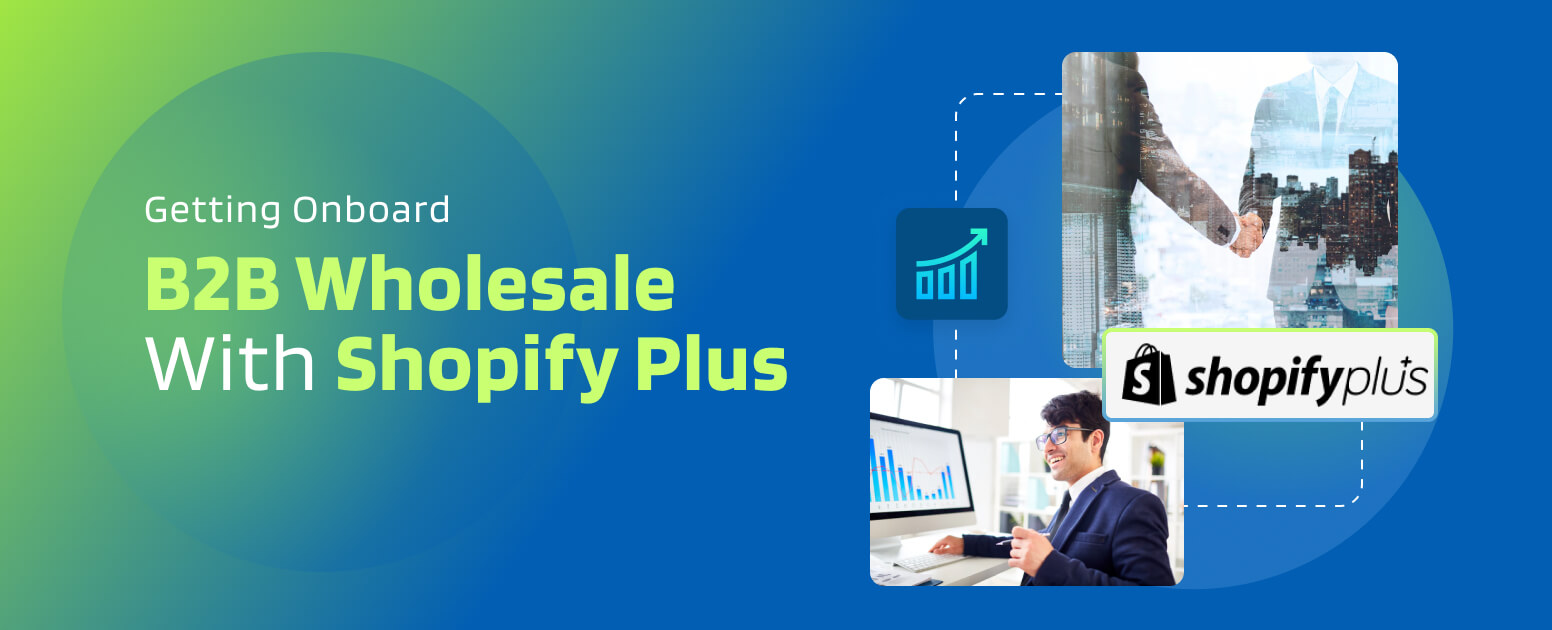 The world is becoming ever more digital and so is the B2B wholesale industry also evolving to meet these changing trends. B2B wholesale businesses are making a rapid transition from their traditional offline brick-and-mortar store to online webstores and even adopting online B2C strategies to deliver more effective customer experiences. Transitioning to digital B2B commerce is the need of the hour for wholesale manufacturing businesses to stay relevant in this evolving industry. While many of the top eCommerce platforms in the market offer online wholesale capabilities to businesses one way or the other, the online B2B wholesale with Shopify Plus offers a range of in-depth features that truly sets it apart from the competition in the market.
With the competitive edge offered by getting onboard B2B wholesale with Shopify Plus, let us delve into it.
What is Online B2B Wholesales?
B2B wholesale is the business model where goods are sold from one business to another, rather than to the end customer. The business model is primarily used by manufacturers and wholesalers who want to distribute their products to a wide range of retailers or other businesses. Usually, B2B wholesale involves bulk quantities of goods being sold at a lower price point than if they were sold directly to end consumers.
When it comes to online B2B wholesales, it involves selling products directly to other businesses online, through an eCommerce wholesale platform or a marketplace. The B2B eCommerce industry is exponentially expanding with a study showing a staggering 83% of B2B buyers prefer ordering or paying through online commerce channels over traditional methods. The growing popularity of online B2B shopping allows traditional brick-and-mortar companies to reach a wider range of customers and expand their customer base by transitioning to an online eCommerce platform.
If you have multiple systems employed in your business and want to seamlessly integrate all of them with Shopify Plus, connect them under one single platform with our hybrid iPaaS APPSeCONNECT. Automate business processes and improve your productivity and efficiency with us!

Growing Significance of Online B2B Wholesale
While the COVID pandemic jumpstarted the adoption of online wholesale for B2B businesses, there are several other factors contributing to the perpetually growing significance of online B2B wholesale in the industry. The growing prevalence of online B2B wholesale across the industry can also be attributed to the increasing shift towards digital technologies in the business world along with the following advantages:
Convenience of Purchase: Online B2B wholesale allows businesses to effortlessly browse and purchase products from a wide range of suppliers without having to physically visit them. This helps businesses save time and resources, especially for those that are located far from their suppliers or have limited resources for travel.
Greater Product Range: Online B2B wholesale platforms offer a greater selection of products than traditional channels, as they are not limited by the capacity of a physical store and can easily source products from global suppliers. This can help businesses to access a wider range of products and diversify their product range.
Increases Profitability: Online B2B wholesale platforms often provide lower prices for products than traditional brick-and-mortar stores due to the reduced overhead costs associated with operating an online business. The reduced cost of purchases helps businesses to save money and increase their profitability.
Faster Procurement Cycles: Wholesale B2B eCommerce platforms allow businesses to place orders and receive products faster, often with the option of same-day or next-day delivery like B2C webstores. This can help organizations to improve their time to market and reduce their inventory costs.
Improved Transparency: Online wholesale B2B stores catalog products with detailed information, including pricing, availability, and shipping options, which can help businesses to make informed purchasing decisions.
The growing significance of online B2B wholesale reflects the increasing importance of digital technologies in the business world and the benefits that they offer for businesses of all sizes.
How Shopify Plus Plays a Role in Online B2B Wholesale
Launched in 2014, Shopify Plus is a cloud-based eCommerce platform designed specifically for large and high-volume D2C and B2B merchants. Currently, there are over 26,000 live stores running Shopify Plus with the number of stores increasing by 21% year-over-year in 2022 Q3. The platform offers a range of features and tools to help businesses manage and grow their online stores, including support for online B2B wholesale. For B2B wholesale with Shopify Plus, the platform delivers all essential features into the core of the webstore like managing company profiles, price lists, net payment terms, customer accounts, and much more.
The fundamental role Shopify Plus plays in enabling online B2B wholesale is its ready-to-use eCommerce platform that comes fully featured with B2B functionalities for wholesale businesses to sell their products online. This includes support for wholesale pricing, bulk ordering, and customizable storefronts. Shopify Plus also offers a wide range of B2B tools to help businesses manage their orders, including machine learning and robotic support to maintain the accuracy of inventory and ship orders faster.
The platform also offers business process automation capabilities through its integrations for Shopify to offer B2B merchants a unified solution for managing their entire sales experience and enhancing the efficiency of all their workflows. The ease of setting up and using Shopify Plus along with the vast library of quality B2B features the platform offers right out of the box, makes it a major contributing factor in enabling traditional B2B enterprises to take the leap to online B2B wholesale.
Benefits of Conducting B2B Wholesale with Shopify Plus
The distinct needs of customers in the B2B industry cannot be managed with a one-size fits all solution. However, conducting B2B wholesale with Shopify Plus offers a range of benefits to cater to the unique needs of individual customers. The benefits of conducting online B2B wholesale with Shopify Plus include:
Greater Sales Optimization: Shopify Plus offers Launchpad, an add-on to simplify the automation and scheduling of sales campaigns, product releases, or flash sales. It allows businesses to schedule various events, including specific theme changes and special pricing visibility of certain inventory. Real-time data access to business analytics is also accessible through a dashboard to track and optimize the effectiveness of a sale.
Fast and Flexible Implementation: Shopify Plus offers a flexible B2B eCommerce platform that is fast and easy to set up and customize. Both Shopify and Shopify come packed with 100+ free and premium themes, each with a high standard of built‑in features to optimize online sales. Additionally, brands can achieve their specific website needs through CSS and full JavaScript control. Shopify Plus also offers the freedom to customize the checkout page to target enterprises and drive more sales.
Mobile Commerce Capabilities: According to estimates, mobile commerce sales in the United States are expected to reach 710 billion U.S. dollars by 2025. Shopify Plus allows businesses to leverage this growing mobile eCommerce market through exclusive access to a mobile store builder. The mobile store builder gives businesses the option to create iOS and Android apps without any technical knowledge. The feature-rich mobile store offers product merchandising with various theme options in PDP and PLP with personalized shopping experiences and real-time in-app live chat capabilities to increase B2B sales conversion.
Robust eCommerce Features: With modern B2B online sales adopting several B2C sales strategies to maximize online sales, Shopify Plus offers a wide range of B2C and B2B eCommerce functionalities. Must have B2C features like abandoned cart recovery and multi-currency selling already comes packed with the platform. Additional exclusive features offered include Shopify Flow, which allows store owners to offload everyday tasks into automated workflows, and Script Editor which can be used to create custom scripts for a range of store properties, including line items and payment methods.
Business Application Integration: With Shopify Plus, businesses already get a wide variety of features required to operate an eCommerce store. However, a growing business requires dedicated applications to manage distinct processes. Dedicated ERP, CRM, shipping, accounting, and other lines of business applications need to be integrated with Shopify Plus to assist with inventory, accounting, marketing, sales orders, and wholesale customer management. With the proper integration, B2B brands gain quick and easy access to all their business data under a unified roof and seamlessly manage all eCommerce and ERP operations. Since Shopify partners with more than 1,100 developers, implementing integration between the applications becomes effortless. Moreover, if you are a B2B company working with multiple business applications like ERP, CRM, shopping, POS systems, etc., and plan to deploy an in-depth integration of them with Shopify Plus, then a low-code Business Process Automation (BPA) platform like APPSeCONNECT can be a perfect solution. Such automation platforms allow business owners to integrate their entire business application ecosystem and create uniformity of data across all workflows.
Achieving Successful B2B Wholesale with Shopify Plus
Shopify Plus offers a powerful eCommerce platform that allows easy setup and management of a B2B online store. Here are the steps to get started with B2B wholesale with Shopify Plus:
Sign Up for a Shopify Plus Account
Head on to Shopify Plus to get started with a new account or upgrade to a Shopify Plus account if there is an already existing Shopify account.
Follow the on-screen prompts to set up your store. This includes adding business details, selecting a plan, and choosing a theme for the store.
Create a company with a new or existing Company ID and then enter the shipping address and a billing address along with the Location ID.
Setup the B2B Store
Add product details like product name, description, price, and photos and under the Price Lists section, select the price lists to apply to the company.
Setup payment options, like shipping rates and payment terms for the company with either, None, where orders must be paid immediately upon checkout, or Net (Period), where orders can be paid for immediately or at any time during the specified period.
Additionally, the company's tax ID and tax exemptions can be set up under the Taxes section.
Enable Functionalities for B2B Wholesale with Shopify Plus
Enable discounts for specific products or collections and set the minimum quantity required to qualify for the discount from the Discounts page in Shopify. Additional discount criteria that can be added include dates for which the code is valid, the number of times that a code can be used, or if the discount goes with other discount classes or not.
Additional functionalities like automated email notifications through customizable email templates and SMS notifications can be set up to increase sales conversion and deliver a greater customer experience. Business analytics, recovering abandoned checkouts, and shipping management can also be set up to gain better insights and streamline B2B wholesale business processes.
Conclusion
In conclusion, getting onboard with B2B wholesale using Shopify Plus can be a highly beneficial decision for traditional B2B businesses looking to expand their reach and increase their sales. By using Shopify Plus, businesses are able to take advantage of a wide range of powerful features and capabilities designed to streamline and optimize B2B wholesale operations. With its powerful features and capabilities, Shopify Plus makes it easy to manage and scale a B2B wholesale operation. The platform offers the full spectrum of B2B functionalities to offer bulk discounts, customizable checkout experiences, and the ability to manage a large number of wholesale customers and orders efficiently. Overall, making the switch to Shopify Plus can be a smart move for any business looking to grow their B2B wholesale operations.
If you have multiple systems employed in your business and want to seamlessly integrate all of them with Shopify Plus, connect them under one single platform with our hybrid iPaaS APPSeCONNECT. Automate business processes and improve your productivity and efficiency with us!