With APPSeCONNECT, Healthy Planet Canada was able to overcome unforeseen business situations and emerged as one the leading suppliers of vitamins and supplement in Ontario.
At Healthy Planet, their goal is to make a Healthier and Greener world. From the vitamins, supplements, produce, groceries & health foods they sell, to the socially responsible manufacturers & distributors they work with, Healthy Planet puts everything through its filter. Their passion is to bring the highest-quality supplements, vitamins, health foods, bath & beauty and eco friendly products at the lowest possible prices.
Healthy Planet is one of the leading suppliers of health vitamins and supplements in Ontario. To manage their back-end operations Healthy Planet employed SAP Business One ERP and to run their online business they used the Magento eCommerce platform. However, to attach different scopes and workflows to each component and manage their growing business needs, they were in need of a robust integration platform.
Lack of automated integration between multiple systems.
Difficulty attaching different scope, different logic and different workflow to each component of the system.
Error-prone data transfer.
Difficulty in communication with and integration of various third-party applications.
Manual entry of orders and related data.
Need for custom integration solution for a growing business.
Seamless data integration between SAP Business One and Magento eCommerce.
Automated attachment of different scopes, logic and workflows between the systems.
Streamlined communication and integration of various third-party applications.
Error-free data transfer between ERP and eCommerce platform.
Automated order and data sync.
Uniquely designed business flow to suit the requirements with a strong and reliable integration architecture.
Streamlined business operations and processes to ensure growth.
Reduced manual effort and updates.
Stronger customer relationship.
Completely seamless integration of applications.
Easy and automated management of sales orders.
Speed in operations noticed.
More time on innovating, less on managing.
Improved efficiency and productivity.
Saved a lot of time and resources due to efficient real-time data exchange. 
A perpetual rate of business growth. 
APPSeCONNECT Differentiators
Proactive support during implementation and post-implementation process.
Very open communication.
Proven solution – deemed to provide the best!
Flexible solution.
Comprehensive features and functionalities.
Deeper integration, scalable and customizable.
Fully automated sync in real-time.
A robust and easy-to-use platform with experienced professionals.
Software Scalability, support for eCommerce Growth.
Geographic expansion is facilitated.
A boost in the productivity of employees.
Quick implementation and an affordable solution.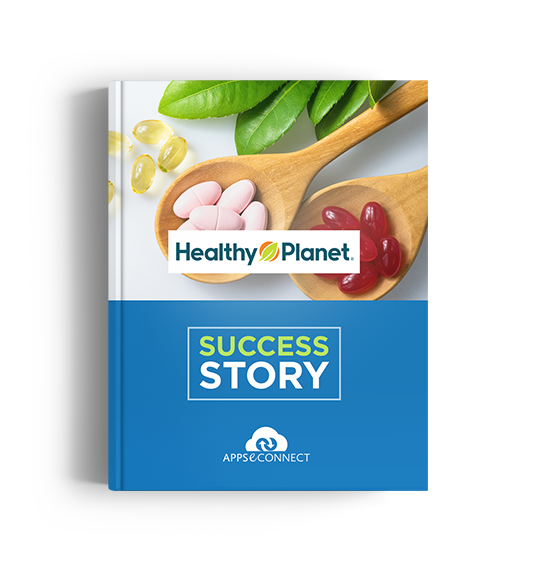 Headquarters:
North York, Ontario
Industry:
Health, Wellness & Fitness
Company Size:
201-500 employees
Products and Services:
Retail, Vitamins, Supplements, Health & Beauty, Health Food, Sports Supplements, Herbs, and Organic
Website:
www.healthyplanetcanada.com
Find out how top organizations are automating their businesses with APPSeCONNECT Integration Platform