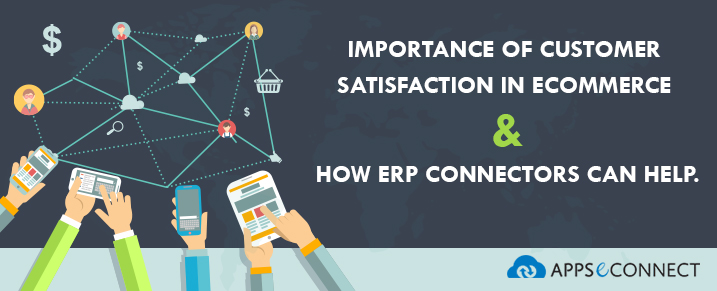 E-commerce is the hottest service lending and trading forum or should I say residence of shopaholics. A shopaholic is the potential customer at any stores be it online or retail. It very important to keep your visitors satisfied so that they always pay a return visit whenever they are shopping. The competition is high, if a consumer is unsatisfied, it will not take them much time to click another eStore. ERP connector plays a syncing role that connects your ERP with your e-commerce and CRM. The customer automatically receives updates of their purchase details like order processing, shipping, delivery etc. via mail through this connector. On the other hand, the connector updates the stocks in real time in your e-commerce.
How to keep your customers satisfied?
Product display: Display your product along with price and available discounts so your customer knows about the discounted rate.
Update stock: Updated stock helps to eliminate 'out of stock' issues. If the stock is under purchasing or production process, mention the expected date.
Product details: A product may have different colors and sizes, the updated details gives your customer variety to choose.
Shipment updates: Ensure your consumer get updates of the shipment details of their product.
Newsletters: Do send newsletters about your new stock and discount updates to nurture the impulsive buying vibes.
How do ERP connectors help?
An ERP connector connects your ERP with e-commerce and customer relationship solutions. When the sales volume increases connector helps to streamline the business. Thus, your e-commerce store run efficiently and seamlessly, this help in syncing the data in real time.
ERP connector updates product info like the price of the item, volume & period discounts on a particular product which directly reflects on your eStore.
The stocks in your different warehouses are displayed on your e-commerce store by using the connector. If the product is 'out of stock' the expected date is displayed through the connector helps in eliminating the out of stock issues.
It helps in updating the colors, size, material details, manufacturer etc. of the products automatically.
The connector updates the customer about their orders like the processing details, order shipment etc. via mail.
Pick & pack, delivery time & tracking numbers are sent to the customers through message.
In case the consumer request for sales return, the ERP connector automatically sends credit memo.
An e-commerce store is visited by both registered and guest customers. The data which is synced by the ERP connector invites the guest visitors to register and sends newsletters regarding new stock update, fashion trend, discount vouchers etc. to the registered members. Customer satisfaction should be the most important as nowadays the competition is very high in the e-commerce platform, your customer might buy it from your rival companies.
To know the insights of these ERP offering, you can have a look at this link:
What is a good ERP software to use with Magento?