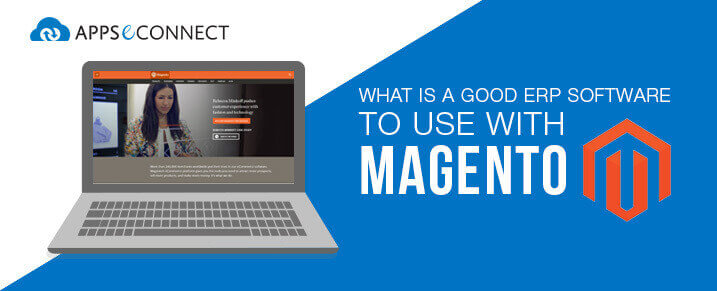 Magento, as we know, is undoubtedly the best available e-commerce platform in the market. Being e-commerce Magento mainly concentrates on online sales, while other processes like purchase, accounts, service, production, inventory, human resource, etc. needs to be managed too, for which organization can consider an ERP system to run these effectively.
ERP along with Magento gives your business an edge to meet your daily requirement without any hassle. An ERP software and Magento together can make your business efficient and profitable.
Magento is mostly used by Midsize Businesses, so any ERP which these organizations can consider the need to be targeted to the same business size, Small and midsized Companies. Here are 3 ERP contenders which can satisfy this key criteria, SAP Business One offered by SAP AG, MS Dynamics NAV offered by Microsoft and Netsuite ERP.
Let's have a brief look in these three:
SAP Business One
SAP B1 is specially designed to cater from small to mid-size organization thus offering you an affordable package to manage your whole business. It efficiently help you to meet your end to end business operations, and prompt information which maximizes your efficiency leading to financial benefits. SAP B1 caters usual functions in business organizations, it is sorted in few modules. SAP B1 is well recommendable ERP software that tailors various fields in your business and also user friendly & productive like:
In resources, the master data being the machines and people are used in defined production that is plan and capacity.
The diversified core setting are done in administration, improves customer satisfaction.
Manages the sales flow, which is the quotation, order, delivery & invoice.
Maintains the inventory of master data which is buy or sales also in tracking the warehouse details, help to avoid 'out of stock' scenario
Maintains the HR data where the employee's details are stored.
Keeping a track of probable leads generated.
Through Sap B1, the information is shared on the same platform where your business departments can have easy access.
MS Dynamics NAV
Navision or Microsoft NAV is a similarly good ERP system like SAP B1 software. Taking a deeper look you might find NAV have certain extra technical feature added in their ERP system. NAV is bit more complex in according to different users. Microsoft launched this software in 2002, originally an accounting application which emerged as Microsoft Business Solutions NAV due time. NAV have two different sections one for enterprise organization and other for small to mid-size business structure.
NAV provides more integrated functions to support for your following system:
Manages your finance.
Manage your supply chain.
Distribution
Customer relationship management (CMR).
Manufactured goods.
NAV is deeply rooted ERP system, which has upgraded to 43 official localized partners. NAV gave the options to grow beyond the accounting process.
Netsuite
Netsuite has marked its existence in the world giving ERP solutions to over 20,000 organization across 100+ countries. Netsuite being a good ERP Software offers solution surpassing the traditional account execution by organizing the daily operational method, providing a real-time visibility. Netsuite offers a flexibility in upgrading, configuring and customizing in your business efficiency.
Netsuite also provides more or less same kind of functions, to be precise the following are offered:
Processes 50%+ acceleration of the order to cash.
Cost effective in upgrading the product automatically, excluding the upfront & ongoing IT disbursement.
50% slash in financial closure.
Enhances the workforce productivity.
As we have discussed, above are some ideal ERP system which gives a profitable utilization when used together with Magento, where Magento runs the sales process and ERP controls the other aspects. Any of these ERP is the best possible option to run an online store effectively through quick processing of e-commerce transactions. If the sales are in huge volume, Merchant might require a connector to transfer these huge number of transactions to the back office ERP system.