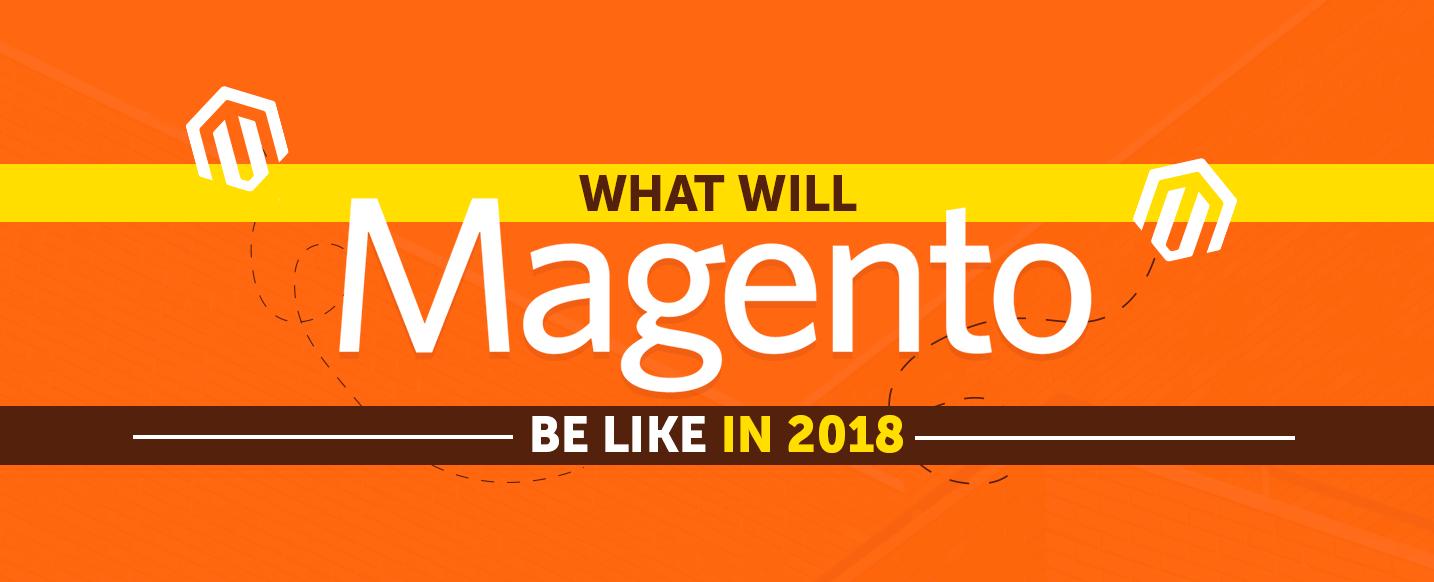 Magento has been a thriller till date and I must say, as a proud user of Magento, it's been a great platform to use as well as to work with. There was a huge change when Magento released its 2.X version in every aspect increasing the eCommerce business user's interest to shift to Magento.
By the end of 2017, we have seen another leap with the release of 2.2.2 version, thereby creating a suspense of something bigger in 2018. Now with 2018, new ideas are expected to flourish. Exhaustive ideas would obviously stand out and gain momentum. Adobe has recently announced its intent to acquire Magento, the leading ecommerce solution (and already an Adobe partner) for a sum of $1.06 billion.  The Adobe-Magento agreement will definitely shape the future of the ecommerce platform.
Here are some of the Trends and Expectations from Magento!
Magento Trends and Expectations for 2018:
Artificial Intelligence and Chatbots
Artificial Intelligence (AI) has been a growing trend for the last few years but is increasing more rapidly with each coming year. Artificial Intelligence For Retail Ecommerce can ease your pain. 2017 was a big year for AI and it looks like 2018 will allow it to expand even more. AI is taking the world by storm, transforming our work and personal lives, and revolutionizing the ecommerce trend as well. AI allows merchants to understand the behavior of their buyers, to cater services, to meet buyer needs, and it provides analytics to guide sellers to adopt targeted marketing to reach out to their prospected shoppers. Chatbots are one of the best types of AI that has been dominating the Magento ecommerce. Designed as an alternative to human customer service representatives, chatbots are smart software that leverage machine language technologies to understand customer needs. In 2018, we can expect to see chatbots mostly over all Magento apps or websites.

Growing need for Personalized Experience
Whether they are shopping in-store or online, customers are significantly happier when they are served a personalized experience every time they shop. Personalizations can be categorized in many ways may it be by providing some coupons for engaging customers, maybe by showing product preferences based on the customer's visit and acknowledging people for being a repeat customer through digital communication. Magento merchants need to explore personalization, and embrace it, to stay strong in 2018.
Search Options Should be Organic
Filter choices, smarter breadcrumbs, and intelligent auto-complete are some of the elements of smart searches that can be expected. In 2018, expect smart searching to be paramount. Each smart search option is designed to make an easy and interactive shopping experience for sellers. Not only it will improve customer's experience but at the same time, it will act on engaging more customers thereby making additional sales. Reports will have more confidence when integrated with search.
Push Notifications will Rise as an Important Tool for User Engagement
Any established ecommerce venture has an understanding that sales require constant engagement with the new users, and at the same time, keeping the existing ones happy. In today's world, online businesses largely rely on push notification. Push notifications are outlined to remind shoppers about the store by sending constant updates. 2018 is going to bring more of this necessity as people's attention is constantly being diverted from one venture to the next. Just like the previous years, in 2018, you will need to keep a regular flow of special offers, product launches, and abandoned cart reminders through the push notifications, as these are the sailing boat to attract customers.
Big Data and Analytics Will Be an X-Factor
Several businesses are already employing Big Data for real-time data manipulation & analysis. It encompasses data related to user statistics and behavior patterns. Combined with analytics, Big Data offers rich insights that can be applied to make profitable business decisions. Most Magento stores would cuddle this technology in the coming years to give more enriching shopping experiences.
Conclusion
2018 has just started, and many exciting Magento advancements are sure to come with it. As always, the best way to be at the front foot is to get informed. Because of this, we're keeping a close eye on developments with Magento in 2018, and you absolutely should too.
Now, you can easily integrate your Magento Store with the back-end ERP/CRM System to automate the business process!

You may also like:
Adobe's Magento Acquisition and The Future of Ecommerce
Magento Launches it's own One-Click Checkout – Instant Purchase
Top Analytics Extensions for Magento 2