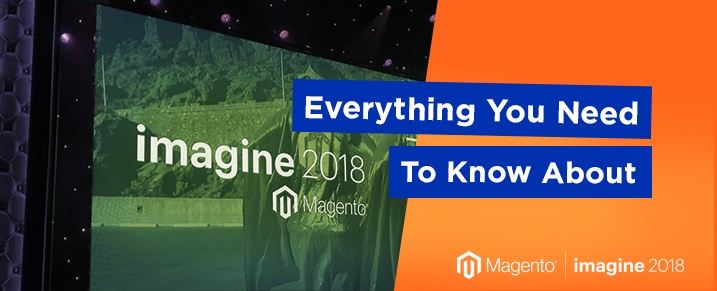 Magento Imagine is Magento's annual eCommerce conference which is held to bring together merchants, partners, developers and Magento experts from all over the globe to network, exchange innovative ideas and build the Magento Community on a whole.
Magento Imagine 2018, the eight-year of this eccentric event was held in Las Vegas and it was all set to attract the biggest innovators in eCommerce.
Among all the others who were privileged to present an opening keynote to Imagine 2018, the people also witnessed actor Jamie Foxx as a marquee keynote speaker:
@iamjamiefoxx absolutely bossing it on the main Keynote stage @magento Imagine 2018. #comedylegend #LeadTheCharge @samallan24 @RickKruize pic.twitter.com/Q6PRbF9xYB

— Brian Mapley (@MappersGKAcad) April 25, 2018

Mark Lavelle, CEO of Magento Commerce, encouraged aspirants on the way the community should work and grow – by being Agile, Innovative and the Team itself. It was great to hear from this inspiring thought leader.
Day One at Magento Imagine featured keynote speaker Mark Lavelle – Magento Commerce CEO! Mark presented the new #MagentoCORNERSTONES: Be an Owner, Be Agile, Be the Community, Be Innovative and Be the Team. Incredible hearing from this thought leader in e-commerce. #MagentoImagine pic.twitter.com/7TQpSwDYjo

— Rivers Agency (@riversagency) April 24, 2018
This event also marked the release of the newer version of this eCommerce solution – Magento 2.2.4 and it was a great surprise for all the enthusiasts.
@magento just announced that Commerce 2.2.4 was released today at the #Imagine2018 conference! 💡 Learn about the new features and why you should upgrade here 👉 https://t.co/vzTfPIb8aF pic.twitter.com/9hXLcUJEWV

— Forix Web Design (@ForixWebDesign) April 25, 2018

Stated in the event, next version of Magento – Magento 2.3 will include the Instant purchase feature as well as the two-factor authentication to provide a better experience to the users.
[Magento Imagine] Magento 2.3 will include Instant Purchase feature #MagentoImagine #MagentoImagine2018 #Imagine2018 #Magento pic.twitter.com/e95SByyB3x

— Matthéo Geoffray (@mgeoffray) April 24, 2018
Two Factor Authentication feature will be available in next Magento 2.3 release #MagentoImagine #MagentoImagine2018 #Imagine2018 #Magento pic.twitter.com/876jmI0bV7

— Matthéo Geoffray (@mgeoffray) April 24, 2018
The dev exchange session proved to be as useful as the previous years, with innovative minds sharing revolutionary ideas in order to cater to the Magento users and drive the force of the community to a more global scale.
The devs, exchanging. #devExchange #MagentoDevelopers #MagentoImagine pic.twitter.com/IcU85nqNRn

— Adobe Commerce (@AdobeCommerce) April 25, 2018

Magento took the time to acknowledged and congratulate the top 5 contributors for the past year – these industries have kept up with rigorous Magento development and have proved to be of mutual benefit to the customers as well as the Magento Community.
Congrats to our Top 5 Core Contributors for 2017!@lewisvoncken of @Experius@dverkade of @creaminternet
Adrián Martinez Guantes of @interactiv4@RakeshJesadiya of @krishtechnolab@OSrecio of @interactiv4 pic.twitter.com/OgM0ezDNEX

— Adobe Commerce (@AdobeCommerce) April 25, 2018
Community Manager Sherrie Rhode took the opportunity to thank the entire Magento team without whom the awesome event could not have been possible.
I couldn't possibly be more thankful for this crew and what they contribute to help us all move forward together with @magento. 🙌 #MagentoMasters #MagentoImagine pic.twitter.com/CC5grRbIXy

— Sherrie Rohde (@sherrierohde) April 25, 2018
Ben Marks, a well-known Magento evangelist and enthusiast wasa all s miles and tears to see the Imagine 2018 right in front of his eyes.
I am holding back tears thinking about the time, effort, care, and passion that goes into #MagentoImagine. I hope that our community is as proud to be a part of this moment as the Magento team is to produce it. Thank you all, so very much. pic.twitter.com/5NRBJrRFuU

— Ben Marks (@BenMarks) April 25, 2018
With Magento Imagine rolling out every year, we can expect huge platform developments and better user experience from the team of the best and most stable eCommerce solution in the market.
Now, you can easily integrate your Magento Store with the back-end ERP/CRM System to automate the business process!

You may also like:
APPSeCONNECT exhibited as a Silver Sponsor at Meet Magento Croatia 2017
How to Choose the Best Magento 2 Hosting
4 Magento Partners Share Their Take on Magento 2