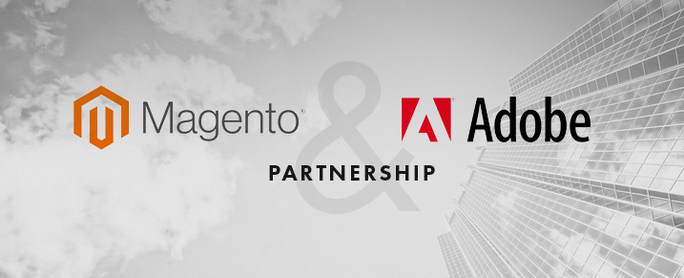 Something big got announced yesterday at the Shop.org's Retail Digital Summit happening at Dallas, TX. Magento declared a collaboration with Adobe. Adobe's comprehensive content management solution – Adobe Experience Manager, can now be leveraged by Magento users to design and deliver a consistent experience to its customers across digital channels. Magento's Digital Commerce Suit coupled with the Adobe Experience Manager will enable merchants to reach out to their customers with personalized messaging and promotions.
"With today's consumers more demanding of the brands and merchants they shop, it's imperative for merchants to not just compete, but lead, on customer experience. With this joint solution, merchants now have limitless flexibility and powerful personalization to better differentiate themselves from competitors"
said Mark Lavelle CEO of Magento Commerce.
An integration framework has been developed to allow data interaction between Adobe Experience Manager, Adobe Analytics, Adobe Target and Magento Digital Commerce and Commerce Order Management. Magento has trained an initial set of its partners to deliver the solution worldwide –  Accenture, Arvato, CGI, EPAM, Infield Digital, MRM McCann/Optaros, Perficient, Razorfish, Salmon, Sapient and WebQem.



Key capabilities this collaboration will provide to merchants include:
Unified Shopping Experiences: Allows transactions anywhere, anytime with integrated fulfillment and customer engagement to the store.
Greater Personalization: Enhances the customer journey with rich, personalized experiences between channels (web, mobile, retail store) in a single, cost-effective, scalable platform.
Unparalleled Innovation and Business Agility: Provides sales and marketing teams with real-time personalization, insights and analytics while simultaneously testing game-changing innovations to stay ahead of consumer demand.
Common Architecture: Single tenancy control gives customers the freedom to create highly differentiated digital brand experiences.
"Adobe and Magento are creating a powerful platform to contextually engage shoppers and deliver the best possible shopping experience across all touch points," said Aseem Chandra, vice president, Adobe Experience Manager and Adobe Target. "We are making it possible for the promise of compelling, personalized shopping experiences to become a reality."
Source: https://magento.com/company/press-room/press-releases/magento-announces-partnership-adobe-transform-commerce-experiences

You may also like:
B2B Commerce with SAP & Magento – Is B2B the new B2C?
How healthy is your Magento Store?
10 Best Practices for Magento maintenance & support