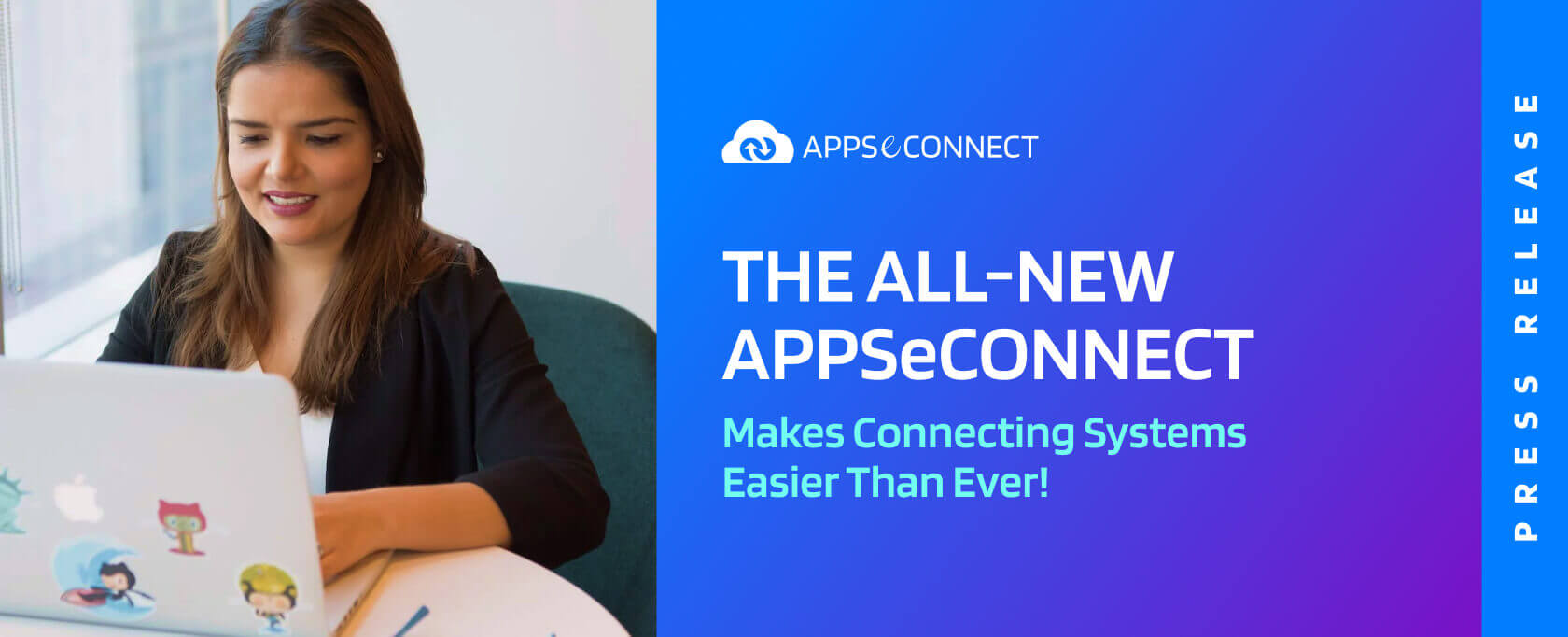 The newly launched integration platform – All-New-APPSeCONNECT marks a new era of fast and simple, yet powerful integrations!
Frisco, Texas, May 2, 2022 – APPSeCONNECT is proud to announce the launch of their new integration platform, designed to make connecting systems and automating workflows easier than ever before.
The platform is set to allow businesses to seamlessly connect and integrate their various systems, including CRM, ERP, and e-commerce platforms. This can help businesses streamline their operations, improve data accuracy, and increase efficiency.
"We understand that businesses today rely on a variety of systems to manage their operations, but these systems often don't communicate with each other," said Atul, CEO of APPSeCONNECT. "Our new integration platform bridges that gap and allows businesses to get a more holistic view of their operations, so they can make better decisions and grow their business."
"APPSeCONNECT is an enterprise-grade platform that empowers businesses to automate their processes and operations by seamlessly connecting a host of LOB applications under a singular platform," said Jhilik, VP of Marketing, APPSeCONNECT. "With the big launch of the All-new-APPSeCONNECT Platform, businesses can now visually design integrations for connecting their applications and achieve faster time to market through an automated business landscape."
The newly launched integration platform is user-friendly and requires almost negligible coding or technical expertise, making it accessible to businesses of all sizes. It also offers a wide range of pre-built connectors for popular systems, such as SAP, Dynamics, Shopify, Magento, Amazon Salesforce and Zoho.
APPSeCONNECT has decked its iPaaS platform with cool new features that are set to bring the power of process automation into business operations and unleash productivity and efficiency across all teams in an organization.
They also unveiled new features and solutions within the platform to support complex multi-application integrations. Here are a few top offerings:
Integration Packages: They have introduced a vast library of pre-built, out-of-the-box integration packages to choose from. These packages are time-tested and ensure exponential improvement in time-to-market.
A User-friendly Interface: An attractive User Interface (UI), an in-depth documentation library, and high-quality onboarding experience awaits the existing and potential users to benefit from.
Visual Integration Designer (ProcessFlow): ProcessFlow builder allows users to build automations using a graphical user interface (GUI) rather than writing code. It is a simple drag-and-drop interface for adding and connecting different types of integration components such as connectors for different applications / data sources and transformations for manipulating data. ProcessFlow can be used for designing, deploying, scheduling and monitoring the entire integration process and saves a lot of time.
"We want to make sure that our customers are getting the most out of our platform," said Samar, VP of Technology. "That's why we're enhancing our platform to help businesses set up and optimize complex integrations easily and see the benefits of automation as soon as possible."
APPSeCONNECT's all-new integration platform is available starting today. Interested businesses can learn more and sign up for a free trial on https://www.appseconnect.com/free-trial/
About APPSeCONNECT
APPSeCONNECT is a leading provider of integration solutions for businesses. Their platform allows businesses to connect and automate their systems, improving efficiency and driving growth. It comes with a library of pre-built connectors for various popular applications which can be easily configured and used in integration workflows. The platform also includes a visual workflow builder, which allows users to create and manage integration workflows using a drag-and-drop interface, making it easy to understand the flow of data.
Website: www.appseconnect.com
Follow APPSeCONNECT on Twitter and LinkedIn
Media Contact
Nayonika Goswami
APPSeCONNECT Corp.
pr@appseconnect.com