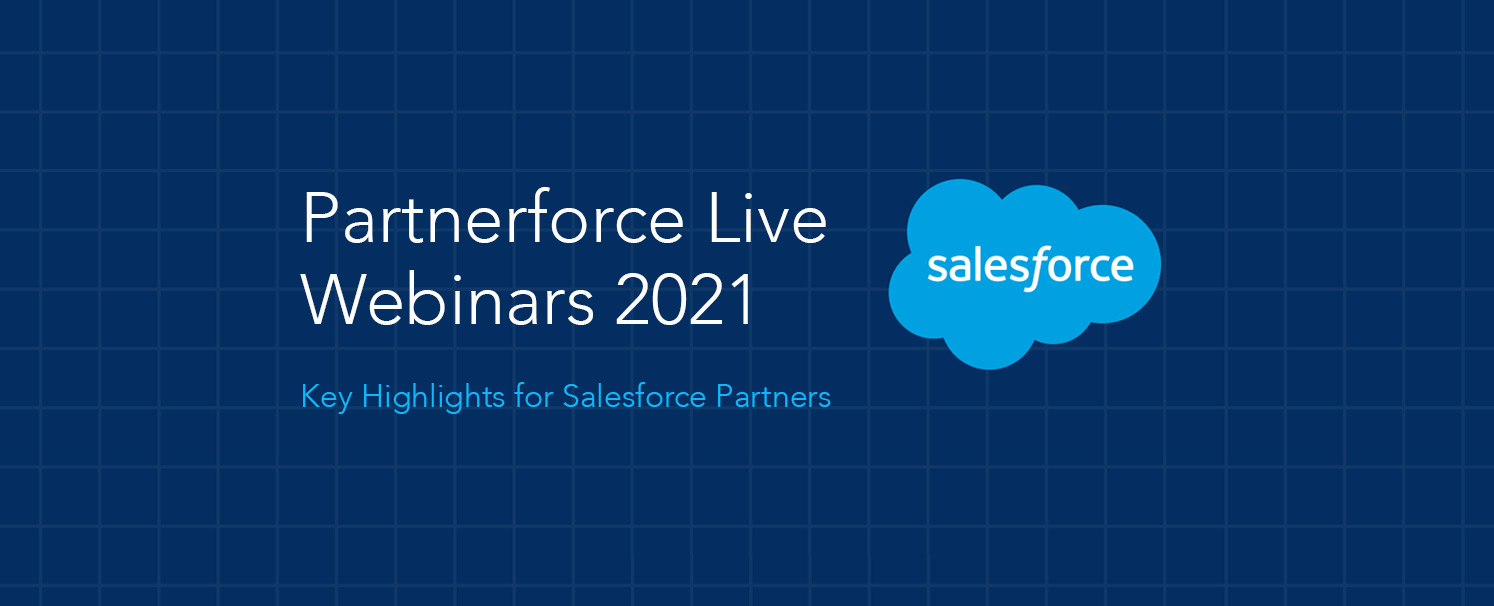 Salesforce CRM is one of the most used and widely spread CRM solutions around the globe. It has helped thousands of organizations streamline their customer data and efficiently manage them in a way that facilitates their growth. Salesforce organizes several events during the year to bring more innovative ideas to the plate and offer newer and better solutions to the market. One such event is Partnerforce Live webinars. The Salesforce Partnerforce is a global unified community of trailblazing Salesforce partners, thought leaders and enthusiasts from around the world.
The recent Partnerforce 2021 webinar was streamed live for the EMEA & LATAM regions. The event took a take on customer-centric strategies, analyzed customer mindsets, and provided the primary focus areas to help organizations best serve their customers. Visionary leaders shared their perspectives on how to navigate to the new normal and accelerate the journey back to growth.
If you are a Salesforce user and have multiple systems running your business, connect them seamlessly with Salesforce CRM under one roof with the best-in-class integration platform.
Top Takeaways from Partnerforce 2021:
1. Response to change and agility is important.
With the increasing change across all industries today, the organization can't survive and thrive without prioritizing impact. Thus, being active and responsive to market conditions, and ruthlessly focusing on customer success is the only way to grow.
Increasing agility enhances the ability to:
adapt and learn as new challenges come forward and new information is available.
focus on the critical deliverables for customers, add value to the customer experiences.
adapt, respond, be resilient, and focus on outcomes.
The key agile principles to embrace for growth are:
the highest priority to satisfy customers through early and continuous delivery of value.
simplicity is essential and the real art of a successful organization.
2. Collaboration within the ecosystem through Digital Transformation
COVID-19 has compelled us to reconceptualize the way we connect with customers, partners, and employees. Digital-first is the only objective at the present. Digital transformation is a complete business transformation. It is a business transformation strategy that describes the plan of action explaining how the business will be strategically repositioning itself in the digital economy. It's a constructive adaptation and a re-exploring of all the company's processes and approaches. They innovate, change operating and business models, and leverage emerging technology.
3. Commitment to continuing investment
Collaboration on technical decisions and investments is necessary when proceeding towards digital transformation. The one rule that helps in this process is if any organization is: "Being Collaborative". All employees would be affected by the change; thus, their collaboration would be essential. Decisions made in the void may not help. The changes brought by digital transformation will impact everyone's daily workflow and are meant to empower employees as well. Thus, getting everyone involved early and beseeching thoughts will serve the purpose.
4. The value proposition is important for customers
A value proposition refers to the benefits a company guarantees to deliver to its customers. It can be presented as a business or marketing statement that a company uses to summarize why a consumer should buy a product or use a service. It also improves customer perception and commitment. A powerful value proposition helps customers truly recognize the value of the organization's products and services. It also helps ideal customers to see how the services/products benefit them and are their most reliable available option. The value proposition is important at the early stage of the company because it sets some of the foundations for future business development. It is also a part of the business plan, of the marketing strategy and defines the future customer relationships.
5. Industry-specific booklet and ISV go-to-market
As organizations are increasingly adopting customer-centric models, IT stands at the center of the revolution. Business units are turning to IT as a strategic partner to deliver an improved customer experience (CX).
AppExchange offers a wide range of ready-to-install solutions built on Salesforce Customer 360 to solve business challenges. It further aligns with specific priorities by providing industry-specific applications that help accelerate digital transformation in their sector. Today's customers expect businesses to deliver connected experiences across channels and departments. Salesforce Customer 360 helps organizations meet this demand by providing a single source of customer truth across sales, service, marketing, and commerce.
The APAC ISV Industry Booklets offer curated selections of AppExchange ISV apps that are ready to install, industry-specific, and available in the Asia Pacific region.
6. Focus on Customer Success and be bold to make them delighted.
Customer success is when the customers can achieve their desired business outcomes by leveraging the platform. It is also the experience they have when they interact with the organization. It also implies they can trust and rely on the organization to solve their problems.
Customer Success is all about the communication strategies and business processes the organization use to keep demonstrating value to the customers. Achieving customer success is a great opportunity to put the business ahead of the pack.
7. Talent Alliance is important to keep the resource pool and delivery
Salesforce Talent Alliance connects employers to Salesforce candidates and brings new talent into the ecosystem, emphasizing building a diverse workforce that reflects society around the globe. They commit, connect, and certify.
Seamlessly integrate Salesforce CRM with other applications to automate the business processes and improve organizational productivity and efficiency! For Salesforce integrations, partner with us now!
APPSeCONNECT is a smart and robust business application integration platform that seamlessly connects Salesforce CRM with other business applications to streamline operations and facilitate the free-flow of data across the platforms.