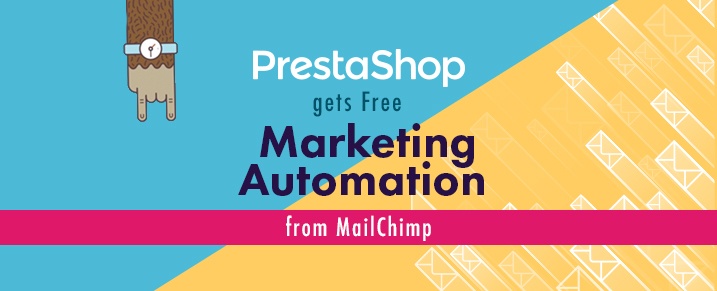 Mailchimp recently created a buzz in the market. It had started offering it's marketing automation tools for free 2 months ago and now it has announced free integration with MailChimp's marketing tools for Prestashop customers. This means PrestaShop as an eCommerce platform can now take advantage of all the functionality MailChimp provides for eCommerce.
MailChimp & PrestaShop Partnership:
This partnership will help the PrestaShop customers to surface real meaningful marketing data in MailChimp like Product Recommendations or Abandoned Cart Functionality.
The PrestaShop customers can also use their existing customer lists in MailChimp to run advertising campaigns on different social media platforms. Thus this integration of MailChimp and PrestaShop enables the sellers to have more personalized conversations with their customers.
This integration will enable the organizations to save their resources by automating things that sellers would have had to do manually. Sellers can also easily convey their messages to the customers and reach them via automated ads or emails.
What you get with this Integration:
1. Increase Sales with Automation
One can easily send Product follow-ups or collect feedbacks after customers make a purchase. The sellers can even engage those customers who did not make a purchase with these automation tools.
2. Giving Suggestions
With the MailChimp automation, the sellers can retarget their customers based on their historical purchase by suggesting them similar kind of products.
3. Reutilizing Abandoned Carts
The sellers can reutilize abandoned carts by reminding the customers what they have left behind. This can be done easily by using Abandoned Cart Automation by Mailchimp.

4. Targeting Customers through Ads
The sellers can do Re-targeting by showing ads to their customers in Facebook or Instagram. The sellers can then later track ROI and show Ads which are working!
5. Mail Notifications
We can frame beautiful personalized messages including Shipping Notifications, Invoices etc amongst others. Along with this we can also give Product Recommendations.
6. Customer Segmentation
The organizations can target customers based on Sign-up date, Demographics, Engagement etc. This allows them to do niche targeting which is quite beneficial.
7. Comprehensive Tracking
Mailchimp provides a dashboard to get a whole picture of the marketing efforts. This not only helps in improving the marketing strategy but it also helps in determining the marketing ROI. This is an exclusive feature provided by Mailchimp for the Prestashop users. Everything is shown in the report from Perfomance and Revenue to Bounces and Unsubscriptions.
Conclusion
If you are a Prestashop user then this add-on will definitely improve your business productivity. Everyone is going for automation nowadays to remove manual labour and errors. This free Marketing Automation add-on provided by Mailchimp will not only save a lot of time and effort but will also help you track the ROI of your marketing activities which is a great plus point.
Get your MailChimp Add-on here: MailChimp Module
Now, you can easily integrate your PrestaShop Store with the back-end ERP System and automate your business process!

You may also like:
Prestashop 1.7.1 Released: 7 Things you need to Know
How to Enable Product Reviews in your PrestaShop Store?
How to install Prestashop on WAMP server localhost
Top 10 PrestaShop Food Themes