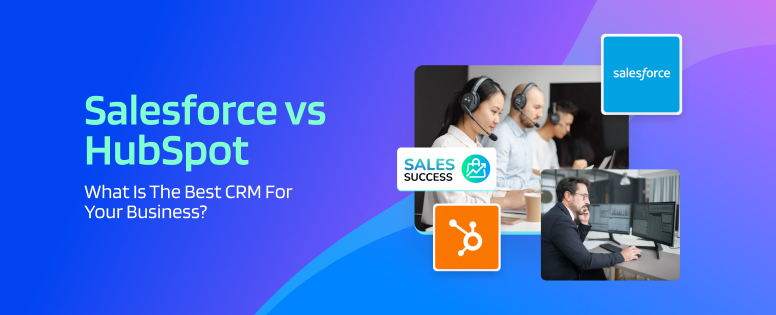 Customer Relationship Management (CRM) applications play a quintessential role in the success of modern enterprises. A feature-rich CRM enables businesses to gain deep insights into their customers and build an intimate relationship with them to provide an effective and comprehensive customer experience. While there are a vast number of solutions available in the market, with enterprises using several tips and tricks to maximize the utility of their CRM systems, HubSpot and Salesforce continue to be the standout CRM applications out of them all. Both applications come packed with an extensive library of advanced CRM, marketing, and sales analytics features, all designed to help businesses to sell more, develop and track pipelines, and forecast future sales, while also delivering best-in-class customer experiences. With both Salesforce and HubSpot providing competitive functionalities, the finer differences in the case of Salesforce vs HubSpot need to be put under a magnifying glass to better understand their differentiating details and choose the CRM that is ideal for the business.
So let us get into it with a fine-tooth comb and explore the core differences for Salesforce vs HubSpot.
Working with a CRM application for managing customer relationships for your enterprise alongside multiple business applications? Seamlessly connect your entire software stack with your eCommerce platform under a single, intelligent, and secure platform to automate your business processes – implement APPSeCONNECT's robust integration connectors and achieve exponential growth in your business.

What does Salesforce do?
Salesforce is one the leading CRM applications in the industry, holding the biggest share of the pie in the market for CRM applications. It is a cloud-based CRM application and is popular across the industry for its wide range of functionalities for support, sales, and marketing. Salesforce's cloud CRM technology enables businesses to better manage data and connect with partners, existing customers, and potential new customers. The platform is the best CRM software for tracking customer activity, marketing to customers, and other services and allows companies to go deeper into their business metrics, analytics, and data along with an intuitive dashboard that displays all relevant data visually.
What does HubSpot do?
HubSpot is another widely-used CRM application in the market, with greater popularity across the SME sector of the industry. HubSpot operates by connecting the organization's website to the different tools within HubSpot's Hubs, to attract, engage, and consolidate leads and customers. HubSpot enables businesses to accomplish that by using the platform to create optimized website content, drive traffic to the website, convert the traffic to leads, nurture the leads into customers, and provide a high-quality customer experience. HubSpot is the best CRM application to drive sales and customer management from a more marketing-focused approach as compared to other CRM applications in the market.
Salesforce vs HubSpot – Which is the Best CRM?
The primary differentiation that lies between Salesforce and HubSpot is the approach each application takes toward customer relationship management. HubSpot focuses more on being an inbound marketing application in contrast to Salesforce, which is the ideal CRM application for sales automation.
Salesforce vs HubSpot – Cost Chart
The CRM application offered by HubSpot is called Sales Hub, while Salesforce's CRM is called Sales Cloud, and the differences in costs associated with the two applications should be taken into consideration before implementation. The different Salesforce vs HubSpot costs associated with the implementation of the two CRM applications are as follows: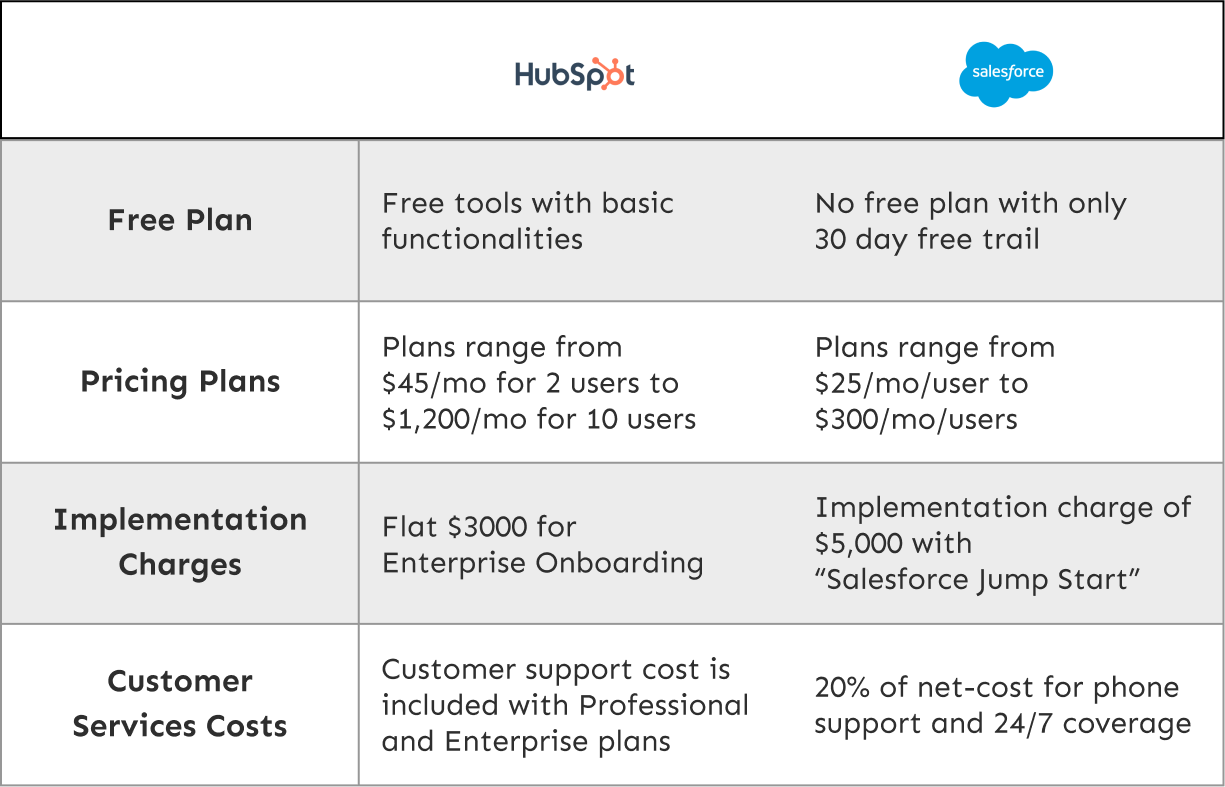 Salesforce vs HubSpot – Core Differences
While both Salesforce and HubSpot offer a range of features that provide effective customer relationship management functionalities to businesses, each has its distinct features that differentiate one from another, making each the best CRM application based on requirements. The differences to consider are as follows:
Learning and Knowledge Resources
Getting started with any new application requires learning and proper onboarding to allow the end users to optimally use the product and troubleshoot issues without the need for help from external experts.
HubSpot comes packed with a variety of resources to allow its users to better understand and get started with the application. The HubSpot knowledgebase provides a full library of articles and documentation that are easily accessible. The HubSpot community also offers an excellent platform for inexperienced users to learn from the community and exchange tips and tricks with each other. HubSpot also has HubSpot Academy where users can watch video tutorials to expand their knowledge of the CRM application.
Salesforce also offers a vast range of resources, its knowledge base, and self-service features. Salesforce also has an active community where newer members can learn from veteran users regarding the best practices for using the platform. On top of the wide range of learning resources and bustling community, Salesforce also hosts several annual online and in-person events like Dreamforce, where users can get hands-on workshops and learn from industry leaders.
Ease of Use
With the hyper-competitive modern market, ease of use is needed for faster onboarding and improved time to market. A steeper learning curve creates a challenge for the users to understand the best CRM use cases and optimize its utilization.
For ease of use for the customers, HubSpot has designed its platform around the philosophy of learning the platform while using it for the users. The platform is highly intuitive and with the gamification of certain mechanisms, allows easier mastering of the tool. Users can also make use of HubSpot's classroom training to master new, more complex features of the platform. The HubSpot Academy also offers tips on how to optimally use the platform to boost sales and plan marketing strategies.
In the case of Salesforce vs HubSpot, the learning curve for Salesforce is a bit more complicated for inexperienced users. For users that have no prior experience with working with a CRM application, Salesforce can be a very sophisticated application to get started with. However, Salesforce is not an impossible application to get started with and just requires more time to get familiar with the platform. The online training resources provided under the Trailhead banner of Salesforce are well-designed and offer a gamified experience that allows users to get accustomed to the platform faster.
Marketing Automation
With HubSpot's more marketing-focused approach to customer relationship management, the platform offers several automated workflow features for marketing automations. The features provide greater email marketing automation, with expanded email drip campaigning marketing strategies to the user. The platform offers the features to create customizable and personalized workflows for managing customer funnels through an easy-to-use drag-and-drop user interface. For managing leads HubSpot allows users to set up work lead scoring, transfer lead data from marketing to sales and enable notifications for internal communication along with the ability to automate workflows under deals.
In contrast, when it comes to Salesforce vs HubSpot, the sales approach with Salesforce is more focused on sales automation. The CRM comes packed with more in-depth and robust marketing automation functionalities backed by artificial intelligence. Salesforce's CRM application allows streamlined management of new leads and nurtures them to be handed over to a Sales Development Representative (SDR). The CRM comes with the functionality to filter and qualify incoming leads, such that only the most prospective leads are put into the sales pipeline for faster conversion. The CRM is highly effective for B2B businesses with the advanced sales funnel and lead nurturing features provided by Salesforce.
Sales Management
HubSpot's Sales Hub offers a feature-rich platform for sales management. The platform provides a range of tools to sales representatives to streamline customer outreach, including templates for email marketing and call tracking. The CRM allows detailed customer profiles to be generated from contacts associated with the organization's Gmail or Outlook while also offering a series of sales management playbooks, which include sales scripts and positioning guides. The sales pipeline management features offered by HubSpot make it easier to create sales tasks and track the progress of those opportunities that are in progress. HubSpot also provides a range of tools for quotes and sales analytics.
Salesforce Sales Cloud brings in a comprehensive selling solution to the end user that combines lead management with opportunity management for faster conversion of potential prospects into successful deals. Salesforce allows businesses to route leads to the best possible sales rep for the purpose of sales management while providing greater insights into all the current activity within the sales pipeline. Businesses can also set up automatic sales reports to be shared through emails which can be easily customized through a drag-and-drop interface.
Tools for Customer Support
Customer Service Hub is HubSpot's customer support tool for their CRM application and offers three major functionalities to the user. Firstly, it makes the onboarding process for new customers through flexible help desk tools and allows enterprises to create strong relationships with new customers. Secondly, users can create knowledge base articles and deploy live chat functionalities to offer better understanding and faster communication for customers looking to troubleshoot an issue. Finally, customer support teams can use a shared message for the inbox to have a centralized source of information regarding customer feedback surveys, conversation intelligence, and contact scoring.
In parallel when it comes to Salesforce vs HubSpot, Salesforce's customer support tool, Service Cloud has a comparably similar set of features to HubSpot's Customer Service Hub. The support team can utilize a workspace that can be shared with other team members for improved collaboration while helping users. Salesforce's case management can also leverage automated processes to speed up the ticketing process and other support issues. For high-priority problems, Salesforce has Customer Service Incident Management, which is a cloud Service Cloud solution that allows support teams to track large-scale disruptions and allocate tasks to the right experts to ensure faster resolution of the issue.
Integration Capabilities
HubSpot comes with HubSpot App Marketplace where users can get a range of integration for HubSpot to extend the capabilities of the CRM. There are several third-party applications built exclusively to be integrated with HubSpot to enable extended functionalities regarding business news alerts, analytics, and even Google tools. The CRM can also be effortlessly integrated through pre-built integration connectors for HubSpot through a smart iPaaS platform.
Salesforce also comes packed with a broad range of integrations through its AppExchange, which showcases all sponsored app integrations. The industry-wide usage of Salesforce also brings in a vast library of industry-tested integration connectors for Salesforce by iPaaS applications in the market which makes it easier for businesses to deploy any integration they need to deploy for the software stack and Salesforce.
The Bottom Line
Salesforce vs HubSpot will continue to be a debate for decision-makers across the industry when it comes to selecting their ideal CRM solutions. However, the answer to the Salesforce vs HubSpot debate does not lie in the features, functionalities, or even the prices of the solutions but in the individual needs of the business looking to implement a CRM. Each business is unique and requires specific features of a CRM that work side by side with the organization's core focus. If a business is an SME, does not have the budget to pay for a CRM, and lacks the expertise to work with a more sophisticated CRM application, then HubSpot is a more suitable solution. On the other hand, larger enterprises looking for a more powerful CRM with in-depth sales marketing and automation features with a greater focus on B2B operations than Salesforce makes for a better CRM solution. With a multi-application connector that integrates Salesforce, SAP Business One, and Microsoft Teams, enterprises can effectively streamline the information flow across all systems to enable improved data monitoring and collaboration.
However, no matter what the business requirements and the choice of CRM application may be, integration plays a vital role in optimizing the data within the CRM application to maximize sales. Both Salesforce and HubSpot operate as isolated applications and require integration to enable true end-to-end automation of business processes. While both applications come packed with an integration marketplace, implementing an intelligent, low-code iPaaS application unlocks the full spectrum of integration for line-of-business applications and enables scalable business growth.
Working with a CRM application for managing customer relationships for your enterprise alongside multiple business applications? Seamlessly connect your entire software stack with your eCommerce platform under a single, intelligent, and secure platform to automate your business processes – implement APPSeCONNECT's robust integration connectors and achieve exponential growth in your business.