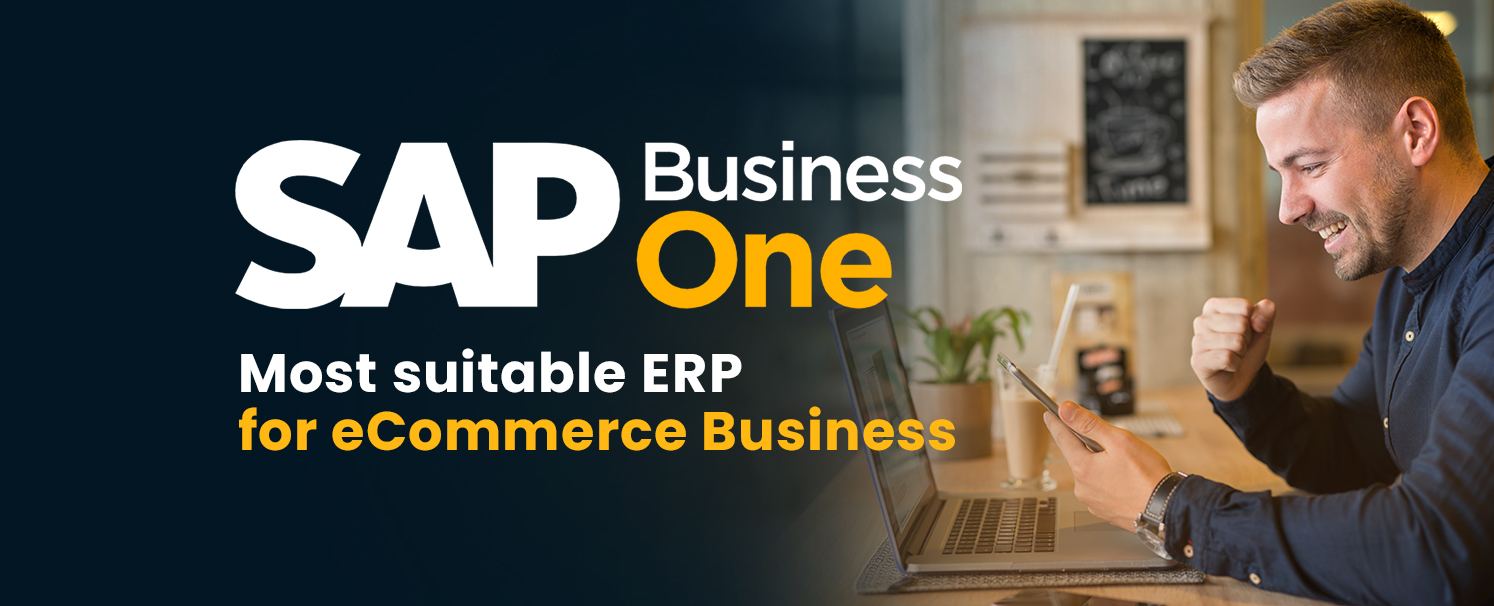 Enterprise Resource Planning (ERP) cloud solution drives businesses with improved agility and heightened success. The modern enterprise resource planning solution enables continuous innovation. Digitized Cloud ERP focuses on growth & improves decision-making. SAP Business One is one of the best ERPs which focuses on all of these processes at a time.
Now if we think about the e-commerce business, then the focus areas are:
Keep the buying process faster
product listing along with Store creation.
Cost reduction & discount facilities.
Proper & affordable advertising and marketing.
Make the process flexible for customers.
Comparison report for Product and price.
Faster response to buyer/market demands.
There are many renowned e-commerce platforms that exist in the market like Magento, Shopify, WooCommerce, BigCommerce, etc. along with them the Marketplaces like Amazon, eBay also boost up the energy to start an e-business. Here SAP Business One is such an ERP that is flexible & smart enough to replicate & manage the business scenarios into the ERP system. So, if anyone wants to manage online-offline business simultaneously then SAP Business one will be the best option for them.
In SAP Business One you can replicate the scenarios like: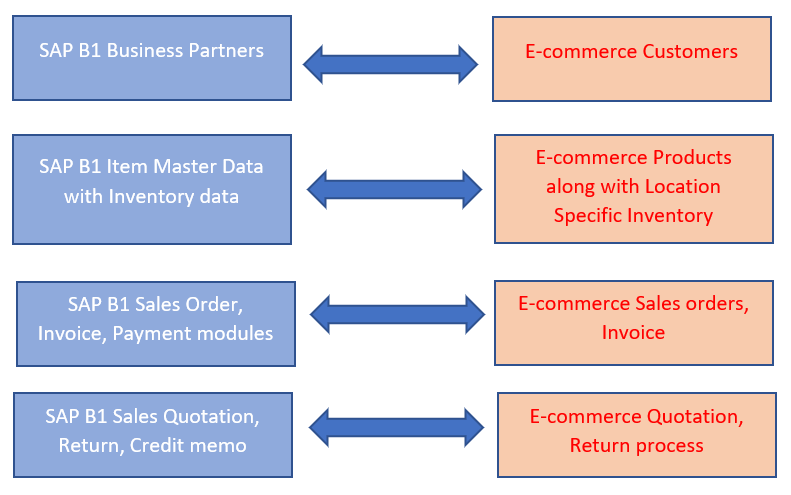 Also, now SAP also enabled their feature based on the cloud. So, it is not required to install the SAP client to access it. You can simply open it from anywhere by using the browser. So, it became system independent. Also, the REST API-based Service Layer provides advantages such as, faster and agile data connectivity.
If you have SAP Business One and wish to integrate all your applications, you can easily connect your business apps under one single platform to automate the business process and maximize your efficiency, productivity and ROI!

SAP Business One – The Most Suitable ERP for eCommerce Businesses
Some of the most unique features of SAP Business One that make it perfect for eCommerce businesses are listed below!
Business Partner
SAP Business One represents Customers as Organizations and its employees as Contact Persons. This structure is unique and useful for B2B eCommerce scenarios.
Each Business Partner can be assigned a Price List, which ensures Customer-Specific Pricing. This feature can be easily mapped with any B2B eCommerce platform.
Each Business Partner in SAP Business One has Credit Limit, which can be used as a Credit Term/Store Credit feature for the B2B eCommerce segment.
Business Partners in SAP Business One can be grouped as B.P Group, which, if needed can be used for Customer Group-Specific Pricing/Discount representation for B2B/B2C eCommerce.
Item
Items are segmented in Item Groups, this can be used for Item Group-Specific Discounts for B2B and B2C eCommerce Operations.
Different Price Lists for the same Item ensure proper logic in representing Customer-Specific Pricing in B2B eCommerce Portals.
SAP Business One is able to hold both Inventory and Non-Inventory Items. Non -inventory Items is very useful to represent Service-based Product Sell in eCommerce.
SAP Business One Item Master allows differentiation of Finished Goods, Raw Materials, and Intermediate Items. This feature helps to enlist only Finished Goods in the eCommerce Portal and not the whole items.
Inventory is represented across warehouses which helps to ensure Multi-Location Inventory Features in eCommerce
Inventory represents several key elements, such as In Stock, Committed (in Sales Cycle) and Ordered (In Purchase Cycle); so can enlist stock in eCommerce in any combination of these. Thus, Inventory can be properly shown to eCommerce users.
Representation of Physical and Virtual Warehouse where Stock Transfer can happen against consignment to Amazon in Fulfilled by Amazon scenario.
Sales A/R
Draft Sales Order feature which can be used for Payment Methods such as Cash On Delivery in eCommerce
A/R Reserve Invoice feature to represent Online Payment in eCommerce. From A/R Reserve Invoice, Delivery can be generated in SAP B1 which can trigger Shipment in eCommerce.
Incoming Payment which ensures successful receipt of Online Transactions to Merchants Bank Account.
Sales Return and A/R Credit Memo to represent Return and Refund in eCommerce
A/R Credit Memo can also be used as a pretty handy feature for Payment Reconciliation with Amazon Marketplace where reconciliation happens after a defined time period (usually 15 Business Days)
Ability to store Tracking Number in Delivery which can be mapped to eCommerce and send to Consumer for Shipment Tracking
Again, if you have SAP Business One and wish to integrate all your applications, you can easily connect your business apps under one single platform to automate the business process and maximize your efficiency, productivity and ROI!
---
APPSeCONNECT is a smart and robust business application integration platform that seamlessly connects the SAP Suite of applications with all your business apps to streamline operations and facilitates the free flow of data across the platforms. By moving into the region of iPaaS, APPSeCONNECT proves to be a best-in-the-class platform that easily connects systems and automates the business process.