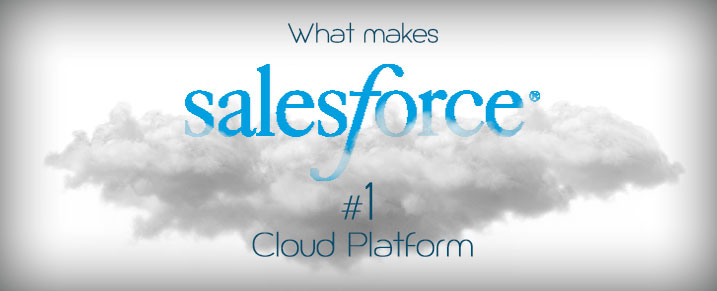 It is common knowledge that Salesforce has emerged as a leading CRM platform. It is in fact the first successful cloud company breaking into the world of on-premise solutions. The game changer was of course the simplicity, ease of integration and rapid development using drag and drop. Today not only do organizations using the application, but also many consulting firms using Force.com as a platform to serve their customers.
In this article we bring out the top four reasons why, we believe that Salesforce has become so popular. These parameters are in fact key to success for any cloud service provider.
Top 4 reasons why salesforce.com is the cloud topper
Reason # 1: Faster Time to market
Companies are ever increasingly getting conscious of time it takes for them to react to market. They want their internal IT to meet this basic need. The pace at which CRM solutions were developed, integrated and launched in the pre cloud era were simply too slow. Salesforce brought an unique approach where the organizations can start using the application from day one.
Reason # 2: Quick integration
Force.com has specialized built-in tools which allows quick integration with all possible target fields viz. data, analytics, security layers etc. Integrating the cloud CRM with your ERP can prove to be exceedingly profitable to your enterprise. Inherently SFDC supports many integration protocol which enables integration at multiple layers.
Security Integration: Provide authentication throughout the platform at different stages to provide hassle free user experience.
User Interface Integration: com has the provision of combining UI's of more than two apps to create composite apps.
Business Logic Integration: Business logic in this cloud CRM can be extended between apps to provide better management of end-to-end business.
Data Integration: The platform allows integration of application at the data level. A common database can be shared to manage multiple apps written in different languages.
Reason # 3: Faster drag and drop development
The drag and drop feature of force.com is very powerful and developer friendly. Even if you have a very little knowledge on development, you can easily come up with your unique designs and build custom fields, reports, charts etc.  The platform uses most advanced Event Driven architecture and Model-View-Controller which allows the fast building of apps.
Reason # 4: Quick migration
The platform is very developer friendly and allows instant transfer of metadata from a local system library into a CRM setup and also from one organization to another. The tool used by the platform is command-line utility based on Java. The migration tool helps to quickly test a setup even with large number of changes. Similar parameters of the metadata can be deployed in a repetitive fashion and the function can be called at any phase.
The future
By now it should be pretty clear why SFDC is best among cloud CRM. They have literary reinvented the way businesses should treat their customers. Force.com has left no stones unturned to ensure the growth of their company as well as CRM in the global business scenario. Nobody can say with surety what the future holds for this cloud CRM giant, but the recent reports from Forbes about their proposals seems really encouraging.
Analytics seems to be a promising field, which when implemented into their already established cloud is bound to change the way we see at CRM. They have already proposed the implementation of data mugging and predictive modeling techniques to improve their Business Intelligence market. The suggested tools are certainly very promising.
SFDC have also proposed the introduction of customizable CRM tools which would be business specific. They are aiming to provide personalized experiences for customers and organizations by further optimizing their SAAS solutions.
Conclusion
The present state of the CRM market is really good, and with force.com leading the chariot and lot can be expected from it in terms of automated businesses, better customer experiences and productive employees.