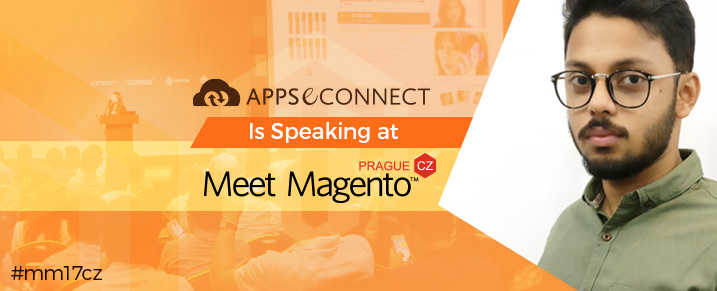 APPSeCONNECT is delighted to announce that a core member of the team will be speaking at Meet Magento CZ to be held on 27th April 2017. Meet Magento, the leading eCommerce conference for Magento Community, is a tremendous platform for exploring online business openings and vast career opportunities for developers across the globe.
Meet Magento CZ is the major event of Czech eCommerce that takes place in Prague annually. Prague is listed among top 10 beautiful cities in the world. It is a place famous for picturesque views, celebrated cafes, renowned towers and world-class architectures.

Mr. Sulagno Mukherjee, a Business Development Manager at APPSeCONNECT is going to be a speaker at Meet Magento CZ. An eCommerce enthusiast, Mr. Sulagno is passionate about helping businesses identify and fill gaps in their business processes. He has helped many organizations operating in B2B model embrace eCommerce for growth.
During the event, he will speak on extending Magento's capabilities to Increase Efficiency and Accelerate Growth. You can also gain an insight on how to transform the way you do your business by allowing Magento to communicate with other line-of-business applications.
Being a part of this event you can open up the world of brilliant opportunities which will help you gain a competitive edge over your competitors helping you in reaching new level of success.
There is a special attraction in the event too. Best eCommerce store competition will be held at the event wherein some biggest brands across the globe has been listed.
Don't forget to pay a visit to APPSeCONNECT's booth at Meet Magento CZ at Prague & learn how easily you can increase profitability by seamlessly connecting your business critical applications.
You can also follow him on twitter.

You may also like:
Here's Why You Should Attend Meet Magento Prague 2017
APPSeCONNECT exhibited as a Silver Sponsor at Meet Magento Croatia 2017
Top ERP Packages to Integrate with Magento