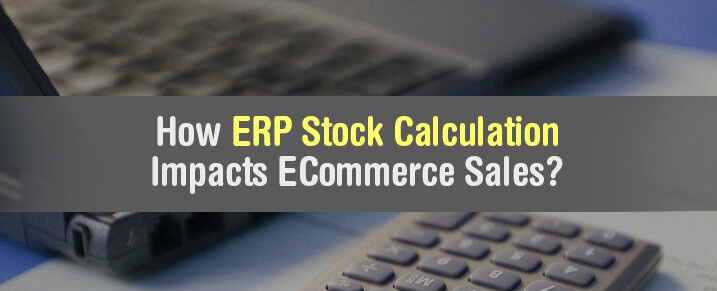 ECommerce sales are highly influenced by stock availability. No visitor wants to find a product 'out of stock' and if that happens, s/he will happily purchase the same items from your competitor's website. So every retail organization struggles to put the most updated stock quantity in their ecommerce website.
'Product stock' in most ecommerce platforms like Magento, Prestashop, Zencart, Bigcommerce and Shopify, is just a numeric field. There is no logic behind the stock update method. However as we know that 'item stock' in actual business scenarios increases only through production and/or purchase cycle and this process is generally maintained in the organization's own ERP system.
So, as we can understand, that ERP follows a defined rule in increasing 'stock quantity', while this is merely a numeric field in the ecommerce platform, where these updates need to be fed in.
Let's see how stock calculation in ERP impacts ecommerce sales:
Stock Update Process in ERP. How does it happen?

Let us take an easy example of a retail organization, which is only reselling products and not manufacturing them. So, item stock in ERP gets updated based on the purchase cycle from the vendors. Here are the steps:
Purchase request
Request made to vendors with item-specifications, so that they can submit their quotes.
Purchase Order
Choosing a vendor and confirming the 'purchase order' (official document). Purchase Order consists of an expected delivery date; this committed stock is virtually available to you.
Goods Receipt
Receiving the goods sent by the vendor in your warehouse. Physical stock is actually available to you after this process.
Now, let's check out the quantity-level changes based on your purchase:
In Stock Quantity
Actual Stock in Hand.
In Stock – Committed
Actual stock in hand – What you committed to send to your customers (Open sales-orders against this committed quantity exists).
In Stock – Committed + Ordered = Actual Stock in Hand
What you committed to send to your customers (Open sales-orders against this committed quantity exists) + The Quantity which you are purchasing from your vendor, but not yet received (Open Purchase Order with vendor exists in your ERP).
So, which quantities are affected by which processes?
Purchase Request – No impact on in-stock quantity.
Purchase Order – No impact on in-stock quantity. Ordered quantity would show this virtual stock.
Goods Receipt – Updates in-stock quantity. Ordered quantity, which previously showed virtual value, will now be empty because of the arrival of physical stock.
How ERP stock calculation affects ecommerce stock updates..
Real Time Update
First of all, changes in the ERP stock quantity should immediately update your ecommerce inventory, so that the chances of finding an item 'out of stock' by the visitor can be decreased or eliminated. So for this, you will need an eCommerce-ERP Connector.
Quantity to be stored/shown
Usually in most ecommerce sites, product quantity is not shown to visitors. But still it is necessary to store the quantity in the ecommerce database. Usually In Stock – Committed + Ordered quantity of your ERP is the ideal quantity numbers since it considers both your purchase cycle and sales cycle and stores the factual quantity in your eCommerce.
Update on 'Purchase Order' and 'Goods Receipt'
Whenever your purchase department places any purchase order with the vendor and/or your warehouse receives a shipment from the vendor, stock quantity is updated in your ERP. But this should be immediately updated in eCommerce as well. It helps maintain positive stock in eCommerce.
Next Replenishment Date
During seasonal sales, when your stock is steadily finished in ecommerce, you should show 'Next Replenishment Date' instead of 'out of stock'. So, the visitor gets an idea when the products will be available and possibly they will login again. Next replenishment date can be your expected delivery date fetched from the 'purchase order' which you placed for that item with a vendor.
So, we can see that by following these simple strategies, your ERP stock calculation will be reflected in your ecommerce and it radiates positive vibes to your customers by showing them accurate stock figures or dates of next availability of the products they are looking for.