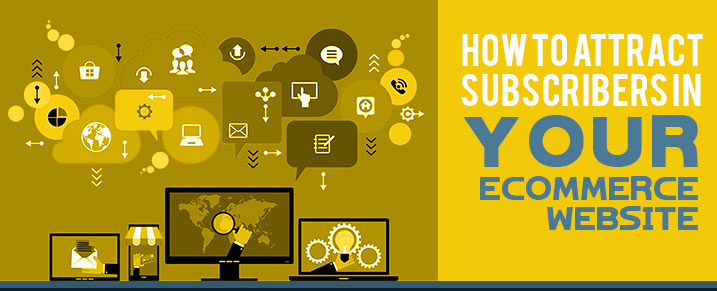 Subscribers are the shoppers who are looking out for the opportunity to buy more for less. Anything new that catches their sight is in their cart. Now how will these people know about the new trend, offers and the new stocks you got to offer them? A subscription is a way of informing your, to be potential customers, about your website's  new products.
Newsletters, emails, flash messages, exit intent pop-up, social advertising, cash-backs etc. feeds the shopper's buying impulse. The concept is simple, the more the merrier, more visitor accessing your website, more are the chances for you to convert them into loyal customers. It is very important to engage your customer in your subscription mail so that they take the interest in what you are offering.
Here are few ways of attracting the subscribers:
Newsletters are the best way to inform your consumer about the trends and offers. This is also a good practice of marketing your website.
Keep your subscription form, as a pop-up entry to your site and also make sure that your visitor can close it, if they don't want to subscribe and carry on with their shopping.
Offer your visitors, a discount voucher, if they sign up for your newsletters. Remember the word discounts triggers the shopper buying impulse.
Social media is the forum where you will find a number of people sharing and liking the posts. Anything interesting is shared on the social media platform and if it's vibrant, it becomes viral. Ask your visitors to share your pages or product to avail for discounts.
Set a promotional offer and also put up an exit intent pop-up. Exit intent pop-ups are the excellent option to escalate your subscribers list. So before your visitor leave your website, the promotional offer might lure them to sign up.
Give your customers cash backs on subscribing your newsletters, so in a way you're pumping up your sales as well.
Nothing is for free! If you ask your online visitor to subscribe you will also have to return the favor. Nobody wants their mailbox to fill up with the subscription letter. People delete these emails without even reading it.
Make sure each of the subscription mail is different from the other, enriched with quality content and images. Give offers in each of your subscription mail and may be giving a referral bonus might attract your subscribers.
You may also like it.
Important Things to Remember When Pricing a New Product
How to ensure After Sales satisfaction to Customers