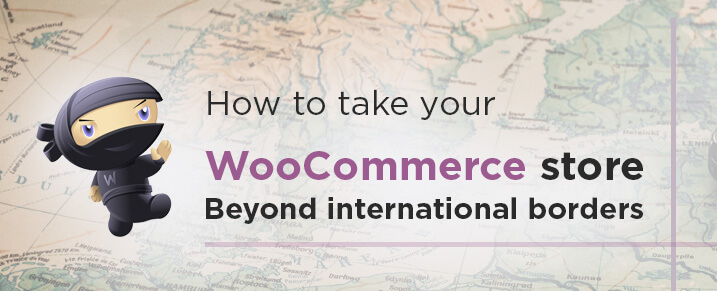 Wondering whether its time to expand your business and test the uncharted overseas market? Are you apprehensive about the complexities involved and hence putting off your plans?
Most businesses start out with brick and mortar stores and later they introduce an online store. Else they follow the current and most lucrative trend of starting their business direct from an online presence. An online store can cater to thousands of customers, something difficult with a traditional SME business. Still often you sell and ship your products to customers within a specified area, state or country.
If you have been in business for a while and have seen steady profits, may be its time for you to venture further and explore the international markets. After all, it is one of the most inexpensive and fastest ways of growing your business smartly through digital expansion.
Just like every new venture, careful analysis and consideration is a must. You have to consider the market competition, logistics, shipping, taxes, whether all your products can be sold in that particular region or not, if additional licenses or permissions are required, apart from the costs involved.
In this blog post, we will give you some major pointers to consider while building your dream.
Research on markets/ region to target :
Nothing beats an in-depth research while charting out new territories. Examine different markets and inspect the potential of your products in those regions. If you have been in business for some time and have done your initial research correctly, you might have your choices of countries / regions clear on the table. Delve into your historical data and see where your customers are located, if you receive queries like " Do you ship to country X?" . Look into your abandoned cart reports and Google Analytics to analyse the demand. If you have competitors in your sector, try to know which countries they have expanded and if there is a chance for your business to grow there too.
Once you have picked out the winners, you need to think about how to allure these cross-border customers to your site. Your website language plays a vital role here. If you are based in the US and plan to expand to the UK or other major English Speaking Country, you can heave a sigh of relief. However, if you are planning for countries like France, Germany, etc. , be ready to translate your store.
If your potential customers are not fluent in English, they may misunderstand your policies and product descriptions. Moreover, would you be comfortable purchasing from a site where you cannot understand the language? Your customers might even consider it rude that you did not bother about customer experience.
Translating your store can be done in various ways . Here are three such approaches
Add multiple blocks of translated text on the same page- Below your original products description, add its translated text and remember to apply this to all other pages too. Follow this approach when you have to add translated texts in one foreign language only and you have short concise descriptions.

Note : Default text at checkout, shipping emails, customer dashboard cannot be translated. For that, you need to alter the code base or use an extension like Check Out Field Editor.

Translate as required –When your new customer base is likely to speak more than two languages or you don't want to do the tedious task of translating everything by hand, you wish for a tool like Google Translate which can translate every text based on the viewer's preference. The free WordPress plugin GTranslate which utilizes the multilingual capabilities of Google Translate comes to the rescue. It fits in the top widgetized area and now shoppers from around the globe can view your store in their native language.

Fig: A widgetized view of GTranslate

Note: Google Translate is amazing, but it is still a work in progress and likely to show incorrect translations.

Geo-location and multi-site with WPML – This is by far the best and the simplest option. With the popular plugin WPML for WooCommerce, you can easily run a multilingual eCommerce site. Shoppers enjoy a fully localized purchase process from product listing, currencies to checkout, including localized confirmation emails.You can specify your desired languages and create a separate store for individual language with this extension. While you manage everything from your native interface, each shopper will see your website in their local language.Some pages are not translated automatically, but you can easily add the translated text.

Fig: Add translations through WPML
Allow currency converter on product pages:
While building up your Woocommerce store, you must have set up Shop Currency to manage your preferred currency.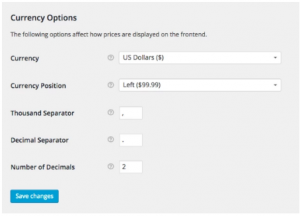 However, WooCommerce does not support multiple currencies and hence, you need to look for extensions which allow you to show currencies in your shopper's preferred currency, which can range from USD to Euro.
With the Currency Converter Widget , you can specify the currency codes for the prices to be displayed. Add it to a widgetized section in your product pages and through the Open Exchange Rates API it shows the local prices after calculating the current exchange rate in the background.
The prices shown to the customer, including those of products, shipping, etc are stored and included in the order. So later, if the exchange rates change or you want to recheck anything, you can always go back to the order and review what prices were visible to the customer.
Maintain list of your shipping and delivery options separately:
With new countries and locales to ship your products, you need to make a comprehensive list of the various carriers, methods and costs included. Before making the final purchase, your customers may decide to check your shipping options and rates and if these details are not clear from the first glance, they are likely to abandon their carts, this scenario being quite prevalent for international shipping.
Easiest way to satisfy these customer urges is to maintain a separate page where all your shipping methods, carriers and their respective rates for both your local deliveries and overseas shipping. Opt for tables to display this information for better customer clarity.
I quite like how S'well has broken down their shipping options in their Policy Page.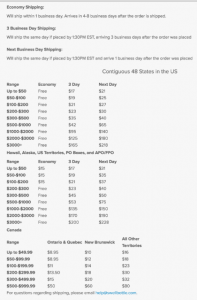 Last but certainly not the least important, look into your Customer Service options
If you have followed the above ways, your store is ready to receive international customers. However, when you have done so much to entice these customers, don't overlook about the experience they have once they would like to reach out to you. Your service and their experience in your store determines the success and failure of this new journey of yours.
In your 'Contact Us' page, it is not just enough to keep a phone number. International calls are expensive and making your customers burn their money just to contact you, creates a bad repo. Also, what if these foreign customers do not speak your language?
Just in case, if your product reaches them damaged and once they contact you, your customer support team handles the situation patiently and smoothly, most assuredly you will have a return customer. Else, they are likely to badmouth about you in social media and losing credibility is never an option in any business.
Though keeping a contact number is a good option, the best way to resolve customer issues is dedicated email support through a form on your contact page. You can also mention the languages your support team speaks, so the customers know how to word their emails.
We have also put together a list of some WooCommerce extensions to enhance your international store:
WooCommerce also supports various Payment Gateways which offer powerful services for your online store.
Growing from a regional store to catering thousands of global customers – this involves a lot of work and perseverance, but the gains are also equally high and likely to catapult your profits.
Even if you have followed all the points discussed above, there are various other factors which you need to consider too. Getting the word out to the locals in the foreign countries or advertising is very important too. So go ahead and plan out this new adventure.
Image source: Woocommerce
You may be also interested in:
Is your Woocommerce store ready for higher traffic?
Woocommerce releases 2.6 version Beta 2
SAP B1 and WooCommerce Integration