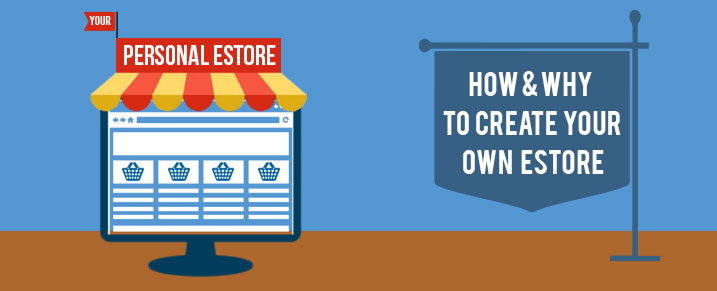 Your retail store is running well in the market and has gained popularity. You are doing fine with your retail store, but who doesn't want to expand business and earn more. At least I never heard anybody who is tired of making money.
In this convergence era, life is easy with the technological advancement. Yet we all are busy shaping our lifestyle and schedule. Many people usually cannot take out time for shopping during the weekdays, but if your products are available online, your customers will get the flexibility to shop from anywhere. This will not only it boost your sales but also create your E-store's online presence worldwide and draw a huge diversified crowd.
Creating an e-store is not at all difficult or expensive in the current market scenario. all you need to apply is the best of breed solutions to run it successfully.
How to create your eStore?
Select eCommerce platform: Firstly you need an online platform to showcase your products. There are few good platforms from where you can choose like Magento, Prestashop, Shopify, Bigcommerce etc. each of these platforms offers more or less the same benefits. These platforms are popular and easy to use, most impotantly trusted worldwide.
Select ERP system: Install an ERP system separately which will cover your accounts, finance, resource, manufacturing details, CRM etc. This ERP software will execute all your backend business activities without any errors, thus keeping you updated every moment. Few of the renowned ERP in the market are SAPB1, Microsoft Navision etc
Connector: Connector is a software which will connect your eCommerce store with your ERP. Now, if you are receiving heavy sales volume, use a connector, which will connect the platforms and streamline your business.
Firstly, it is very important to choose the right forum and the right ERP software to connect. An ERP enhances the process and make your business simple and easy to access. Secondly, you have to understand that your customers are not being able to feel what they are buying, so you will have to make sure they get proper updates of their purchase. A satisfied customer is a loyal customer.
Why should you create an eStore?
You are saving a huge cost. Your retail store incurs charges like resource, stock, warehouse, store cost, electricity etc. in eStore you can eliminate these costs.
You have a worldwide consumer list and your sales are not the restricted to any area or hours of operation.
You can now sell from any location, unlike retail store where you incur charges opening in different locations.
E-commerce is the new trend which is growing day by day. In a retail store, you only have local customers whereas in eStore you get wide diversified customers.  The e-business has many flexibility, to kick start low budget businesses. So, if you are having an eStore, sell your product worldwide and create a brand name.
So when are you making it big?