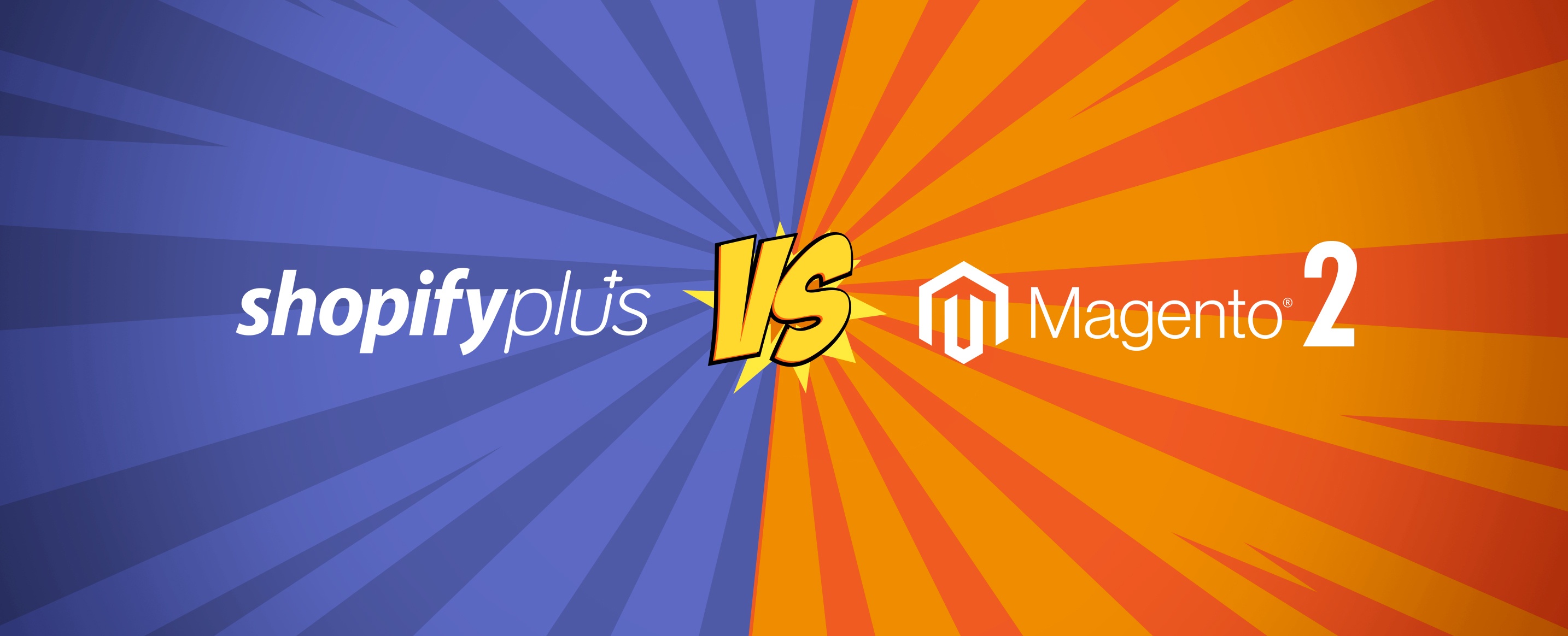 Magento Commerce and Shopify Plus are almost undoubtedly the two most mainstream eCommerce platforms for mid-size organizations all over the world.
Despite the dominance of these two systems in recent days, there is a huge range of eCommerce platforms to choose from, with varying benefits and functionalities. However, let's take a look at the basic comparison between Magento Enterprise Edition (now called Magento Commerce) and Shopify Plus.
Magento Commerce vs Shopify Plus:
Technicalities:
We will be focusing on Magento 2 Commerce (formerly Enterprise Edition) and Magento 2 Commerce Cloud. Magento 2.2 onwards has improved considerably. It has definitely been a big leap for Magento, with almost 500 bug fixes, which included a number of critical improvements that were somehow impacting a number of my users. That being said, there are still bugs in this platform like any other – however, these are a lot more easier to manage. Magento Cloud was highly criticized for its major release some 18 months ago. Early retailers faced a lot of pain with deployments and core development principles, however, again, it's in a much better place now.

On the other hand, Shopify Plus is gaining momentum really quickly. It has a very different approach as compared to Magento Commerce and is demanded for very other varied reasons – with Shopify Plus providing a fully-hosted, fully-supported (24/7 store support, inc minor development work), version-less platform with various supporting products, including a POS system, an automation suite (Shopify Flow), various solutions for multi-channel retail, etc.
Turnover:
There are said to be around 10 brands using Magento that are turning over more than $1bn online, which again is very impressive. In comparison, the Shopify Plus market share is smaller.
License Cost:
Magento Commerce licensing starts from around $22k per year and increases based on the merchant's turnover (and various other aspects), whereas Shopify Plus is a flat $2,000 per month (Up to ~$800k per month GMV) and increases from there. The hosted Magento Commerce Cloud edition of Magento has an additional cost for the cloud architecture, which will vary depending upon the merchant – this also covers various other costs and is generally very cost effective. The new Cloud Starter package is a very similar package to Shopify Plus, costing $2k per month with a very similar offering – this is only offered to business owners turning over less than $5m online and it does not include all of the features of the full Cloud option.

Hosting Approach:
Both the self-hosted approach (standard Magento Open Source / Commerce) and the fully-hosted approach (Magento Commerce Cloud and Shopify Plus) could be seen as either a positive or a negative. Since Shopify Plus is a fully hosted platform on Level 1 PCI DSS compliant servers, PCI compliance is more or less taken care of for the retailer. However, in the case of a merchant using Magento Commerce (non-cloud), he shall have to personally make sure that their own server configuration meets all PCI compliance regulations.
Implementation Complexities and Cost for the Same:
A Shopify Plus project is likely to cost considerably less because of the amount of work that Shopify takes on (systems integrators/agency cost) and there is generally less complexity across each area of implementation. Also, the cost of the agencies is a lot lower. One can get some really nice Shopify Plus stores developed for ~$50k – $100k, which is around the same level as a basic Magento Open Source / Community store. There are also a number of larger projects that had been over $200k for the initial build, but generally, these have been delivered by one of the top integration partners or they'll have a lot of customization.
As it can be seen in this brief assessment, there are advantages and disadvantages on both sides. On the one hand, Shopify Plus provides a fast and easy-to-use platform, without the requirement for specialist development teams, complex server setup or lengthy learning processes for staff.
For merchants who have more complex requirements (particularly in terms of large, complex catalogs and multi-store requirements), however, the native flexibility and scalability of Magento may mean that Magento 2 Enterprise Edition is the better choice, but that might change soon when Shopify releases a solution for the weaker areas mentioned above.
It will undoubtedly be interesting to observe how, over the coming months or years, these two eCommerce giants face against each other to become the leader.
Now, you can easily integrate Magento or Shopify Plus with the back-end ERP/CRM System to automate the business process!

You may also like:
Magento Launches it's own One-Click Checkout – Instant Purchase
Top 10 Features You Get When You Upgrade To Shopify Plus
Top 5 Best ERPs for Shopify Plus