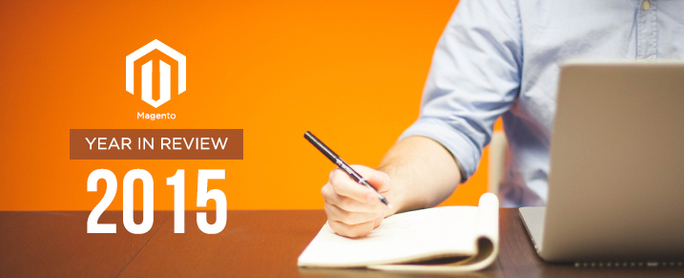 The new year has started off and we all are looking forward to a great year ahead. But I'm sure a summary of the past year's achievements can inspire anyone to step forward towards achieving something bigger and better.
To summarize in one word, 2015 has been a remarkable year for the Magento community. There had been new partnerships, new advancements and super successful events. But most importantly it marked the beginning of a new era of its flagship ecommerce platform with Magento 2.0. We can say the year had been challenging and productive as well.
So let's revisit the moments that made 2015 a successful year for the Magento Community:
Microsoft Azure, IBM and Joyent joined the league of Magento Hosting Partners. The addition of these big names allowed Magento to further expand its global cloud-hosting solution options for retailers.
Magento published its extensive online documentation for both its

Community

and

Enterprise edition

on cloud. The documentation is well-written, well-organized and easy to follow.

A new improved Magento forum

was launched in February. Magento had always been known for its large community and the forum is where merchants, developers, partners and freelancers across the globe collaborate and share ideas.
A new Magento hosting and performance partner program was launched to nurture deeper technology alignment and execution quality across range of partners.
Pinterest teamed up with Magento for creating

Buyable pins

This enabled merchant to directly sell on Pinterest and reach out to millions of Pinterest users.
Magento got recognized as one of the top platforms for B2B on "Internet Retailer B2B eCommerce 300 guide". Magento has also been considered as a strong Performer among the eight most significant B2B commerce suite vendors in Forrester Research's report, "The Forrester Wave™: B2B Commerce Suites, Q2 2015."

Magento became an independent company

As the eBay.In acquisition of Magento came to an end, Permira funds is new owner and financial sponsor for Magento.
General availability of long awaited Magento 2.0 got announced. Magento 2.0 has a next generation architecture offering enhanced performance and scalability and whole lot of

new features
Click here for: How Magento helps you with Digital Marketing
Meet Magento happened for the first time in some of the countries –
Argentina – More than 300 attendees and 30 speakers were there at the event making it a big success.
Japan – With over 100 attendees Meet Magento's first roll out in Japan was quite good.
Greece – first MM for this country of mythology, philosophers, architecture took place in Athens.
Vietnam – Attended by 500 attendees it was the biggest first timer Meet Magento in a new country ever.
Magento Meets in other countries as well were greatly successful in 2015 and it would be very wrong to miss out mentioning that the fifth installment of Magento's biggest event Magento Imagine brought together a whopping 2,400+ commerce experts from merchants, agencies, and technology providers across 45 countries.
The force had been strong with the Magento community in 2015. Let's hope we see more success in 2016.

You may also like
Top Features Of Magento 2.0
How to Create a Custom Log in Magento 2 ?
Important Shopping Online Dates of 2015 for Ecommerce Merchants
How To Create Custom Module In Magento ?