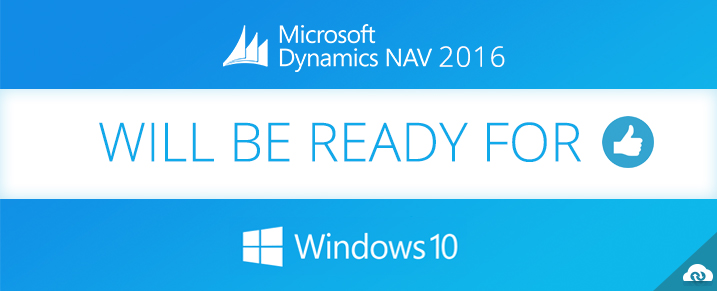 Finally, the wait is over! You will not have to adjust your NAV according to your operating system. In the upcoming release of Microsoft Dynamic NAV 2016, it will be Windows 10 compatible as announced by the NAV team. The issues related to the previous releases including NAV 2013, 2013 R2 and 2015 will be resolved through the October's cumulative updates.
The previous versions of Dynamic NAV do have some issues running on Windows 10 confirmed by NAV MVP Aleksandar Totovic. Though he added, the previous releases did not have any major issues and could be easily resolved. In a blog posted, earlier this month he mentioned that most of the issues that arise in Windows 10 is because it was not installed from the scratch level. He referred, that these issue occurred due to upgradation of Windows 10 from the previous version.
Though Totovic was not sure regarding the emerged issues experienced by the early adopters, he referred his readers to a blog post updated by Francisco Bedolla. Bedolla is a Mexican Dynamic NAV consultant, who endeavored multiple older NAV instances working, while upgrading his system from Windows 8.1 to Windows 10 he called it a big failure. This situation compelled him to migrate all data's to a new system. Finally he had start from the scratch by installing Windows 10.
Erik Hougaard Dynamic's MVP, have attempted running few older versions of Dynamic NAV on Windows. NAV version 5.0 is the only version which integrated well with Windows 10.
In a recent conference, Hougaard addressed that –
"This is not really a surprise, since Windows Vista, Windows 7 and Windows 8 had the same problem". "But after the Windows 10 team showed that even Microsoft Office 95 worked on Windows 10, I had my hopes up for the select few that still run Financials 2.60 and therefore have to stay on XP for now. Anyway, the rest just works, 2009, 2009SP1, 2009R2, 2013, 2013R2, 2015 and the beta of NAV2016 also works fine on Windows 10."

You may also like: